Global leader in water slide manufacturing and water park transformation, ProSlide, is providing oceans of fun at Aquaventure Waterpark, Atlantis Sanya.
A star attraction at the resort in China, the waterpark features a marine education experience and 15 slides custom-designed by ProSlide.
"Atlantis Sanya and Aquaventure is the ultimate vacation destination in the region," says ProSlide CEO and President, Rick Hunter. "It delivers so many incredible guest experiences in one park experience. One of the most exciting attractions at Aquaventure is the ProSlide RocketBLAST™ water coaster, the first ever in China. Atlantis Sanya is way out in front of the competition!"
The RocketBLAST™ water coaster employs water jet propulsion technology to power boats uphill, through fast turns and down steep drops. This ingenious technology results in uphill sections that are much steeper than you'd expect for a water ride. In fact, they are 100% steeper than those found in traditional 'blaster' coasters. More power also means more capacity – the ride features 4-person boats which allows for faster throughput.
'ProSlide always delivers a great ride experience'
Perhaps surprisingly, despite the more extreme ride experience, RocketBLAST actually saves energy. According to ProSlide, sophisticated control systems and sensors make it 60% more efficient than old-style 'blaster' coasters.
For the youngsters, there is a completely custom ProSlide WaterKINGDOM®. The child-friendly attraction provides instant engagement with immersive under-the-sea theming. 'Splashers' enables kids to slide through schools of fish, past mermaid columns and under octopus tentacles. For added fun, there's a 1000-gallon seashell tipping bucket that launches a cascade of water over the structure.
"I have worked with ProSlide previously, and they always deliver a great ride experience," adds Russell Stokes, Vice President of Aquaventure Operations at Atlantis Sanya.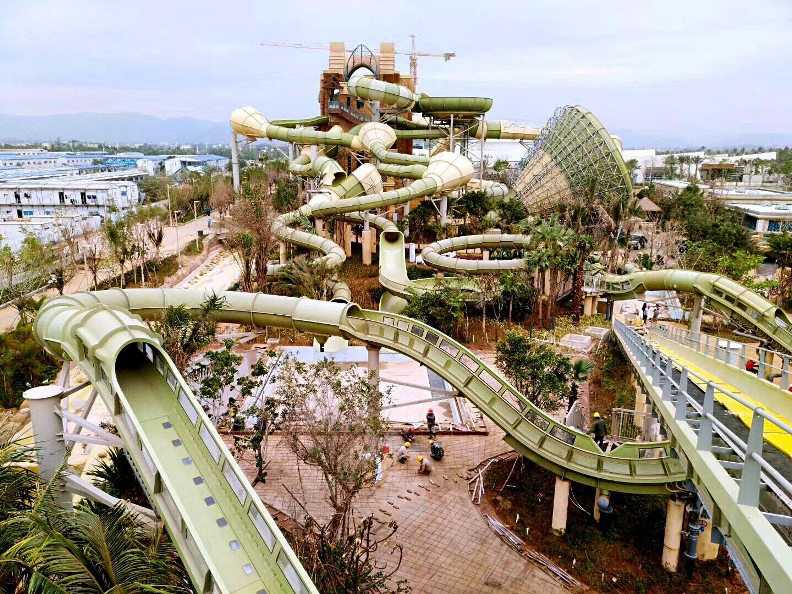 Over 16 million tourists visit the Sanya region each year, attracted by its tropical rainforests, Buddhist temples and white sand beaches.
Atlantis Sanya is not just about thrill rides, but also aims to connect visitors with the natural world. At Dolphin Cay, guests can swim and play with friendly bottlenose dolphins. The Lost Chambers Aquarium, themed around the lost city of Atlantis, is home to more than 86,000 sea creatures including sharks, sting rays, and thousands of fish.
The Ambassador Lagoon holds over 13.5 million litres of sea water and is the largest open-air aquarium in China. Here, guests have the opportunity to scuba dive with sharks and rays and even hand-feed them.