New Zealand's Oscar award-winning Weta Workshop is beginning to make a name for itself in location-based entertainment after a stellar track record in the movie business. The special effects and props company's filmography includes Avatar, Bladerunner, Lord of the Rings, Thor: Ragnorok and I, Robot. Blooloop meets the husband and wife team whose early creative work emerged from margarine and sheds.
Weta Workshop was founded in 1987 by Richard Taylor and Tania Rodger. Between them they have scooped multiple awards, including five Oscars and four BAFTAs. And this year Taylor and Rodger are celebrating their 40th anniversary as a couple too. They met at the age of 13, and have been in business for 30 years.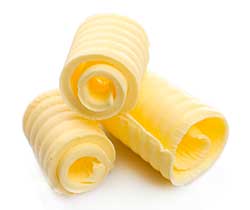 "We set up our first workshop in the back room of our flat," says Taylor. "It was in fact a sheet of MDF on a double bed. I built a lot of the early stuff off the top of that piece of wood."
Rodger was working, at that point, as a hotel duty manager. It was through her that Taylor found a job, of sorts. "It was just hanging out with the chef, doing sculptures for buffets out of margarine," he says. "I'd sculpt dragons, giants, trolls and bird men; all sorts of crazy things. I'd get paid in food. Things were a little tight for us both at the beginning, for about seven years. However, we then had this wonderful opportunity of swapping margarine sculptures for restaurant meals."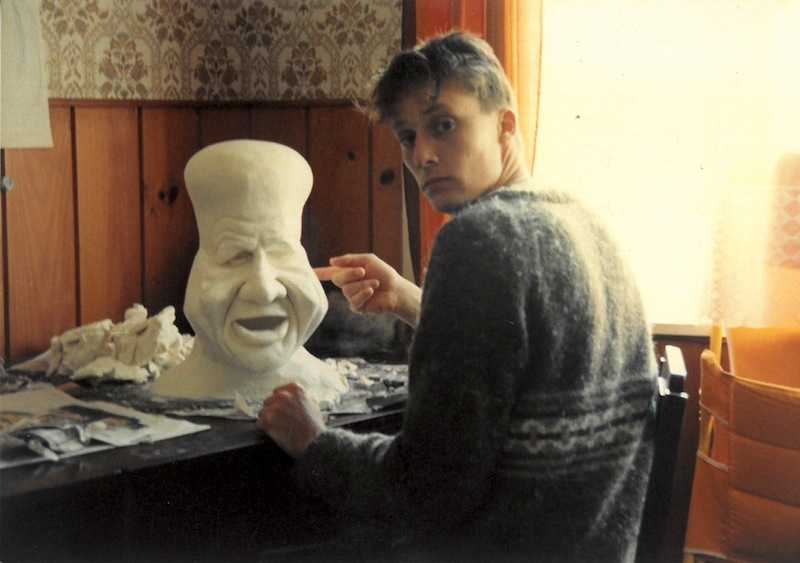 Over that period, Taylor became very proficient at his idiosyncratic craft. "The reason I sculpted margarine was that my knowledge was minimal. I had little knowledge of other available materials, so margarine suited my requirements."
Straight out of the shed
Richard Taylor -who has the KNZM (New Zealand order of merit) title after his name – was raised on a small farm. He grew amid what he describes as a "'sheddy culture, where your father builds everything out of a shed. He had built our car, our boat, our furniture. And then he and I and my mum spent five years building our family home."
Taylor signed up for a three-year graphic design course at a local college. But it was that informal yet practical training in the shed, where Rodger would help him the evenngs, that really set them on their way. After a couple of years doing low-end TV commercials and small documentary work, the couple then landed their first big break.
"A company that we were working for let it be known that they were going to make a New Zealand version of Spitting Image [a British puppet-based TV satire of the 1980s]," says Taylor. "I snuck into their office with some photographs I had of the show's producer, Dave Gibson. I did a sculpture of him that I turned into a rubber Spitting Image puppet, the first I have ever built. Then I put it in a onto his desk with my card on top."
As a result, the next morning, Taylor received a call from Gibson to say he'd got the job. "He said, 'You needn't have bothered with the puppet: no one else has applied.' But I guess that's testament to the person I am. I'll always chase these sorts of things down."
Moving beyond margarine
Over the next two years, Taylor, Rodger and one other person built 68 puppets for the weekly television series, Public Eye.
"The great thing that came out of that was that Peter Jackson, who was living at home with his mum and dad making his first movie, Bad Taste, saw our work on television and, through a mutual friend, made an introduction."
A year later, Jackson moved into Wellington, and started forging his film career because of the success of Bad Taste. Taylor went on to work with him on Meet the Feebles, Brain Dead and Heavenly Creatures.
"By this time I had sculpted over 300 sculptures in margarine for the film and television industry. But as we hit Brain Dead, there was a great need to become significantly more sophisticated, so my wife and I tried to up-skill."
We gathered a group of young New Zealand people around us. No one had ever worked on a film or TV show before at that stage, but we had a young technician from Britain come to join us. He had some knowledge that he shared. We all mustered around this film, and pulled off a pretty monumental undertaking for this wonderful zombie horror comedy."
Making it big in the movies
It was on Heavenly Creatures, where Taylor and Rodger were doing the physical effects, that they ended up purchasing their first silicon graphics computer. They did so in partnership with Peter Jackson and Jamie Selkirk, who was the editor of the movies at the time.
Weta Workshop takes its name from what Taylor describes as "a beautiful indigenous little monster [insect] here in New Zealand". With their newly found manufacturing prowess, the couple delivered props for a number of local films and TV series, as well as overseas productions including Contact.
"We got onto King Kong in 1996," recalls Taylor. "We were six months into its development, when sadly it fell over, and Peter went off around the world to try and find another project."
Taylor and Rodger carried on with Hercules and Xena before getting a pivotal call from Jackson. "He said, 'Grab the boys, grab some fish and chips and get over here. I've got something to tell you'. We were about to start on Lord of the Rings!"
For a year, they threw themselves enthusiastically and passionately into the project, only for the movie to be put into turnaround when Miramax let it go. At the 11th hour, however, New Line picked it up. The odyssey continued for the next six years.
Weta Workshop and Lord of the Rings
Weta created part of the design, plus armour, weapons, creatures, special make-up, FX and prosthetics for Lord of the Rings.
"We ultimately delivered 48,000 separate things to the trilogy of films," says Taylor. "Only one eighth of our staff had ever worked on a film or a TV show before. So we had a massive training camp to get everyone up to speed. It was a very young crew, but the proof is in the pudding. We were very fortunate to get to work on such an extraordinary project."
It was, he maintains, like standing at the edge of a precipice. "You've got the choice of stepping back, taking the easy route, or taking the leap. We took the leap, and had the most joyous, incredible time over seven years on those three films."
Since finishing on Lord of the Rings, Weta Workshop has worked on over 60 feature films. The company has also diversified very significantly. A relatively new departure is its forays into location based entertainment.
"We have been doing exhibitions for quite a long time," says Taylor. "We have done many local exhibitions over the years, in addition to things around the world. But the most significant opportunity offered to us was the chance to work with the Museum of New Zealand, Te Papa.
Location based entertainment – saving us from a vanilla flavoured future?
Weta worked for eight months with Te Papa in Wellington to produce Gallipoli: The Scale of our War. It also got the opportunity to create an exhibition called Bugs Lab. Aimed at a younger audience, it was wonderfully successful and is now touring around the world.
Taylor's hope is that location based entertainment stays relevant, believing it plays a very important part of cultural creative relevance. "Most of the world's population inhabits what I call the vanilla flavoured IKEA future," he says. "We are living in a hard-surface, sterilised world, interfacing through these glass mirrors that look back at us in the form of flatscreen television, our cell phones, our iPads, our computers. Where is the tactility? Furthermore, what happens to us as people if we lose the tactile interface between ourselves and the world?"
Museums, attractions and other forms of location based entertainment (LBE), are in the moment. They are not going through the filter of a camera or a projector, they are the what you see in the present.
"Of course, they utilise projection and flatscreen technology," says Taylor, "but those are secondary elements, often within a more tactile, three-dimensional environmental experience. I think that becomes really critical for the way young people evolve in their understanding and connection with the world; their ability to go to museums that are utterly absorbing, that are experiential, that are wildly educational in a non-didactic way."
Museums' immersive potential
In the big cities – Shanghai, Bejing, New York – most people will see more amazing sights between the car park and the museum, says Taylor, than they will see on display in the museum itself.
"LBEs have a lot to compete with: the giant flatscreen billboards, the advertising, the architecture. How do they compete? I think it is through true intimacy, connecting with people on a level where they are not finding connection in their normal walk of life. By allowing them to immerse themselves in a foreign environment that enthrals, educates, entertains and inspires for those few hours."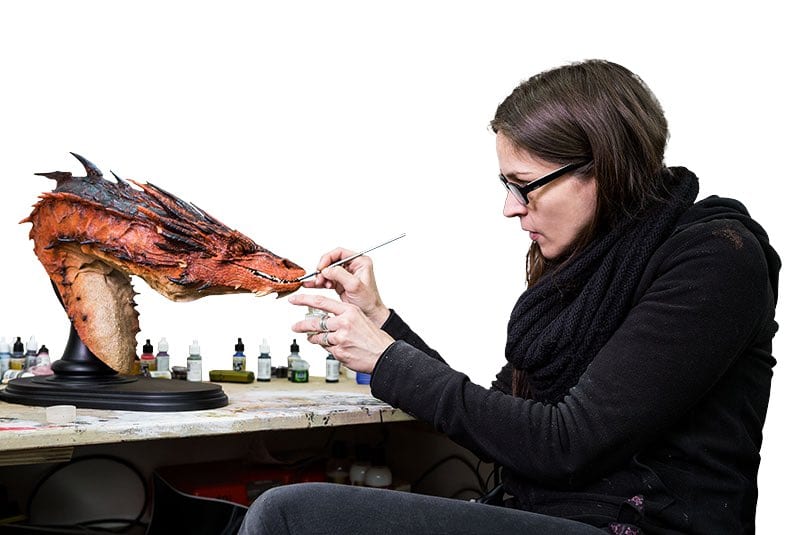 I can only hope that LBEs continue to have an evolutionary journey. From early experiences such as the illuminations of Blackpool to today's chance to fly on the Avatar ride at Disney's Animal Kingdom, there is an insatiable interest from people around the world for experiences outside their normal walk of life. I hope that people like us will continue to be challenged to deliver ever more inspiring ideas to this amazing industry."
Weta's current slate of work includes three LBE projects alongside four feature films, merchandising lines, publishing, tourism, retail and gaming. It also services fine art projects for private clients.
In addition, the company has produced several one-off sculptures. "We put giant gollums in the airport, statues in Trafalgar Square and in town squares around New Zealand, and public art sculpture in China and the US," says Taylor. "It fills the gaps between other projects."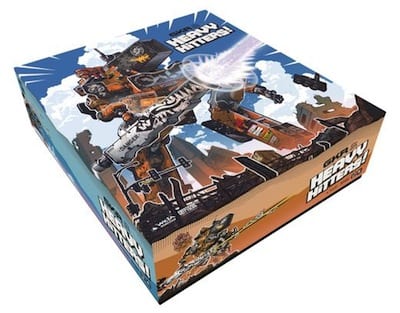 The Weta empire
About 15 years ago, Weta set up its own publishing arm. To date, it has published 19 books and works with, among other publishers, HarperCollins. Operating as a seprate entitiy from Weta Workshop is Weta Digital. It has an infrastructure of around 1,600 people working on digital imagery for feature films.
Twenty years ago, Weta Workshop founded a consumer products division, and started manufacturing in China. "I have had a long and illustrious relationship with China," says Taylor. "We created a collectables line, initially of Lord of the Rings, which has now grown to be quite a business . We do high-end polystone collectables, apparel, jewellery, swords and so on."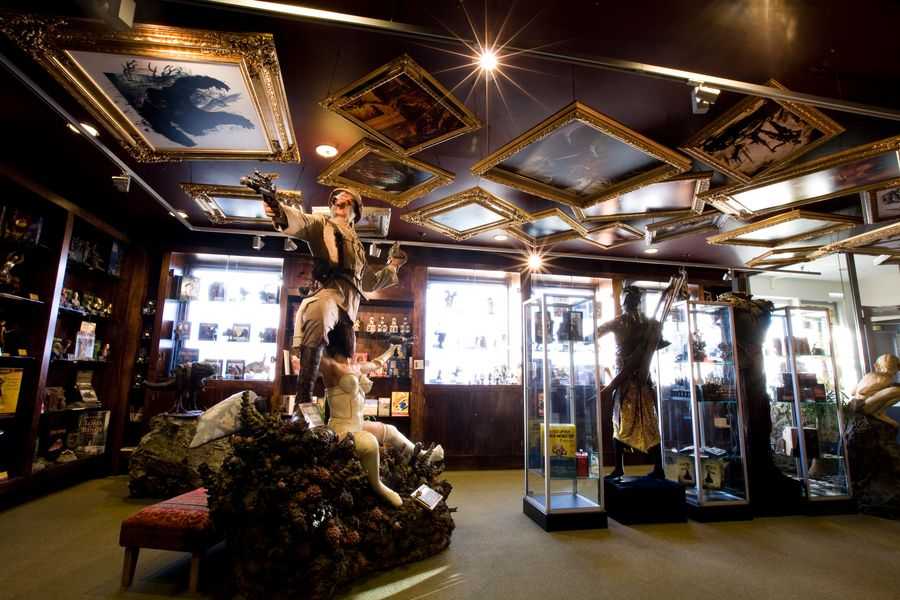 Many of the above can be found on sale at the Weta Cave, a small retail store in Miramar, Wellington. Recently celebrating its 10th anniversary, it offers a unique hybrid of retail experience and exhibit.
"Due to the success of the shop, and the 140,000 people that now come through our lives, we have now opened three tourism offerings," adds Taylor. "These include Windows into Workshop. This is an opportunity for guests to walk through part of our workshop and experience how we make things here. We also have a Thunderbirds Are Go experience, which is really amazing. And then we have another tourism offering open to the large number of cruise liners that come into Wellington in the summer."
Nurturing new talent and IP
Weta has also been running a digital gaming division for the past five years. Weta Game Shop has a relationship with Magic Leap. This is a cinematic reality company out of Florida that develops head-mounted spatial computing technology. The division is currently creating a game based on the intellectual property Dr. Grordbort's.
"Dr. Grordbort's was created by a wonderful individual called Greg Broadmoor," says Taylor. "The IP has evolved because of an endeavour that Tania and I set up at the beginning of our careers called Stardog. We wanted to try and help fellow young sculptors. Over the last two decades, Stardog has supported a significant number of artists within the workshop, assisting them to develop their careers. Some of those people have left our company to start full-time careers as fine art sculptors. Others have been able to develop their own IPs."
In addition to aforementioned game, Taylor and Rodger have supported Broadmoor in developing multiple Dr. Grordbort's publishing deals, high-end merchandising, apparel and travelling experiences.
Man Vs machine
On the Lord of the Rings films, everything Weta Workshop made was manufactured by hand. "Today, 60% of everything we make is in some way touched by robotic manufacturing on the workshop floor," says Taylor.
Yet that 'sheddy' can-do spirit is alive and well. "Maybe 70% of all the equipment that builds the things that assist us is being built by our staff on the workshop floor: axis milling machines, plasma cutters, laser cutters. We also have around 20 3D printers now in service."
There was, initially, a fear that technology would put people out of work. In the event, it has done exactly the opposite. "It allows us to put the dross work into the machines. As a result, this leaves our team free to do the very high end craftsmanship. It is this that makes the work achieve the look that we aspire to on the films that we do."
A fun and fulfilling job
Of all the projects he has done over the years, which has been the most fun for Taylor? "As an abstract answer, the most fun thing to me is empowering young New Zealand creators into achieving extraordinary things. That might sound a bit gauche; but it's a fact. We also love the films we work on, and feel immensely proud of our work and privileged to work on them."
"A more appropriate answer," continues Taylor, "is of course, the Lord of the Rings. Reaching the premiere in Wellington, the red carpet, that day in the glorious sunshine. Over half of the population of the city came out to celebrate. You can't ask for a more euphoric moment than that after seven years of extremely enjoyable but extremely challenging work."
Even after 30 years, Taylor can't wait to get into the workshop each morning. "Tania and I have definitely tried to build an environment and culture of intense collaboration and friendship," he says. "If you want to make your personal name, then you don't want to work here. You have to be part of the team to achieve what is expected of us."
Meeting the expectations of staff and clients
As Weta Workshop has grown, so its staff has grown with it.
"It's interesting," says Taylor, "because any institution like ours goes through extraordinary transitions as we mature from a group of young enthusiasts to a group of older family people. A large number of our staff have been with us 15, 16, 17, some now over 20 years. I think at last count there have been 80 babies born to people that work for us. It is understandable that people need to balance their lives between the near fanaticism you need for the creative process, and family life."
Taylor says that, above all else, the company survives through its open-minded approach to doing things. Without it, "we would be dead in the water. You can't just say, 'Well, that's what the industry is. We're not going to change the way we do it.' We have been innovating our methodologies since coming out of the backend of Lord of the Rings."
Whether it's the screen or location based entertainment industry, Richard Taylor says the audience's expectations today are so extremely high. "Advances in technology and the aspirations of creatives around the world also continue to lift the level of output. Both are very challenging industries to compete in. The only way you can do so successfully is to have the right culture and spirit of endeavour amongst the people around you."
Images as supplied by Weta Workshop