Alterface has released new images of Wanda Qingdao, the world's first and largest indoor roller coaster powered by the company's interactive technology.
Wanda Qingdao is located in Wanda Mall within Qingdao Oriental Movie Metropolis, China's film and television theme park.
The immersive ride combines ancient Chinese storytelling with interactive thrills aboard a high speed, indoor coaster.
Wanda Qingdao combines thrilling storytelling with compelling gameplay
"This attraction combines interactive shooting and roller coaster experience, plus SFX, including buttkickers, liquid nitrogen, hot wind…We have not yet found another attraction similar to this, which confirms the uniqueness of this ride," explains Sherman Shi, Senior Project Executive at Pico Beijing.
"Experiences are being fed from all directions: the ride itself, video and audio, design and decoration, lighting, SFX…we made sure that visitors can feel the excitement from the moment they walk into the gate."
According to Shi, the Wanda Qingdao narrative is inspired by a well-known ancient Chinese myth, 'Investiture of Gods'. The story centres on heroism and pride as people battle against tyranny to create one of the county's greatest dynasties.
"Each of the seven scenes represents a popular Chinese legend about a God, eg Jiang Ziya, the Great Master and Ne Zha, the Brave Warrior," continues Louis Vanhomwegen, Project Manager at Alterface.
"Visitors have to defeat, as allies of the Great Master, each God in every scene in order to become the strongest one. It's a great story with compelling gameplay."
Visitors can hone their shooting skills during the preshow
From the moment guests join the queue line they're being prepared for the adventure to come. Video and audio elements give them a taste of the general concept and storyline. To ensure they get the most out of the gaming element, two preshow rooms give them the chance to hone their shooting skills. Then it's a case of waiting in a brief queue line before boarding the ride vehicles.
"We have 9 trains running on the tracks at 9 metres per second, every train consists of 3 vehicles, allowing each group of 4 visitors to play at the same time (back to back), so a total of 12 players," says Shi.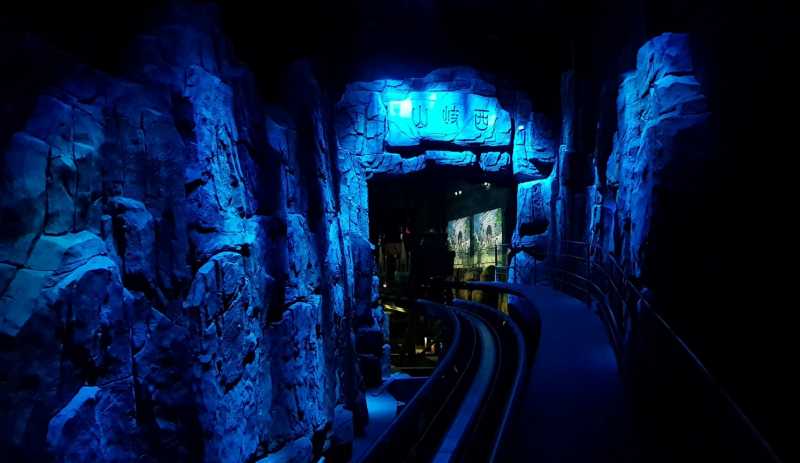 "One game lasts 522 seconds, from boarding to departure. After each game, guests get strapped into the vehicle at the loading platform, taking a roller coaster ride onto the next scene. The interactive elements include shooting, points collection, SFX. All objects are virtual 3D; physical elements are used only for design and decoration."
Shi says the ride can handle 800 visitors per hour on average. This high throughput will no doubt appeal to operators and visitors alike by maximising profits and minimising queueing.
"Alterface designed and installed all image generators and the shooting system (132 guns) across all different scenes, which are supported by over 40 3D projection screens," adds Vanhomwegen.
"A hot wind effect is used in a scene displaying fire on the screens. Furthermore, all vehicles have buttkickers to vibrate the bench seats, managed by our Alterface show management system. It all adds to the incredible experience, making the ride more immersive and memorable."