The entertainment project, headed up by Nikal Ltd and Media Invest Entertainment, is expected to bring an additional 600,000 visitors to Blackpool, along with £75 million in revenue.
The site is 300 metres from the Blackpool Tower, just off the Golden Mile.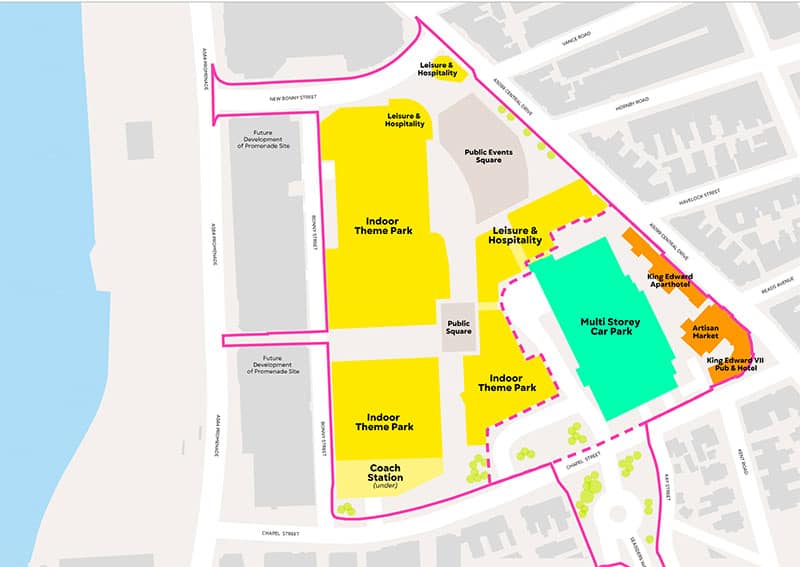 "Blackpool Central is a huge investment and a game-changer for our town," says Cllr Lynn Williams, Leader of Blackpool Council. "We have been working closely with the developers for a number of years to bring this project to fruition and we are delighted that their commitment to invest, and their belief in Blackpool is as strong as ever, as we move forward to the next key stage of the planned development."
Blackpool Central: Phase one
Blackpool Central, will include an indoor theme park with a flying theatre and VR experience.
The theme park will be inspired by the Chariots of the Gods IP. Previous reports said that rides and attractions will include the 'Greatest Mysteries' multimedia exhibition and an 'Alien Diner' eatery.
In addition there will be a public square which will host live events and light shows as well as retail and F&B outlets.
The first phase, for which a planning application is being prepared, will include a new car park which will provide parking for the development and release land for future phases.
It will also see the restoration of historic buildings on the site to create a 'Heritage Quarter'. Listed buildings will be transformed into an 'Artisan Food Hall', an 'Aparthotel' and a pub offering family dining and accommodation.
The development will take "a number of years", with the car park anticipated to be completed 12 months after gaining planning permission.
Public consultation
A public consultation has been launched on the Blackpool Central website. There will be an online Q&A on 12 May, and the consultation closes on 26 May.
Norbert Reichart, Chief Executive Officer, Media Invest Entertainment says, "We're looking forward to hearing what people think about the plans … The new indoor theme park will provide all year, all weather family entertainment. With a mix of attractions, using some of the world's latest technology, it's set to become one of the UK's most exciting destinations."
"We're looking to create a world-class leisure destination that will add to Blackpool's current offer and attract hundreds of thousands of new visitors every year," adds Richard Fee, Chairman, Nikal Ltd, "This planning application for the enabling phase will allow us to deliver the new multi-storey car park and the Heritage Quarter, where we're planning to create a new Artisan Food Hall. We want to understand and listen to what the local community, local businesses and visitors to Blackpool think of this game-changing opportunity. Please get in touch and help us define and shape the scheme."
Images: Blackpool Central