Cedar Fair has announced a lineup of new experiences across its parks – including two new rollercoasters at Canada's Wonderland and Carowinds.
The investments include a new hotel, events and dining options across Cedar Fair's portfolio of parks.
Canada's Wonderland
Canada's Wonderland, Ontario, will open the longest, fastest and tallest dive roller coaster in the world: Yukon Striker.
Yukon Striker will open for the 2019 season as the country's first dive coaster and the park's 17th coaster.
It will be located in the newly themed area, Frontier Canada.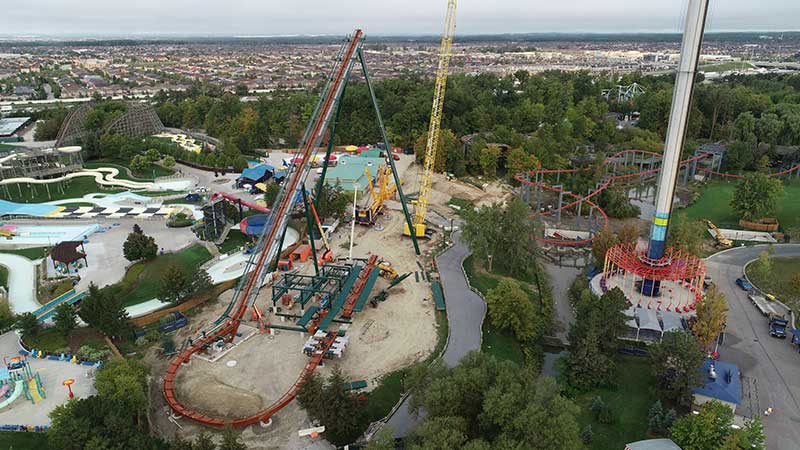 Next year, Canada's Wonderland will also add WinterFest to its events calendar – the immersive holiday experience that runs through November and December.
Carowinds
Carowinds is set to introduce Copperhead Strike, the Carolinas' first double launch coaster, for the 2019 season.
Copperhead Strike will put riders in getaway cars racing through farmland. It will feature two launches through a winding ride over half a mile of coaster.
The ride's dynamics have been specially designed to be low-to-the-ground and increase intensity.
The park will also open a 130-room hotel. The new SpringHill Suites by Marriott at Carowinds will open guests late in the year. There will also be a new dormitory to house students from across the region and the world. This will allow the park to develop new programs such as a full internship for travel and tourism students.
Investments "differentiate Cedar Fair"
Cedar Point will add the new Forbidden Frontier on Adventure Island attraction. In the immersive experience, guests will interact with characters to unlock puzzles and complete challenges.
Cedar Fair will also expand its "Pre-K Pass" program to California's Great America in Santa Clara. The program provides children aged 3 to 5 with a free season pass. Seven Cedar Fair parks will offer the free Pre-K Pass to help families with younger children visit the parks repeatedly throughout the year.
Cedar Fair's President and CEO Richard Zimmerman said, "The investments we make to further improve our parks each year allow us to provide unparalleled experiences that delight our guests and differentiate Cedar Fair in the industry. Each season we introduce exciting new attractions, including roller coasters and immersive family rides, holiday-themed celebrations, and upgraded food and beverage programs. Our guests appreciate the unique, exhilarating, memorable and fun experiences available at Cedar Fair's entertainment properties."
Long term strategy
Cedar Fair owns and operates 12 amusement parks, two outdoor water parks, one indoor water park, and five hotels in the US and Canada. Its properties include Cedar Point in Ohio, California's Great America, Carowinds and Knott's Berry Farm.
In August, the company presented its long term strategy for growth, and says it will embrace digital technology at its parks and develop the adjacent land.The company also says it will improve guest experience, encourage advance sales, and manage capital and productivity.
Last year, Cedar Fair reported $1.32bn in net revenue, a 3% rise from 2016, with its parks receiving 25.7 million visitors throughout the year, a 2% increase. The long term strategy is hoped to continue this trend.