Leading creator of thrill rides and attractions, Zamperla, has provided its Thunderbolt coaster to China's Dalian Discovery Kingdom.
The ride is the star attraction of a new themed area opened by the park's developer, Haichang Group. The coaster sits within a fairytale castle.
Dalian Discovery Kingdom is one of three locations to install a Thunderbolt ride. The others are at Luna Park, Coney Island in New York and the newly-opened Park at OWA in Alabama.
At 107 metres x 71 metres, this latest iteration has a different layout to the original and features a 675 metre track. Riders are seated in one of four, nine-seater vehicles which reach a maximum speed of 85 km/h.
Dalian Discovery Kingdom occupies 470,000 square metres and is divided into six themed areas: Crazy Town, Mysterious Desert, Metal Factory, Magic Forest, Legend Castle and Wedding Palace. The zones are clustered around a central lake. The park features around twenty attractions including a number of roller coasters, two water rides and a vertical drop tower, among others.
A fourth Thunderbolt is slated to open next year at Mason Robotland in South Korea.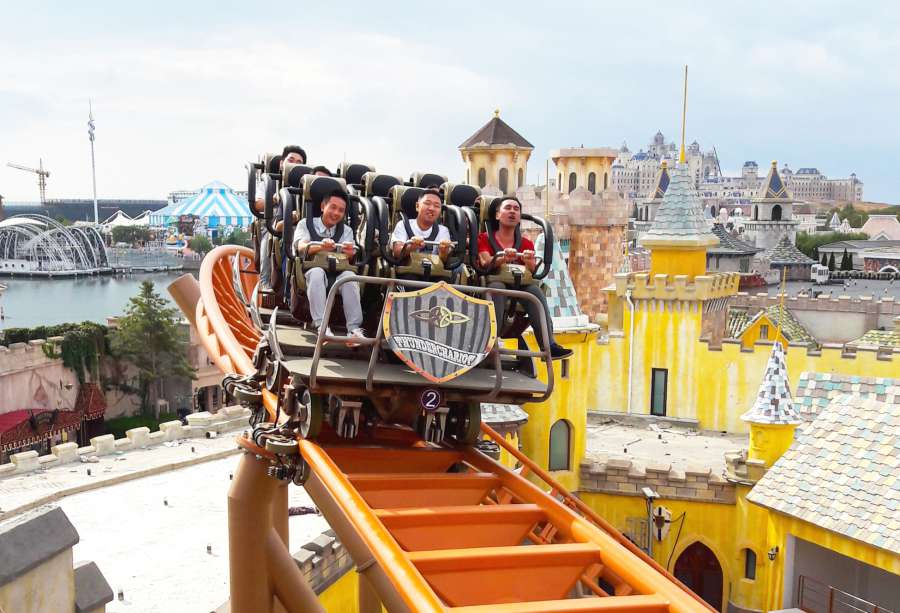 Zamperla has a long association with the Haichang Group in China and has been developing amusement rides for clients worldwide since 1966. The company was founded by Antonio Zamperla who has since been inducted into IAAPA's Hall of Fame for his services to the theme park industry.
A major turning point for Zamperla was winning the contract to provide seven of the initial twelve rides for Walt Disney's Paris amusement park, now Disneyland Paris.
Since then, the Vicenza-based company has continued to expand its offering, and now boasts an annual turnover of around €50 million. An enviable client roster includes theme park giants such as Disney, MCA Universal Studios, Warner Bros., Six Flags, Paramount and more.