Walt Disney Parks and Resorts announce stellar line-up of brand new attractions and experiences.
Over a dozen new experiences will come to Disney parks and resorts while many more exciting projects are in development.
Walt Disney Parks and Resorts Chairman Bob Chapek addressed nearly 7,000 fans at D23 Expo 2017 in California.
"On the heels of the many new and incredibly popular experiences that just debuted this year, the best is yet to come," said Chapek. "We have ambitious plans for our parks and resorts around the world. "We're investing in the guest experience like never before, and we're doing it all in way that is only possible at Disney!"
Disney's Hollywood Studios
Three new experiences are scheduled for Disney's Hollywood Studios.
Star Wars: Galaxy's Edge will open in 2019 with two anchor attractions – one placing guests in the heart of a battle on a Star Destroyer and another allowing guests to fly the Millennium Falcon. Guests will meet characters including BB-8, Rex, Kylo Ren and Chewbacca.  At 14 acres each, Star Wars: Galaxy's Edge is the largest single-themed land expansion. It will debut at Disneyland Park in Anaheim, then at Disney's Hollywood Studios in Orlando.
Mickey and Minnie's Runaway Railway – the ground-breaking ride will replace The Great Movie Ride inside the Chinese Theatre. Guests will journey inside the world of Disney Channel's Emmy Award-winning "Mickey Mouse".
Toy Story Land – Toy Story Land is scheduled to open summer 2018. In addition, plans were unveiled for Pixar Pier at Disney California Adventure. There's more Pixar fun scheduled for Pixar Fest at Disneyland Resort. Starting in 2018, the limited-time offering will include special characters and a new fireworks spectacular.
Epcot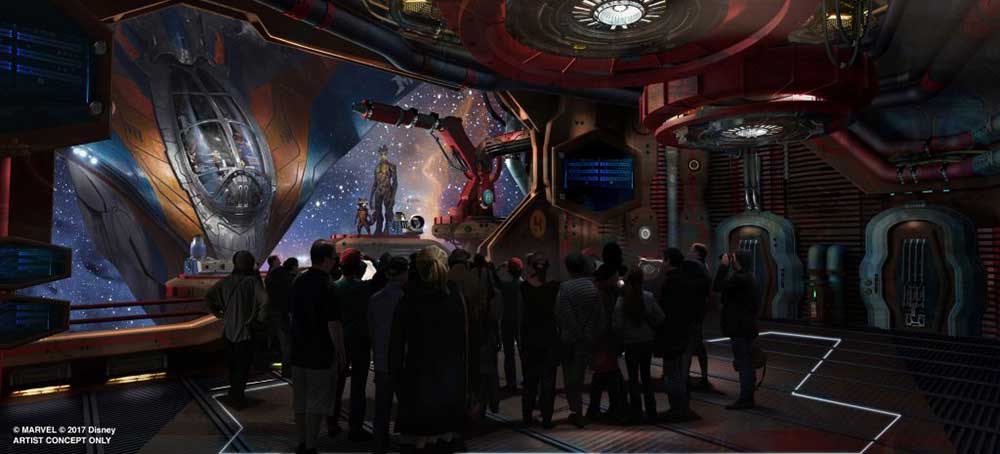 Epcot is approaching its 35th anniversary in style. Several new offerings will allow it to evolve and expand while staying true to its original vision.
Guardians of the Galaxy – From 2021 guests will encounter the action-packed world of Guardians of the Galaxy with its wild cast of characters in an entirely new way. Ellen's Energy Adventure inside Universe of Energy will close in August this year to make way for the new attraction.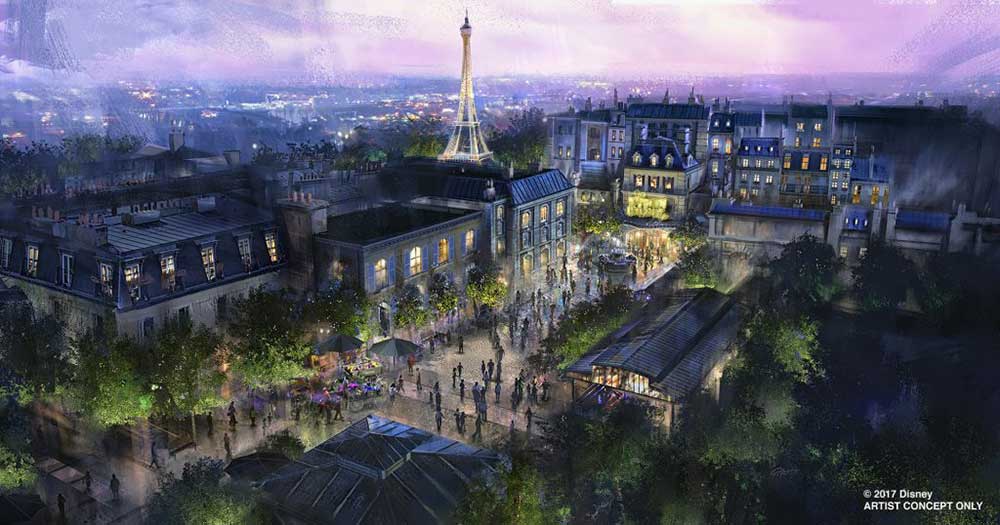 Ratatouille – Guests will go on a wild chase across a kitchen with all the sights, sounds and – most importantly – smells of Gusteau's Parisian restaurant.
China pavilion – A brand new Circle-Vision show will showcase the splendour and majesty of China.
Mission: SPACE – Orange Mission will be updated. In addition, a brand new Green Mission will take guests on a thrilling tour around the Earth. Younger cadets can join the adventure for the first time. Mission: SPACE will reopen August 2017.
New restaurant – A new table-service restaurant will be situated next to Mission: SPACE. Guests will travel high above the Earth for an out of this world dining experience.
Magic Kingdom Park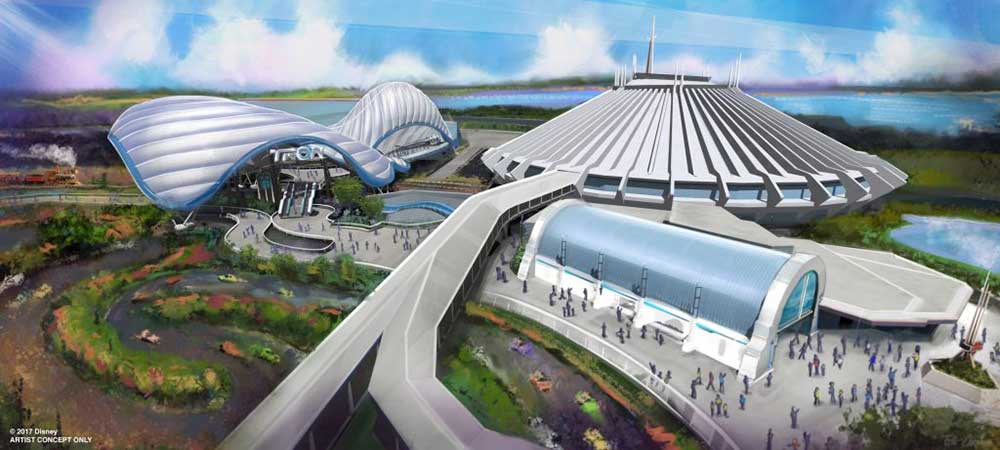 At Magic Kingdom there are two new offerings planned.
"Tron"-themed attraction. A new area near Space Mountain in Tomorrowland will be home to the highest rated attraction from Shanghai Disneyland.
Live entertainment theatre – This will be a new venue for world-class entertainment. It's modelled on the iconic Willis Theatre in Kansas City where Walt lived in the 1920s after he left Marceline. It will be located off Main Street U.S.A.
Hotel experiences
Chapek also announced that Disney Riviera Resort will be the 15th Disney Vacation Club property. It will be located near Epcot. One of its attractions is a rooftop restaurant offering stunning views of night-time spectaculars at Epcot and Disney's Hollywood Studios.
Immersive hotel experiences are also on the cards. Chapek announced a thrilling immersive Star Wars-themed hotel at Walt Disney World Resort. The luxury resort will be the most experiential concept ever, sweeping guests into the galaxy of Star Wars for a multi-day adventure.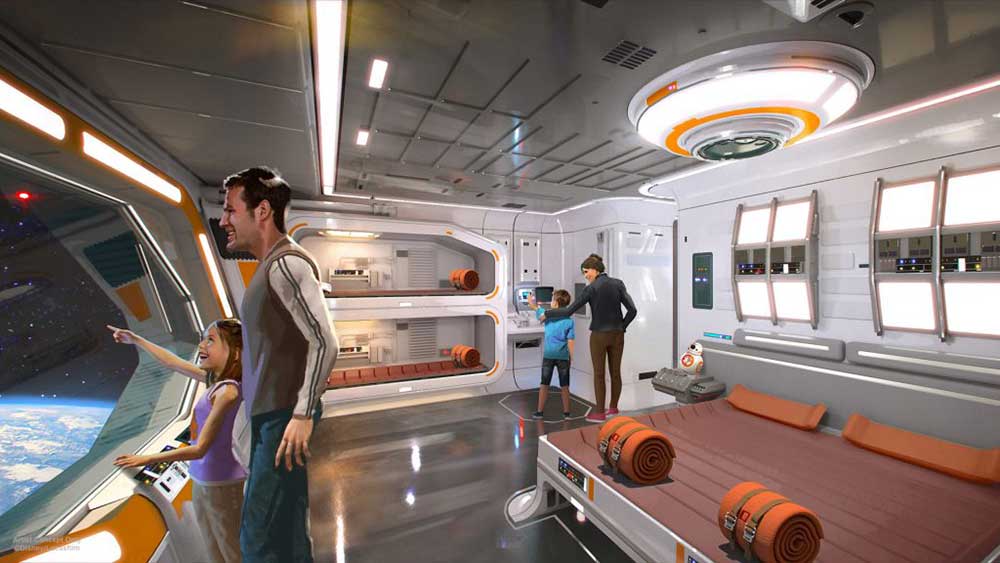 Meanwhile Disney's Hotel New York – the Art of Marvel will open in Disneyland Paris.
Disney Cruise Line is adding yet another new ship to its family cruise fleet. Two new ships were announced only last year and, when all three ships are completed by 2023, the fleet will have nearly doubled in size.
Transport
Transportation hasn't been overlooked. The Disney Skyliner will connect Epcot and Disney's Hollywood Studios to four resorts – Disney's Art of Animation Resort, Disney's Pop Century Resort and Disney's Caribbean Beach Resort, as well as the proposed Disney Riviera Resort. Guests will travel in gondolas and marvel at a never-before-seen birds eye view of the resorts.
Starting later this month, the Minnie Van service is a point-to-point transportation service. Guests call up their own private vehicle from their smartphone. A Disney Cast Member will then drive them wherever they want around Walt Disney World.
Images: Disney