Hong Kong Disneyland Resort is now undertaking the most important stage of its ongoing transformation of Sleeping Beauty Castle, adding Disney Princess-themed towers.
The thematic towers, turrets and spires represent the stories of 13 Disney Princesses (and heroines). They are now being lifted onto the iconic castle's base.
Crafted with individual architectural designs, each Disney Princess tower will feature iconic patterns, textures, colours and ornamentation.
Tiana (The Princess and the Frog), Aurora (Sleeping Beauty), Ariel (The Little Mermaid), Merida (Brave), Belle (Beauty and the Beast), Rapunzel (Tangled), and Jasmine (Aladdin) will all feature on the castle.
Castle to feature 13 Disney Princesses
Also getting a place on the structure are Cinderella, Mulan, Snow White, Moana, Pocahontas, and Frozen's Anna and Elsa.
The princesses and heroines will celebrate diversity, inclusion and unity, with the castle representing courage, hope and possibility.
As the transformation of the castle takes place, Hong Kong Disneyland has various Disney Princess experiences on offer.
These include an immersive experience at the Storybook Shoppe – Bibbidi Bobbidi Boutique, and Hong Kong Disneyland Hotel's Cinderella Suite at the Kingdom Club.
Hong Kong Disneyland's ongoing expansion project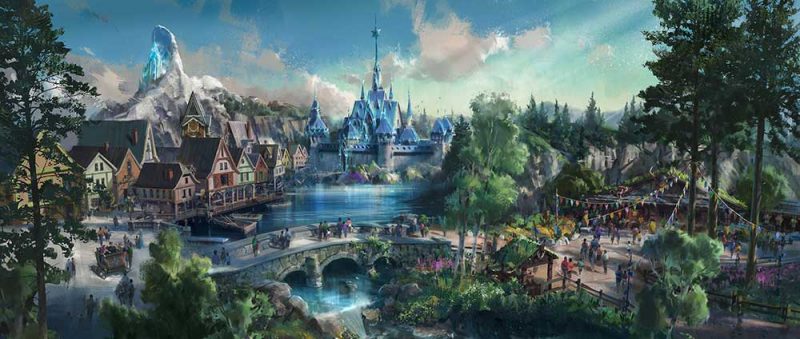 The newly transformed castle will debut in 2020, and will feature a new outdoor stage area and viewing terrace for a new daytime show and nighttime spectacular.
Hong Kong Disneyland's six-year expansion project is budgeted at HK$11 billion, and will include Frozen and Marvel zones.
Bob Chapek, Chairman of Walt Disney Parks and Resorts, previously expressed excitement "about the future of Hong Kong Disneyland.
"We are bringing the best of The Walt Disney Company to this wonderful tourist destination, giving guests from around the world an experience only Disney can deliver and an experience they can only have with us at Hong Kong Disneyland," he added.
Earlier this year, Marvel-themed attraction Ant-Man and The Wasp: Nano Battle! opened at Hong Kong Disneyland Resort, with Ant-Man star Paul Rudd there to try out the new ride.
Images: Disney