Leading supplier of adventure attractions, Innovative Leisure, has provided a double level Sky Trail Voyager high ropes course to Roarr! Dinosaur Adventure in Norwich, UK.
The attraction features the world's first twin parallel Sky Rail zip lines, which are also the longest in Europe at 34 metres.
Branded 'Predator High Ropes', the installation is part of a multi-million-pound revamp of the award-winning family attraction. Innovative Leisure were briefed to provide a unique adventure offering with enough capacity to allow it to be included in the entrance price.
The Sky Trail high ropes course was seen as the ideal solution. It can accommodate large numbers of participants with a quick turnaround. This particular course has room for 50 guests at a time and can handle up to 200 guests per hour. It features four linear paths with a total of 28 different elements on the first and second level.
"Predator High Ropes was a 24-month project. It was built within 6 months, and was launched to our visitors in time for Whitsun half-term and the spring bank holiday," explains Charles Adam Goymour, General Manager of the family-owned park.
"This was made possible thanks to a dedicated team of 75+ people, including 10 contractors, our in-house team at Roarr! Dinosaur Adventure and Innovative Leisure. This was a substantial investment for us which amounted to £1 million in total for the project."
Predator High Ropes is increasing guest satisfaction and dwell time
Goymour said the new attraction was a key part of the park's 5 year strategic development plan:
"Predator High Ropes is already adding many great benefits to the business. It is also providing guests with additional satisfaction, experience and dwell time to their day out."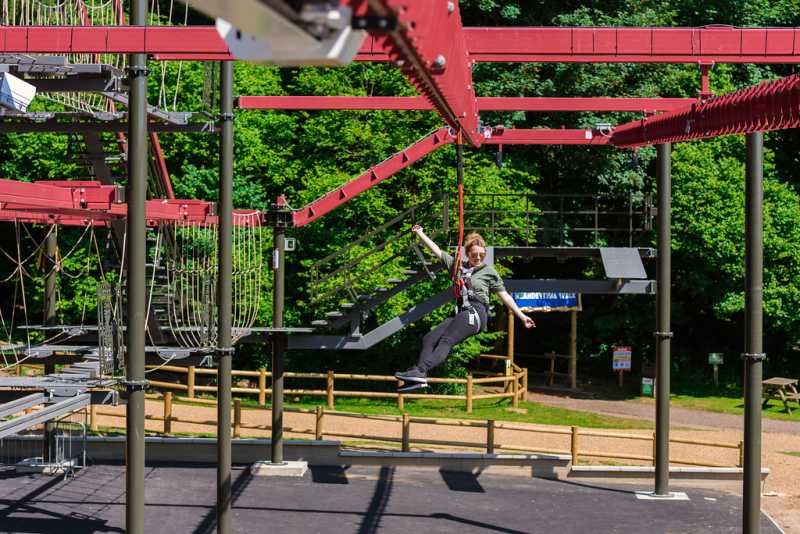 The parallel Sky Rail zip lines are fully automated with traffic light systems to assist crew members with the flow of customers. This patented advanced technology also ensures high throughput with minimal staff required, making it what the company calls the "roller coaster cousin" of high ropes adventuring.
"Part of the brief for the course design was to create an attraction that would appeal to an older guest/child, to make something quite impressive and thrilling and also to make it accessible for parents to enjoy WITH their children," added Phil Pickersgill, Managing Director of Innovative Leisure.
The new attraction was designed with Jules Verne/steam punk style theming to reflect the park's Edwardian secret garden vibe.