Jora Vision, a leading design and production company for themed attractions, has announced it will be developing a new dark ride at Europa-Park in Germany. The attraction, called Snorri Touren, will be based on the mythical world of Rulantica.
Europa-Park is one of the world's leading theme parks and the second busiest in Europe. The new dark ride will be a feature of the park's refurbished Scandinavian zone. Jora Vision, which specialises in immersive experiences and attractions, is proud to be developing the project for Europa Park. The ride is called "Snorri Touren" and will be created in the basement of the Scandinavian land. The mythical world of Rulantica has been developed by the design team of Mack Solutions.
"The last couple of years we have created several amazing dark rides, such as the "Thea" awarded Bazyliszek in Poland and the Raving Rabbits Time Machine in Futuroscope. When Mack Solutions reached out to us about creating a dark ride based on the character Snorri, we were very excited. Not only did we get the chance to work together with the creative talents of Mack Solutions, Mack Animation and Mack Rides, but we were given the trust to translate their creative vision into a full concept design and execute the full project from schematic design up to the production of show sets," says Robin van der Want, Project Development Director at Jora Vision.
Scandinavian style
"The new to build Scandinavian area was perfect to integrate the theme of Rulantica since the Nordic Scandinavian style fits with our story of Rulantica," says Patrick Marx, Project Manager at Mack Solutions. "In our story, the fishermen who live in this village have netted Rulantica artefacts and they found Snorri in a barrel. A new friendship grew with the villagers and Snorri found his home in the basement of one of the houses in the Scandinavian area."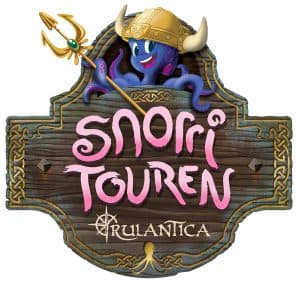 Simeon van Tellingen, Creative Director at Jora Vision says: "From the basement, Snorri has decided to set up his own travel agency. Boarding a patch together rubber boat, a custom designed vehicle we designed for Mack Rides, the visitors are mysteriously transported to Rulantica to explore its mystifying realms. What we love about this attraction is the combination of classic dark ride techniques, such as animatronics and elaborate show sets with on the other side state-of-the-art technology such as integrated media, lighting and yet to reveal special effects. Although it is designed to "wow" families with young children, it will definitely entertain guests of all ages."
"The creative chemistry with Jora Vision has been superb, we are confident that they are the right partner for this project to bring the story to life and develop it further into a wondrous ride," says Marx.
Jan Maarten de Raad, CEO at Jora Vision says: "The collaboration with Europa Park is great, together we form a dream team. I am sure that the passion of our joint adventure will come back into the overall experience and guest appreciation!"
"Snorri Touren" is set to open later in 2019. The theme of Rulantica ties in with Europa Park's expansion of the same name. Rulantica is expected to open in November 2019 and is the park's biggest project to date. The new water world will feature nine different settings and 25 exciting water attractions over 450,000 square metres. It will also include two self-service restaurants, eight exclusive Cabanas with catering service, and two swim-up bars.
Jora Vision also recently created an immersive new show at Europe's largest wine museum.