Disney is revamping the California Screamin' roller coaster and turning into the centrepiece of Pixar Pier with a new theme. Now, details about its transformation into the Incredicoaster have been revealed.
Pixar Pier opens at Disney California Adventure park on 23 June. It will feature four zones themed around three Pixar movies – 'The Incredibles', 'Toy Story' and 'Inside Out'. The fourth section will be Pixar Promenade, "a celebration of many of your favourite Pixar stories," according Disney Parks blog.
Themed on 'The Incredibles', the Incredicoaster has undergone extensive renovations including engineering works on the existing launch system and 360-degree loop. The coaster structure and track, which catapults 24-passenger cars from zero to 55mph in four seconds, will remain the same.
The majority of the work has gone into changing the theming. An all new story has been created for the ride, which follows the Parr family of superheroes from the 2004 Pixar film – with a sequel due out this year.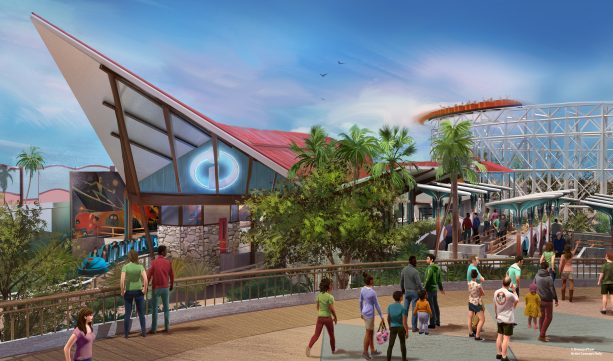 On the coaster, riders will have to help the Incredibles as they attempt to save baby Jack-Jack. While waiting in line in a new glass entryway and shaded queue, guests will learn the backstory.
Taking place after the events of the first film, the Incredibles are being honoured for their heroics at the opening of a new roller coaster themed for their deeds. However, as Jack-Jack is a baby he is deemed too small to ride the coaster and is taken away to a special VIP area to await his family's return.
Not too happy about being unable to take part, Jack-Jack uses his superpowers to escape and get to the coaster.
Riders on the Incredicoaster will see special effects and projections of the superhero family trying to catch Jack-Jack, with the newly expanded "scream tunnels" showing the different aspects of the story.
In the first tunnel, older brother Dash tries to catch Jack-Jack using his super speed. Once he fails, Elastagirl attempts to catch him in the second scream tunnel. In the third tunnel it is Violet's turn and she tries to catch Jack-Jack using her force fields.
Details of how Jack-Jack is eventually caught were not revealed. The ride is due to launch on 23 June, when Pixar Pier opens. It will also feature an original musical score.
Disney has also revealed details about other attractions guests will find at Pixar Pier, including a revamped carousel with a Toy Story theme.
See how California Screamin' is becoming the Incredicoaster at the Disneyland Resort