Disney has revealed more details about the attractions guests will find at Pixar Pier including a revamped carousel with a Toy Story theme.
The King Triton's Carousel was closed down last week and is now being transformed into an attraction with a Toy Story theme. When it reopens in 2019 it will be known as Jessie's Critter Carousel and guests will be able to ride one of 56 animals, including a turtle, snake, buzzard, armadillo, bunny, deer, raccoon, ram, skunk and two logs inhabited by a family of owls.
Pixar Pier opens at Disney California Adventure park on 23 June. It will feature four zones themed around three Pixar movies – 'The Incredibles', 'Toy Story' and 'Inside Out'. The fourth section will be Pixar Promenade, "a celebration of many of your favourite Pixar stories," according Disney Parks blog.
Just past Lamplight Lounge, guests will find Adorable Snowman Frosted Treats, formerly the Paradise Pier Ice Cream Company. Inspired by the lovable and not-at-all-abominable monster from 'Monsters, Inc' this will be the go-to place for frozen treats.
In the 'Toy Story' neighbourhood of Pixar Pier will be Poultry Palace, designed as a giant carton of takeout chicken. This giant meal inspired by Pixar's short 'Toy Story Toon – Small Fry' and replaces Don Tomas Turkey Legs.
Also in the 'Toy Story' area will be Senor Buzz Churros, a revamped churro stand themed after Buzz Lightyear.
In the 'Inside Out' area, Angry Dogs will serve up some hot items – which is the perfect place for Anger from the film.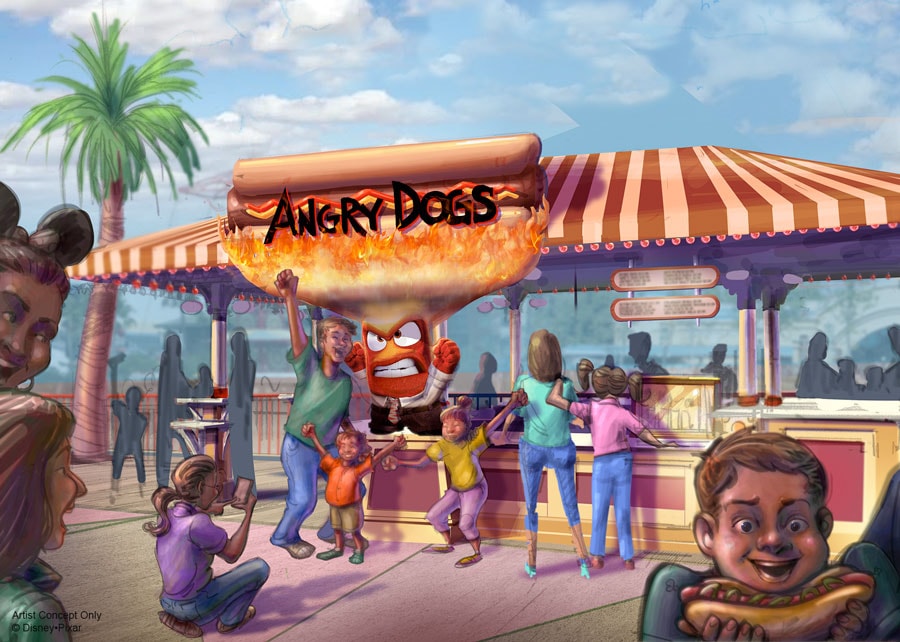 To enter Pixar Promenade, guests will pass under a new archway. Three of the four existing arcade games have been reconfigured with Dumbo's Bucket Brigade becoming Wall-E Space Spin, Goofy About Fishin' becoming La Luna Star Catcher, and Heimlich Candy Corn Toss replacing Casey at the Bat. Bullseye Stallion Stampede will remain the same.
The centrepiece of Pixar Pier will be the Incredicoaster, which Disney describes as "a super combination of character figures, lighting and special effects that will bring the Parr family racing alongside you in a high-speed adventure".