Six Flags Fiesta Texas has announced plans to launch the world's steepest dive coaster, Dr. Diabolical's Cliffhanger, in summer 2022.
The dive coaster features a cliffhanger hold, which suspends riders as they face a 95-degree, beyond-vertical drop before releasing them into a thrilling 150-foot dive.
"Six Flags Fiesta Texas continues to push the limits of thrill and innovation as we prepare to introduce the world's steepest dive coaster during our 30th anniversary season," said Jeffrey Siebert, park president.
"Dr. Diabolical's Cliffhanger joins an already stellar lineup of record-breaking roller coasters, rides, and attractions," Siebert added.
Six Flags coaster features cliffhanger hold
"With eight intense elements including dramatic inversions and extreme airtime, it will quickly become a fan favorite."
Dr. Diabolical's Cliffhanger riders will begin their journey in an immersive ride queue that focuses on Dr. Diabolical's mission to create menacing creatures.
Dr. Diabolical has constructed a machine to capture the essence of human adrenaline and fear in order to bring her creatures to life.
Six Flags' new coaster features three 21-passenger trains, which carry riders at speeds of up to 60mph through a series of thrilling experiences.
Six Flags transformation plan update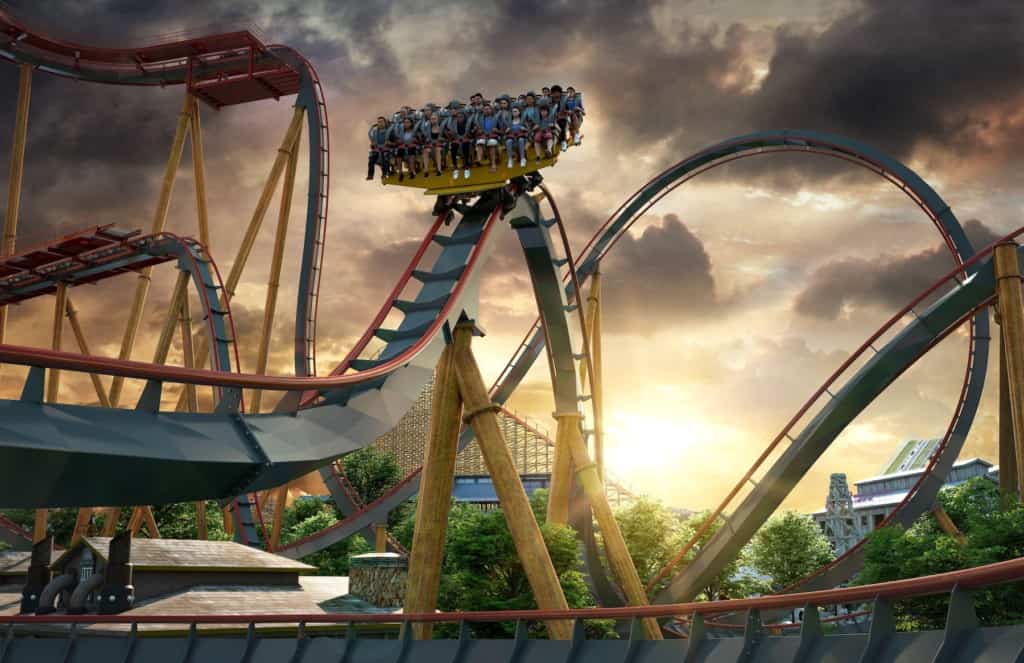 The roller coaster boasts 2,501 feet of track, as well as a 75-foot, near-vertical drop. It also include an Immelmann inversion, with riders entering a half-loop.
This is followed by a half twist and 180-degree turn. Other elements include an extreme airtime hill, wild-banked turn, high-speed spiral and 270-degree zero-g roll.
Six Flags Entertainment Corporation has also reported attendance of 8.5 million and revenue of $460 million for Q2 2021, and shared an update on the company's transformation plan.
Six Flags is working on modernising the visitor experience through technology and upgrading its operational efficiency to revitalise long-term profit growth.
"Our goal is to delight both our guests and our shareholders by providing classic Six Flags thrills, enhanced with modern technology, while keeping a careful eye on costs," said Mike Spanos, president and CEO of Six Flags.
"While the operating environment continues to be challenging, we are encouraged by the initial progress on our transformation plan, which contributed to our improving revenue and guest spending per capita trends."
Dr. Diabolical's Cliffhanger is a custom-designed coaster created by Bolliger & Mabillard. It will be located in the Crackaxle Canyon Screampunk District when it opens in 2022.
Images: Six Flags