Following reports that Disneyland Resort is refurbishing Snow White's Scary Adventures, Disney has shared new details and concept art for the dark ride in Fantasyland at Disneyland Park.
According to the Disney Parks Blog, the ride will have its interior and exterior updated in 2020, and Walt Disney Imagineering is reimagining the story of Snow White.
The attraction's exterior will be completely refreshed with fairy tale-inspired details to complement the Sleeping Beauty Castle, located nearby.
The ride will also get enhanced story details and new scenes, including a vignette showing Snow White in a forest, waking up from her deep sleep.
Dark ride is getting interior and exterior updates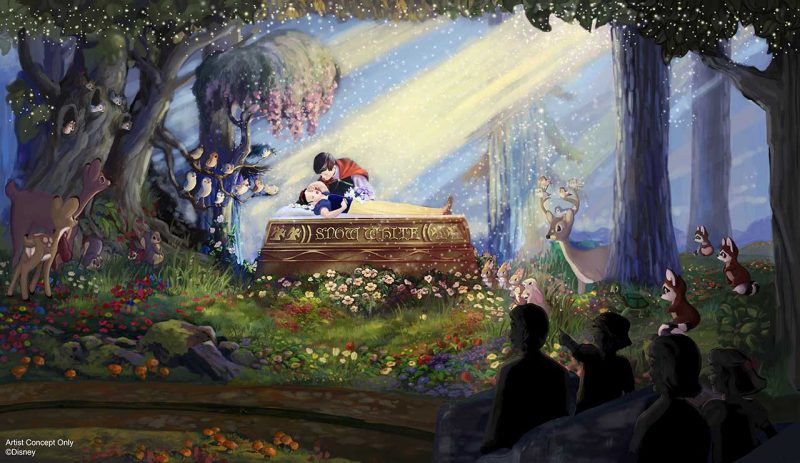 It will conclude when Snow White is reunited with her animal friends, and a large and welcoming castle is seen in the distance.
Walt Disney Imagineers will implement state-of-the-art audio and visual technology throughout Snow White's Scary Adventures.
This includes new music, LED black lighting, laser projections, and a new animation system.
Snow White's Adventures opened in 1955 alongside Fantasyland attractions such as Peter Pan's Flight, Mr Toad's Wild Ride, King Arthur Carousel, and Mad Tea Party.
The dark ride was previously refurbished, debuting in 1983 alongside a new version of Fantasyland. It reopened with new technology, a new exterior and the new name of Snow White's Scary Adventures.
Enhanced story details, new scenes for Snow White
As previously reported, Disneyland filed a building permit for a $445,000 refurbishment. It plans to remove and replace show sets, props and scenes, and install new structural beams, refurbish rock work and make electrical upgrades.
The permit also called for new projector platforms, suggesting that Snow White's Scary Adventures could get upgraded special effects.
Disneyland Resort recently unveiled the new entrance for Tomorrowland at Disneyland in a concept image. The revamped area will be completed in 2020.
In 2020, Snow White's Scary Adventures – an opening day attraction – will celebrate 65 years at Disneyland.
Images: Disney