Play Disney Parks creators have revealed how to use the app at Star Wars: Galaxy's Edge, explaining how to hack droids, translate alien languages, and pick sides.
The Play Disney Parks app serves as a mobile game platform and utility tool at Galaxy's Edge, transforming visitors' smartphones into Star Wars-style Datapads and allowing them to customise their experiences.
"Everyone's experience is going to be a little bit different, depending on the choices that you make about what you interact with, as well as the different factions you decide to ally yourself with," said Anisha Deshmane, assistant producer on the Play Disney Parks app.
Using the Star Wars-style Datapads on smartphones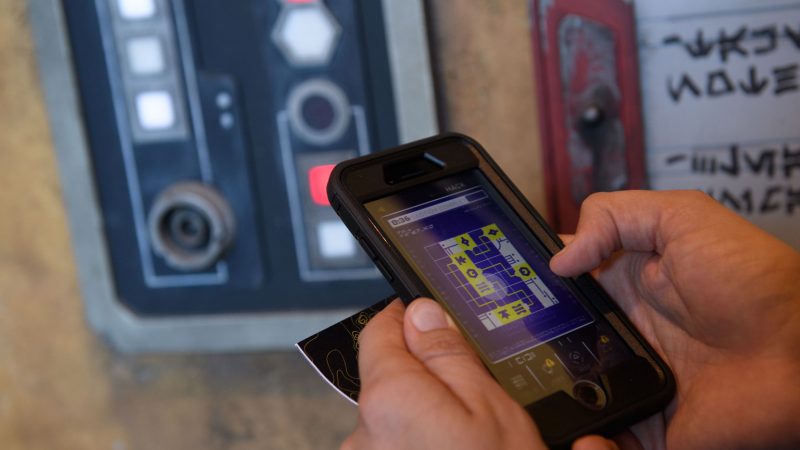 "If you decide to do a lot of things for the First Order, you're going to have a different experience than those who decide to help the Resistance."
The app's tool kit is made up of four tools – scan, translate, hack, and tune. The translate tool, as the name suggests, translates alien languages. "It makes me feel like I'm more immersed," said Deshmane.
On the scanning tool, guests are given puzzles to decode, revealing hidden objects. The hacking element allows visitors to interact with droids by the Droid Depot and play the Outpost Control game.
Translate, scan, hack and tune at Galaxy's Edge
As for the tune feature, guests can intercept transmissions and hear local talk. "Maybe just open up your tune function by walking around the land and seeing what happens," said Deshmane.
The Play Disney Parks app also lets visitors talk to characters in the new land and from other places in the galaxy, including Rose Tico, Hondo Ohnaka, and General Hux.
"Your choices matter," said Asa Kalama, the executive creative director of Millennium Falcon: Smugglers Run. "Based on the way the guests interact with the environment, with the props within the land, what jobs they choose to go on, all of that affects the sort of persona that they're starting to create for themselves and as a result the way the world around them starts to engage with them."
"You actually start out as completely neutral in the land and then based on the choices that you make and the things that you do, that affects your allegiance," added Deshmane.
Star Wars: Galaxy's Edge is an immersive land featuring interactive experiences, themed F&B and intergalactic merchandise. Even the characters and the land itself have their own elaborate backstory.
Images: Disney