Strategic Horizons LLP is pleased to announce the world's only course dedicated to the tools, techniques and ideation methods of the Experience Economy. This takes place from 3 – 7 August 2020in Minneapolis, Minnesota, and is led by Joe Pine and Jim Gilmore, the authors who pioneered the idea of the Experience Economy in the late 1990s.
Learn how to stage memorable experiences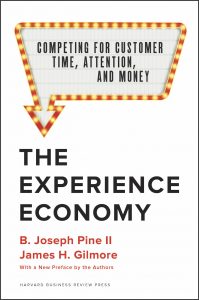 In today's Experience Economy, creating memorable experiences is key when it comes to competing in the attractions industry. This course offers a unique opportunity to learn the skills needed in order to imagine, design and stage experiences that truly engage with guests, helping attendees to fast-track their careers.
Taught by Pine and Gilmore, this annual course offers certification for marketers, strategists, trainers, designers, consultants, and CEOs, giving them the knowledge and resources needed to create compelling experiences. Attendees will receive detailed instruction in the Experience Economy principles and models, as well as training and practice in creative facilitation techniques. They will also learn how to effectively share these ideas with others.
The 30-hour course covers key topics from Pine and Gilmore's influential book, such as Theming, the Four Realms of Experience, Eliminating Customer Sacrifice, Directing Employees to Act, and much more. It features presentations of frameworks and models, as well as practical exercises and open discussions.
Powerful tools
Attendees will receive a complete set of PowerPoint files, with all the content covered in the course, as well as examples and instructions. This 'Trainer's Toolbox' allows participants to bring the knowledge they have gained back to their organisation or clients and to pass it on effectively.
Participants also receive e-files of the official Pine & Gilmore Experience Economy Expert Certification logos once the course is complete, for use in promotional materials, business cards, and marketing and training collateral.
This intimate course is only held once a year and limited to twelve participants. To find out more and apply for a place, please click here. To date, more than 285 people from across the globe have advanced their careers by becoming Certified Experience Economy Experts. Strategic Horizons also offers private, in-house Certification courses for corporate teams, enquire by email.
In 2019, Strategic Horizons announced the release of an updated edition of The Experience Economy, with new content.