The new website for Super Nintendo World at Universal Studios Japan has been launched, together with a new video, giving more details about the new theme park land.
Super Nintendo World will officially open on February 4th 2021. The new website is very interactive, with visitors simply having to scroll through the homepage to be taken to different areas of the land.
The background images are animated, just as they are in the park, giving guests a taste of what the land will be like in real life.
More information about the attractions, interactivity, food and merchandise offerings can be found on the site.
More interactive details revealed
Super Nintendo World is designed to be interactive. By purchasing a Power-Up Band, visitors can collect virtual coins and experience key challenges. Linking the wearable band to the Universal Studios Japan app will allow visitors to collect digital stamps and see their score.
There will be several interactive activities available for guests. The website reveals more information about the Power-Up Band Key Challenge.
Guests must help Peach get back the Golden Mushroom that Bowser Jr has stolen by collecting three keys from the land. Guests must face Bowser Jr's underlings in five possible Key Challenges.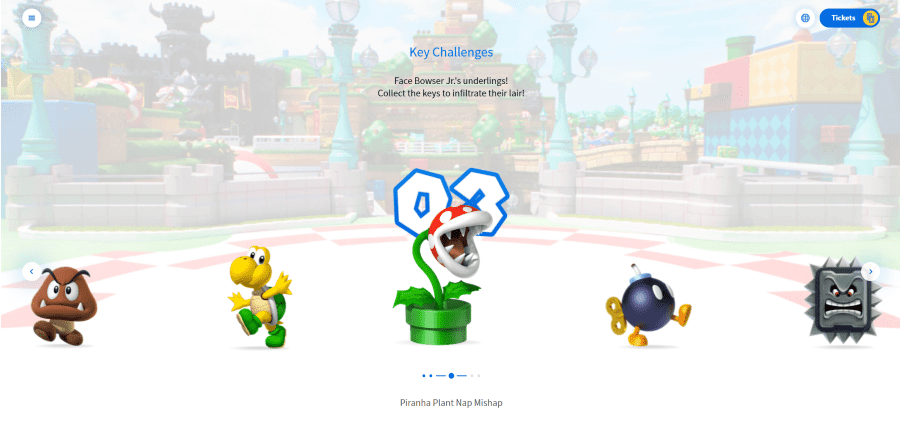 Once they have collected three keys, guests will face a final battle with Bowser Jr in the Shadow Showdown.
https://www.youtube.com/watch?v=78anrP1wk60
This new video has also been released and shows guests using the Power-Up Bands in the theme park through Key Challenges and ? Blocks.
The website also revealed that Mario, Luigi and Princess Peach will be available for a meet-and-greet and photo opportunity.
Mario Kart: Koopa's Challenge
The world's first interactive Mario Kart ride will last for 5 minutes and each ride vehicle seats 4 riders, 2 per row.
The website promises AR, projection mapping and screen projection that brings Mario's courses to life. The attraction also features a physical set that recreates the iconic environments of the game in detail.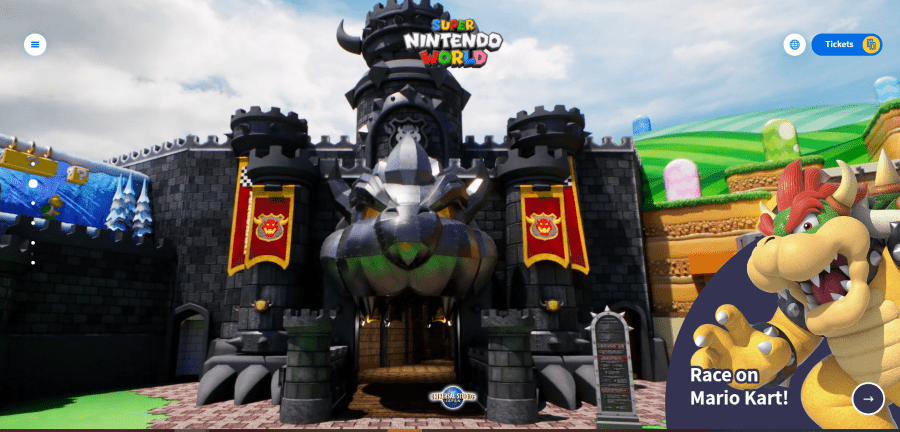 Yoshi's Adventure
Yoshi's Adventure is described as being "perfect for the whole family". Riders climb onto Yoshi to search for Captain Toad in a treasure hunt. The location of this attraction gives riders scenic views of Super Nintendo World from the top of Mount Beanpole.
This ride also lasts for 5 minutes and can seat 2 people per row.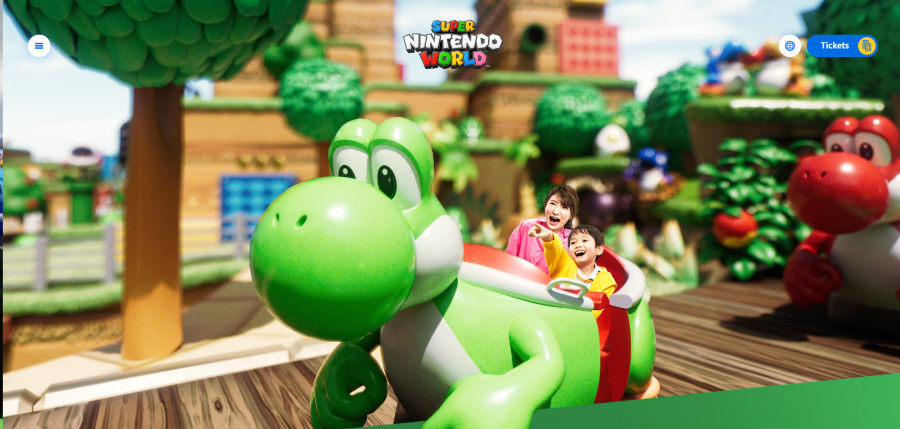 Exclusive merchandise available
There will be two shops in Super Nintendo World. The previously revealed 1U Factory, and Mario Motors.
Guests will be able to purchase Power-Up bands, as well as a Mario plush hat, themed clothing toys and more.
Food offerings
The website goes into more detail about Kinopio's Cafe and the food it will offer guests. There is plenty of themed food, such as a Super Mushroom Pizza Bowl with Mushroom Tomato Sauce, and a ? Block tiramisu. The bacon cheeseburger even comes with a pick shaped like Mario's hat.
Guests will be able to choose between a Super Star popcorn bucket and a Mario Kart bucket with flashing tires.
The website reveals there will be Yoshi's Snack Island food carts. These will sell yoghurt lassi and Koopa Calzones.
A recent live stream by Shigeru Miyamoto took viewers on a tour of Super Nintendo World. In the live stream, Miyamoto explained the interactive elements of the land in more detail.
Read our roundup of everything we know about Super Nintendo World so far.