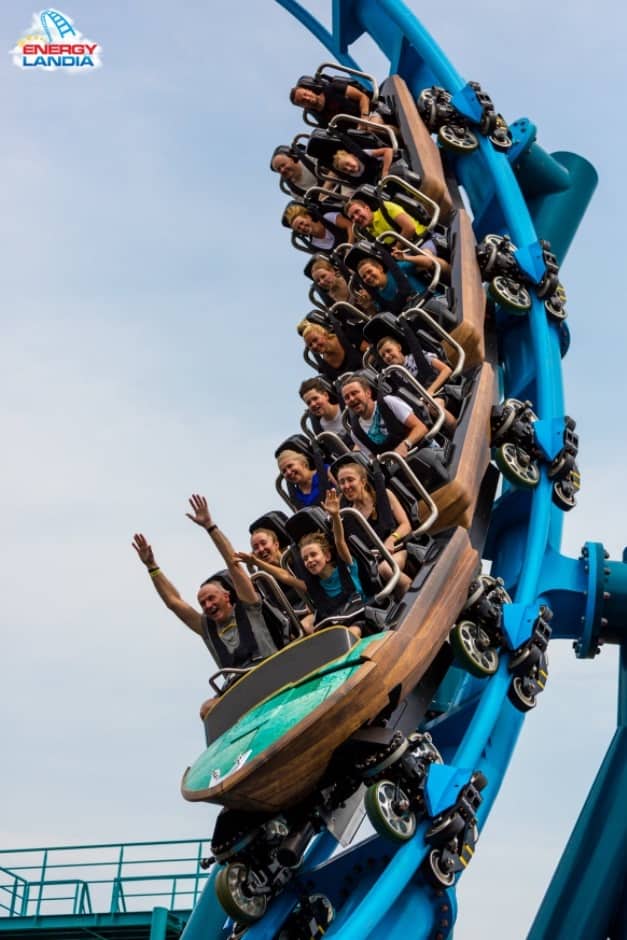 Vekoma Rides, the Dutch roller coaster specialist, has provided a Super Shockwave Double Launch coaster to Poland's popular Energylandia theme park, where it is now open under the name Abyssus. In addition, the park also has a new Vekoma Family Boomerang, called Ekipa Light Explorers.
Both rides can be found within Energylandia's new themed land, Aqualantis, which takes its inspiration from the legendary sunken city of Atlantis. Here, visitors can explore a new underwater world as they rediscover long-flooded streets.
Abyssus & Ekipa Light Explorers
The new Abyssus coaster takes its name from the god of the seas. The ride is 38.5 metres high, 1316 metres long, and reaches a top speed of 100 kilometres per hour.
It has a variable layout with high pacing, featuring several inversions as well as airtime hills, turns and twists. There are three four-section trains that each seat 16 people and the ride is open to anyone over 1.20 metres tall.
Meanwhile, the new family ride Ekipa Light Explorers has 238 metres of track in both forward and backward directions and has a top speed of 60 kilometres per hour. Riders must be over four years old and over 95 metres tall and will experience g-forces of up to 2.8g. The coaster has a capacity of 20 riders sitting in one train with a total of ten coaches.
Jora Vision, a leading design and production company, was the designer of this new themed land. The scope included themes, decor, colours and vehicle design, for all the rides.
Last month, Vekoma also announced that it is working with Fårup Sommerland, one of the biggest amusement parks in Denmark, to bring a new coaster to audiences in 2022 – Fønix (Phoenix). Once open, this will be the largest and fastest roller coaster in the country, measuring 40 metres tall and reaching heights of up to 95 kilometres an hour.
Meanwhile, Vekoma's next-gen launch coaster, Top Gun, is now open to the public at Fantawild Glorious Orient in Ganzhou, China.