Recently, Next-gen launch coaster "Top Gun" from Vekoma Rides, the Dutch roller coaster specialist, opened at a new Fanta Park. Located in Ganzhou, China, Fantawild Group officially opened the new theme park Fanta Park Glorious Orient in late May 2021.
Cross-collaboration
The fighter jet ride is especially unique because the Fantawild design team came up with the concept. Subsequently, that team asked Vekoma Rides if they could design the ride, which would simulate a jet taking off.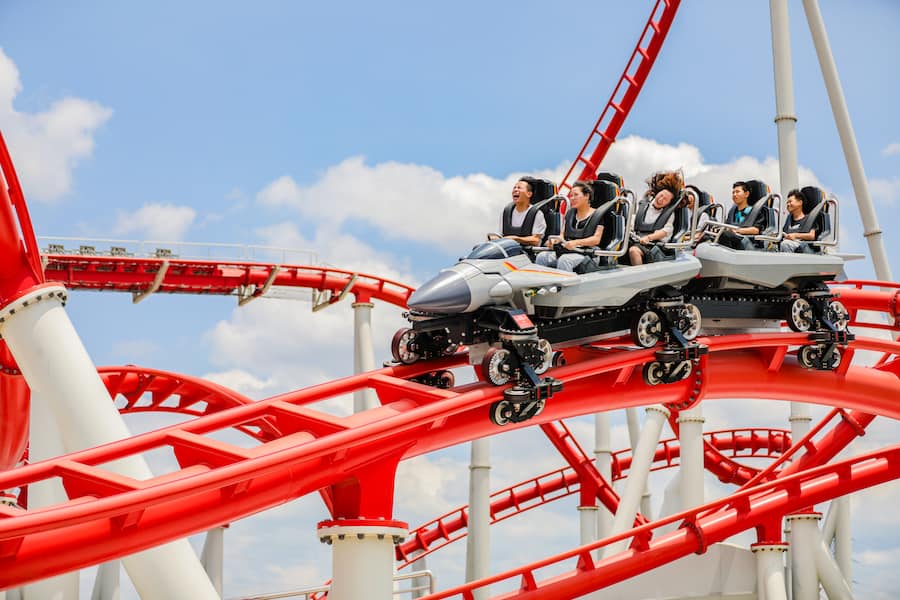 Then, the Vekoma team attempted to create not only an aircraft carrier takeoff, but also simulate a "dog fight." The simulation of 2 fighter jets battling in the skies would include a lot of direction and force changes.
Power launch
The dueling train ride has 4 trains with a maximum of 8 passengers per train. The power launch propels riders to 97 kmh in 3 seconds, lifting them 32 meters skyward. Next, they experience more than 5 weightless moments, 4 inversions, and world's first Rollover Camelback.
At this time, riders fly over a double-down Camelback whilst another "jet" races them to an upcoming Immelmann Loop. Several near-miss maneuvers allow the riders to see each other at high speed, between forceful S-Turns and Blitz Rolls.
Zero-G near misses
Upside-down stints, Carousel turns and swift Track-Twists characterize the surprising ride that whips around rock formations and over water. A Zero-G Roll sends passengers over the launch deck while the other car shoots by underneath.
Later, they race over a Bunnyhop and dive down to skim the water's surface before twisting down an S-Turn. Lastly, an over-banked turn sends the vehicles through a final near-miss effect with the other jet before they head back to the base "aircraft carrier."
In February, Vekoma Rides announced that Nicola Masin stepped into the position of Global Sales and Business Development Manager.