Next week the Dubai Entertainment Amusement and Leisure (DEAL) Show 2017 and the DEAL Live by blooloop conference will take place in Dubai. Attraction development in the GCC (countries making up the Gulf region in particular UAE, Saudi Arabia, Qatar, Kuwait, etc.) will be the attention of the global attractions industry.
By Joseph Joy (right), Director, Strategic Accounts, Triotech.
With the opening of Dubai Parks and Resorts last December and more attraction development announced in the GCC, the region continues to be one of the most important emerging markets in the attractions industry.
Dubai Parks & Resorts the Game-Changer
The GCC attractions market has had tremendous growth in the last dozen years. Until now, most entertainment has been FEC-type venues in malls with some destination attractions like "Ski Dubai" in Mall of the Emirates. That changed with the opening of Ferrari World and Yas Island in Abu Dhabi in 2010.
The recent game-changer is the opening of the $2.85 billion resort complex collectively known as Dubai Parks. This includes Motiongate, Bollywood Parks, LEGOLAND and LEGOLAND Water Park. Connecting them all is Riverland, a retail/dining area that also accommodates the 500 rooms of the Polynesian-themed Lapita Hotel. This four gate theme park joins the small, exclusive club of Universal Resort Orlando, Disney World, Disneyland and Tokyo Disney as a multiple gate, resort destination in the global attractions industry. Dubai Parks and Resorts will become a five gate destination in 2019 with the opening of a Six Flags park (below).
Attraction Development Part of a Wider Strategy
This massive investment in theme parks is part of a wider, deliberate strategy. The plan is to build the region into a tourism hub. It's seeking to leverage its position as strategically located with roughly 80% of the world's population, or 6 billion people, living within eight hours flying time from Dubai and being a year-round location. Dubai airport in now the busiest in the world with 70 million international visitors.
The opportunity for attractions investors is to convert these transient travelers into theme park guests. The ambitious goal is to become a destination location to draw tourist from Europe and Asia. India in particular is a target, thus a whole unique park dedicated to the Bollywood movie industry.
Asia's tourism industry is booming, buoyed by rising incomes, low-cost air transport, and China's growing outbound market. China expanded its "approved destination status" scheme from 14 countries to 113 by 2012. This led to a 700 per cent increase in outward visits by Chinese tourists, from 10 million in 2000 to 78 million by 2015, the Council said.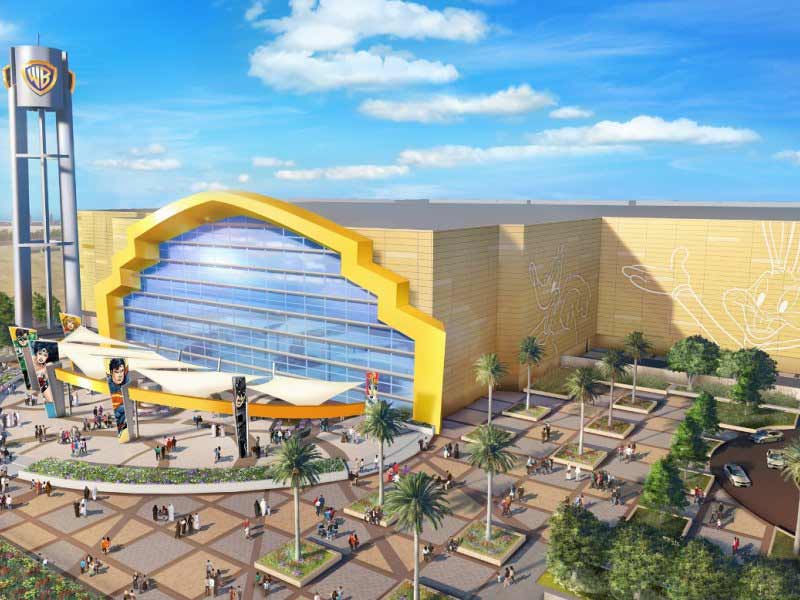 Leading Operators and IPs
To meet the expected pent-up demand, investors continue to announce and break ground on new projects. The plan is to build an attraction cluster between Dubai, Abu Dhabi and Doha that will eventual rival Orlando and Southern California at least in variety of guest entertainment. In addition to the Six Flags park, a Warner Bros Theme Park, Abu Dhabi will open in 2018. Furthermore, the Doha Oasis will open that year in Qatar, A 20th Century Fox park is planned for 2020 and a SeaWorld park in 2022. The recently opened IMG Worlds of Adventure has announced it will build an adjoining park with nine more zones. These will include popular IPs such as Pokemon, Barbie and Teenage Mutant Ninja Turtles.
Should these attraction development projects all come to fruition, every leading operator and IP will be present in the region including Lionsgate, Sony, Nickelodeon, Cartoon Network, Marvel and DreamWorks. The exception being Disney and Universal who are focused on developing massive parks in China. In short, an immense amount of talent has descended on the region to make to make it become a world-class destination.
Despite all the announcements, there are many challenges ahead. Low initial guest levels bring in to question some of the ambitious visitation goals (and profitability projections) of the recently opened venues. However, like all new attractions, it takes time to build a market. Especially so in an area that is offering theme parks for the first time. Potential guests from India would have had to travel to Europe or the US to have any idea of what to expect since nothing of the kind can be experienced closer to home.
Creating a More Balanced Market
A key component to stimulate extend stays in the area is providing suitable accommodation across all market segments. The average hotel room rate is $250 and Dubai has the highest hotel occupancy rate in the world. Dubai maintains a steady year on year occupancy of 100%-70% in the winter and 90%-60% in the summer. Planners realize that the city needs more affordable options. These will create a balanced market that is appealing to a diverse visitor base from across the world. It has been estimated that Dubai's needs 40,000 extra hotel rooms ahead of the Expo 2020. This would effectively double the current capacity to cater for over 25 million visitors annually.
The attractions industry has had a few false starts in the last ten years. However, Dubai in particular has turned a corner with the opening of Dubai Parks and Resorts. There are still challenges ahead to mature the destination. But I have no doubt that the ambitious attraction development plans will continue to evolve leading up to the Expo in 2020 and beyond.