It
'
s obvious that
cardboard fans in stadiums and drive-in projected concerts are not a long term solution to the COVID-19 crisis.
By Eddie Sotto
Implementing COVID-19 restrictions like masks and distancing is not a good enough solution to the crisis. These destroy the magic and the shared experience of firework shows, parades, characters, and cheering fans.
Along with reduced capacity, perceived value and the desire to return have also been lessened. 
All of this is laying waste to your business model. Who wants to escape to a hospital for vacation every year, or for a special event? As reduced hours at Walt Disney World have shown, not many, and it will get worse.  Masks, a lack of reassurance and reduced capacity kill the magic.
Guests are finding that being reminded of the real-world pandemic while in a fantasy world is not just a bad dream, it's not worth returning for. E-tickets will soon mean extinction unless something big changes immediately.
Just wait till next week…
Even a miracle vaccine will not reassure all guests. Just as decades later, a low threat of terror does not reduce the TSA's need to reassure each of us before we fly. So, the new normal will have to be some means of protection. After all, what company could afford to endure an outbreak again?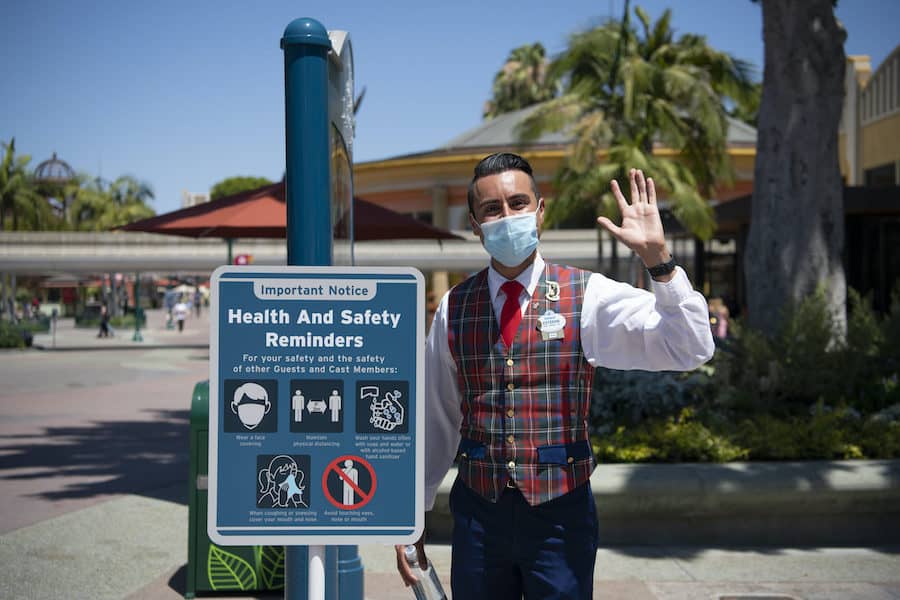 To that end, our futureproofing team's rallying cry has been to unmask pandemics once and for all. Our COVID-19 solution is to remove hospital practices and adopt a single entry screening format, similar to what you see at airports.
By screening each person for coronavirus (with a near-instant result) and only admitting COVID free guests into a secure experience or bubble, be it a cruise ship, theme park, mall or stadium, then we can get rid of the masks and all the uncertainty that ruins the shared experience.
Your business model goes back to normal. It is a high bar, but is ultimately cheaper in the end than treating your entire property as if it is an operating room.
The good news – COVID-19 solutions are on the way
We are looking at more choices of technology that can produce a near-instant result every day. Testing is in progress and they are destined to be market-ready very soon.
Some methods of screening use a breathalyzer, others examine saliva, or even read a viral frequency by touchless scanning. All that sounds great, but which is right for you?
Who really delivers the above 95% or higher accuracy? And how do these COVID-19 solutions and technologies become applied to the experiences of a cruise ship, mall or a theme park? Will they be obtrusive, non-intuitive, or just too much hassle?
There's more to this than just a medical answer. So we are vetting and looking into what solution fits each industry the best. Here's an example:
The genie was out of the bottle
When I ran the Concept Development Studio in the late 1990s at Walt Disney Imagineering, our R&D department had an open house to show off the new wonders that had created.
The park operators were impressed but there were few takers. Why? Because the technology was amazing but was yet not applied in a way that was practical and fun.
For instance, we observed an animatronic genie (think the movie Aladdin) that emerged from a backpack and knew where you were in the park. It could explain what you were seeing, and tell jokes while in line. Amazing, right? But there were no takers.
Our group looked at the genie and immediately proposed a smaller wearable version (Simba the Lion) that clung to a kid's wrist, vibrating when it wanted to tell a joke, entertain them in line, etc. Then you put it to your ear.
Since you could not see it speaking, this eliminated the need to be animated and did not compete with the high noise level of the park. It became something you could take on a ride with you, versus a backpack to leave behind. We applied their amazing technology in an intuitive way as to make it practical, affordable and fun. The final product was called The Park Pal.
Making technology into an experience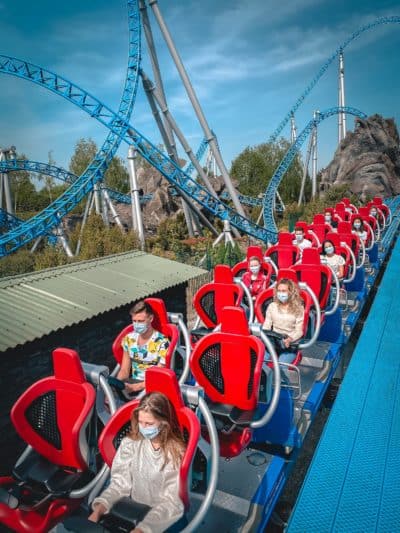 The same productization lesson applies to these new COVID-19 technologies and solutions. We are watching the final testing and are excited about the progress. Yet the truth of the matter is that these miracles, like the genie backpack, are just the core. Like an Intel chip that lives inside another product experience.
As an example, we might enter a magic cave and use what appears to be a bubble blower (breath analyzer.) We all blow (sample is taken) and the room fills with projected bubbles that entertain us! While our bags are checked, our result is coming. So, we leave the cave cleared and enter another world.
Each industry can have its own reassuring way of entering. Sports events could feature the team or mascot, for instance.
These technologies need to be sensibly and thematically applied on an industry-wide basis into a guest experience. One that is operationally feasible and intuitive, and appealing enough for people to happily submit to and trust the results. Reassurance does not come in a catalogue. It's not enough to just put in a generic kiosk in your lobby, although some will.
Imagineering is, after all, imagination working with engineering and the result is simply called magic. So, we are out to help companies aim higher and apply technology to respire their business. Now.