Did one animator, Marc Davis, derail Walt's true to life adventure, or put Disneyland back on the rails?
By Eddie Sotto
When examining the genesis and early years of the world's most famous theme park, one story stood out to me as a great lesson in design. Walt Disney constantly re-evaluated his product by experiencing it daily, observing the guest reaction, then instinctively ordering adjustments big and small. He lived his brand.
Disneyland in 1956 had a fraction of the attractions it does today. Animated figures had just made their appearance on the scene in the Jungle Cruise, a popular experience.
That experience was played pretty straight. It was a real true to life adventure with few jokes that displayed the animals as they are in those Disney nature films.
The same was true of the train and wagon rides in Frontierland. These were real tributes to American history, the living desert, beaver valley, and heroes like Davy Crockett. Again, another true to life adventure.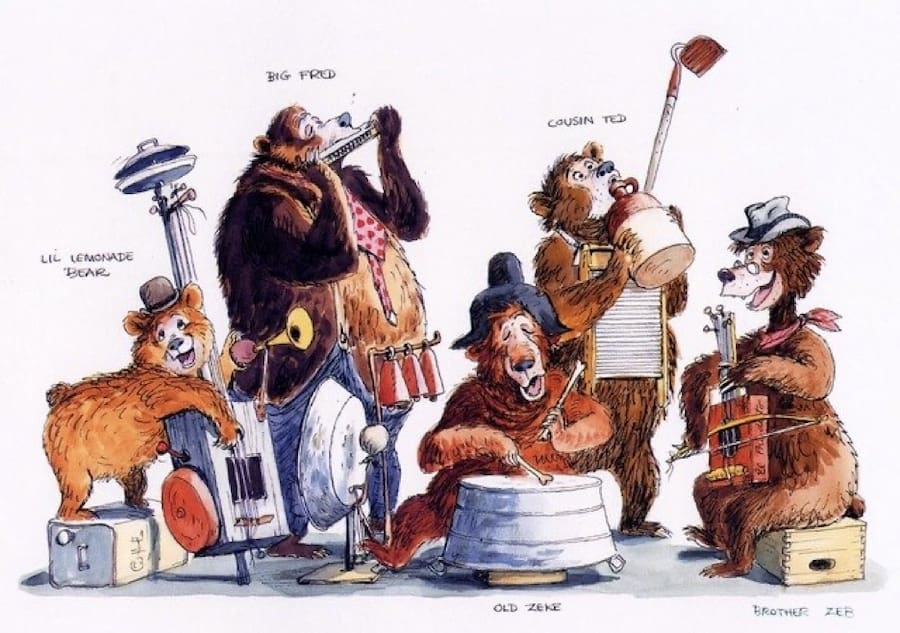 Too true to be good?
Perhaps Walt sensed that perhaps just seeing a fake deer or snapping crocodile was not enough to generate a repeat visit to a ticketed ride. The audience observed his show, rather than reacting to it as they do to his films.
The critters felt static and something was missing. Maybe it was too true to life and not entertaining enough? Rides like Mr Toad and Peter Pan were based on his films and either took you to straight to hell for reckless driving or over London to Neverland. That was fun and the lines were eternally long.
To solve for this, Walt turned to one of his best animators, Marc Davis.
Marc Davis had created some of Disney's most compelling characters in scenes we all indelibly remember. However, he needed some creative respite from the grind of the studio. Disney sent Marc down to Disneyland to look at what could be added to make the Nature's Wonderland outdoor train ride attraction more fun, although it had just opened.
Walt felt it needed tuning and Marc was his answer.
Marc Davis and Disneyland
Marc Davis responded with an office full of watercolours, with many funny situations between the animals and nature.
Walt loved the direction and saw Marc's way of creating fun vignettes as the secret sauce that could be spread even further.
This caused the park's operators to cringe as the more they saw Davis, the more changes were headed their way.  The Enchanted Tiki Room was a showcase for his character design skills and love of tropical culture.
Finding its voice
Over the coming years, Marc Davis had brought that Disney style of family humour, so familiar in the films, far beyond the singing Cacti or stranded Bobcats of Nature's Wonderland.
His animated situations required no dialogue. These are known as sight gags. For instance, the lost Safari getting the point in the end on the Jungle Cruise. Disneyland's increasingly international guests loved it and the tone of the park evolved into being more fun overall. It was becoming the Disney version of reality, a true laugh adventure.
Disney sensed that Marc's abilities might be applied to an epic new attraction, so Walt asked him what he could do with Pirates. Marc again filled his office with visually comical scenes of larceny, looting, and even macabre skeletons, all loved by Walt.
Eventually, those scenes of debauchery became animated humour as a ride through musical only Disney could pull off. Many subsequent attractions were populated by Marc's characters, like the Haunted Mansion, Country Bear Jamboree, America Sings and more.
A lesson in storytelling
To me, the vignette humour and staging of Marc Davis, supported by the immense talents of his fellow Imagineers, evolved the original experience (one that Walt sensed was a bit too serious) into The Happiest Place on Earth.
Disneyland had found its universal voice. This is a great lesson for us in storytelling – we want to be sure what we are conveying is visually fun and relevant to those we are seeking to entertain. Not just a convoluted story invented for its own sake.
Rides are not about the dialogue. They are what you see and what happens to you
Learn more, as I did, in the epic masterpiece Marc Davis In His Own Words by Pete Docter and Christopher Merritt.