Have you ever wanted to know how annual attendance numbers at a theme park is distributed? Do attendance numbers include one person going twice or two people going once? What is the unduplicated attendance? If so, read on '
In 2003, Universal Orlando Resort filed a prospectus with the SEC that included detailed data on the two theme parks located on the property. As in all fillings of this type, the amount of detailed statistical data is overwhelming. This particular document however, provided an analysis I found extremely interesting and hope that you will too.
The specific section of this prospectus I am referring to analyzes Pass Sales for Universal Studios Florida and Islands of Adventure. As it is not relevant for this Blog, I have omitted pricing and revenue data from the following table.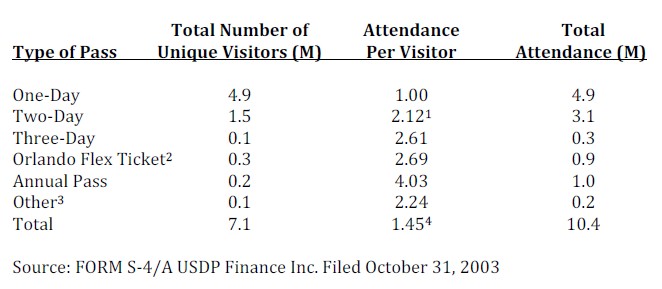 What this analysis shows is that a total of 7.1 million visitors frequented the parks an average of 1.45 times, thereby creating the number we see reported ' 10.4 million. It is interesting to note that the vast majority of the attendance was comprised of one-day guests and the annual pass holder frequented the park an average of 4.03 times a year.
Notes:
Reflects effect of "Third Day Free" promotion
Orlando FlexTicket entitled a guest to visit both theme parks over two weeks. The Orlando FlexTicket could be used over those same two weeks at Wet "n Wild and Sea World Orlando. There was also a five-park Orlando FlexTicket which included Bush Gardens.
Primarily includes VIP tour tickets and length of stay tickets sold at on-site hotels
Reflects weighted average
Image credit : Universal's Cabana Bay Beach Resort officially welcomes its first guests. 2014 Universal Orlando Resort. All rights reserved.