We've taken a look at how the market leader is staying ahead of the game by creating new experiences in line with the latest customer engagement trends.
There's nothing better than splashing around on a hot summer's day. And with a whole range of innovative new developments in the attractions sector, there's more to keep customers happy than ever before.
Personalisation
Personalisation has been a big trend in attractions for a while now and shows no sign of slowing down. Now more than ever, customers want to be able to have a degree of control over their own experience. They expect more features from park apps. This includes the ability to plan their day, check wait times and even find their friends and family.
A good example of this is Vantage by WhiteWater. Vantage enables customers to personalise their day. Using the app, guests can take advantage of customisable themes and playlists. They can also share exciting moments directly to their social media accounts.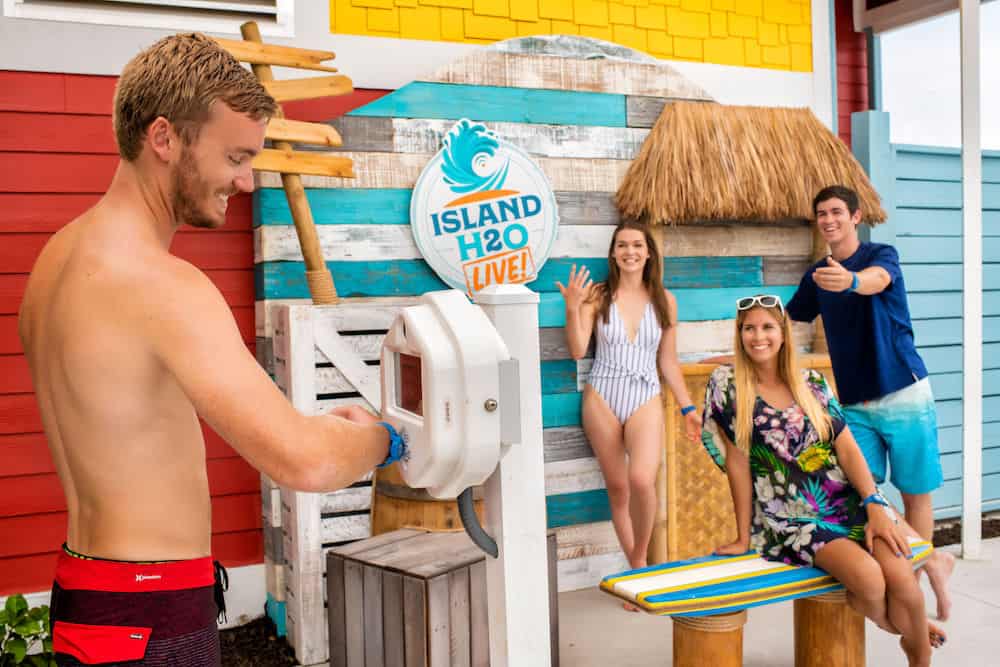 It allows visitors to access a wealth of useful information to make their day run more smoothly. For instance, which attractions have the shortest lines and where their friends are. It also shows how they can earn extra rewards and perks during their visit.
In addition to this, Vantage has many advantages for park operators too. It enables them to monitor how rides are performing in real-time, by looking at parameters like how long the queue lines are, dispatch rates, pump performance, etc. It also shows which customer demographics are enjoying them.
All of this data helps operators to deliver a more personalised experience to their customers and run their operations more efficiently. This information also enables operators to tailor the marketing they send to guests while in the park and before and after their visits.
Frictionless experiences
One of the most prevalent customer engagement trends is the introduction of more seamless solutions, particularly when it comes to families. Parks are rising to the demand from parents to create a stress-free visit that the whole family can enjoy. This can be seen in the introduction of RFID technology and wrist bands.
With Vantage wrist bands, park guests get a frictionless experience. Vantage integrates a parks' many different vendors and brings them together in on wrist band. There is one interface for everything – photos, food & beverage purchases, merchandise and lockers, all without having the hassle of getting out a wallet or counting out cash.
It even allows parents to allocate spending money to child wrist bands. This gives them a degree of independence without the worry of overspending. Parents can also breathe a sigh of relief as they can track the location of child bands easily. This means that they can relax and not worry about getting separated.
Interactivity – choose your own adventure
One of the biggest customer engagement trends is interactivity. We've seen this everywhere. From Black Mirror's critically acclaimed 'choose your own adventure' episode to AR museum guides. Disney Research is even using Artificial Intelligence to develop an interactive storytelling system.
Guests like to feel involved and to be immersed in the park's world. Interactive experiences help them to do this. For example, the Selector raft ride at Guangzhou Sunac Water World provides an innovative ride experience. It gives guests the chance to select their own path, from a selection of unique combinations.
Selector hands the control over to riders, as Jeff Baldock, Mechanical Engineer at WhiteWater explains. "At the beginning of the ride, guests have the option of choosing between a combination of four distinct paths – The Canyon, the Galaxy Bowl, the Family Blaster, and the AquaTube.
"The ride path diverges with directional jets at each of two spheres, with the paths converging in the Double Manta. Each path mixes a combination of exciting, high-speed sections with more relaxed sections. The ride provides a unique ride experience for guests."
Not only is it more fun, but it also leads to an increase in repeat ridership. Guests want to go again to get a different fun experience. It also encourages guests to interact with each other, as groups of up to six riders vote on which path to take.
Customer engagement trends – interactivity and gamification
Another way of introducing an element of interactivity into an attraction is to look at team play and gamification. Many new rides allow guests to share the experience as a team. For example, the new Millennium Falcon flight simulator at Disney's Star Wars: Galaxy's Edge themed land.
This customer engagement trend applies to water attractions too. For instance, the Over/Under Team Slideboarding experience from WhiteWater. This attraction is the world's first 'choose your own adventure' water slide. It is also the world's first six-person gaming water slide.
Using an innovative 'smart raft', the high-stakes experience challenges riders to collect points and aim for a high score during the ride. An element of risk is introduced as the outcome for the loser is a short, unceremonious ending. However, winners go on to a more adventurous finish filled with celebratory music.
"Via coloured electronic buttons on the raft handles, guests time pressing the buttons with when they pass corresponding coloured lights," says Baldock.
"The closer to the lights, the higher the score. If a high enough score is reached by everyone in the raft, water jets will propel them into the winning slide path. If they don't achieve enough points, the jets won't activate, and the raft will be led down the loser's path."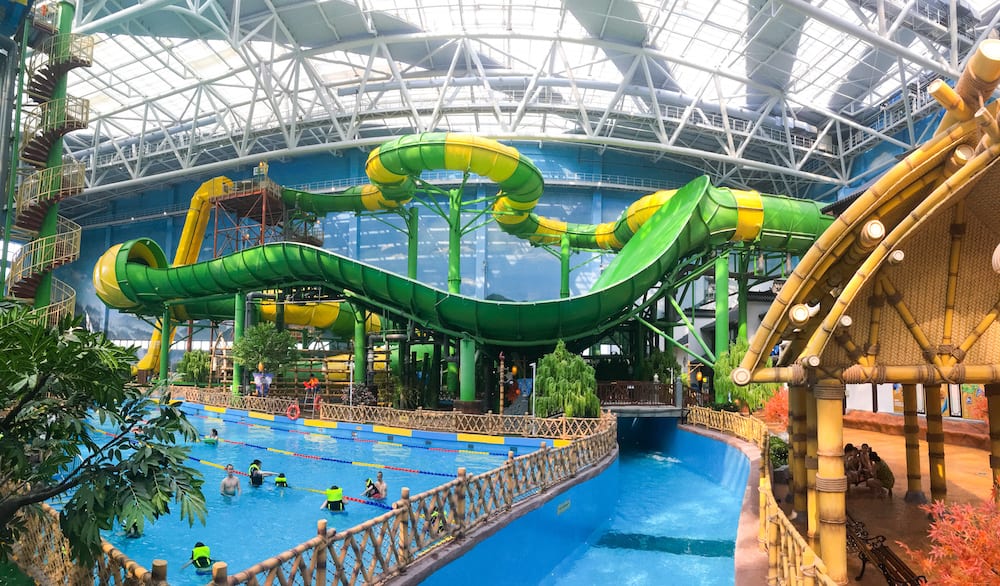 Active vs Passive experiences
Both of these examples show one of the key customer engagement trends – the move towards active experiences rather than passive ones. Guests now expect something more from their visit. They want to be part of an immersive experience. One where they can take an active role, rather than letting events unfold in front of them.
This can be seen in the rise of attractions where guests are active 'players' rather than passive 'riders'. Many new experiences now involve elements of scoring and team play. Again, this encourages repeat ridership. Guests want to have a new experience and to beat previous scores.
An example of this is WhiteWater's Raft Battle. This family-friendly group ride is inspired by epic water battles and water play. It allows guests to enjoy a river journey with a difference. Unlike a passive river ride, it provides a real-life water fight environment. There are also many surprises along the way.
During the fully interactive experience, guests are immersed in a water-battle. They can sit side-by-side with friends in the specially designed raft. Here they can use their water guns to take on competitors and even spectators. Water guns and toys are available around the ride too. Spectators are encouraged to take aim at the passing rafts – as long as they're prepared for return fire!
Spectator Interaction
Riders on Raft Battle aren't the only ones able to interact with spectators in this way. Looking at customer engagement trends, we've seen many new attractions that are designed with an element of spectator engagement.
The Spinning Rapids Ride is another WhiteWater product which uses spectator interaction. This adds an extra element of fun engagement to the experience.
Water spray toys on the bank allow passers-by, or even friends and family, to take aim at the passing rafts. The Spinning Rapids Ride features 6-person rafts that spiral down a water flume as guests enjoy an adventurous series of spins, turns and drops.
Passive engagement
Spectator engagement can be active, like in the example above, but it can also be a gentler experience. Many park operators are designing layouts to allow guests to interact with the rides around or ahead of them. For example, creating spaces for views of the rides, both around the park and particularly in the queue lines.
An example of this is the Spinning Rapids Fusion water ride at Shanghai Haichang Ocean Park. The ride, called Lava Drifting, is around 1 kilometre long. It takes guests on an immersive journey as it weaves around the park and other attractions.
In doing so, it becomes part of the park storyline. This builds anticipation as guests journey around the park.
There are even built-in platforms where viewers can look into the abyss of the ride and watch as passing riders enjoy the adventure. The 11-minute ride includes elevated river channels coming in and out of the ride flume and several elevation points before a final steep drop.
Lava Drifting has a volcano theme, taking guests on a river rapids journey full of spins, twists and turns. It differs from the traditional Spinning Rapids Ride, with the inclusion of conveyor lifts, tunnels, multiple drops and actual rapid rivers.
It is the longest spinning rapids ride in the world and is also the first spinning rapids ride with actual rapid rivers.
Engaging with non-riders
Other forms of passive engagement can be seen in the inclusion of splash zones around water rides. Here, passers-by need to be on the lookout to avoid getting wet. Water rides have always created a splash, but parks are now seeing this as another customer engagement opportunity.
These splash zones can become features in their own right. Some visitors like to use them to cool off on a hot day, while others can take advantage of the highly-instagrammable photo opportunities that they provide, or just take in the spectacle.
In addition to this, some parks have designed food and beverage areas to allow for interaction with rides too.
Some attractions, such as FlowRider, can become spectator generators in their own right. Guests enjoy watching the spectacle of flowboarders as they take on the simulated waves of the surf attraction. This makes it an ideal choice to draw traffic to nearby food and beverage outlets.
Cause and effect
Adults and older children can get stuck into an epic water battle spanning both riders and spectators, but there is also something for the youngest guests to enjoy. New customer engagement trends are targeting the younger age range too. For example, cause and effect water toys, such those found on AquaForms.
These pool-level interactive elements are accessible to visitors of all ages and abilities. Using them in various ways causes reactions, such as water sprays on the deck level. This keeps guests engaged and creates a range of fun activities.
It also encourages them to socialise and interact with others. The design includes play decks, stairs, bridges and slides in addition to the interactive features. AquaForms embraces the many different ways that children play, explore and make-believe.
The latest customer engagement trends
One thing all these customer engagement trends have in common is a movement towards interactivity. Parks are encouraging guests to fully interact with all elements of their experience. These examples result in more of an immersive experience for guests, bringing a spirit of fun to the visit.
They also encourage them to stay longer and be more involved in all aspects of the park. For operators, this means guests who will stay longer and spend more money as well as paying more return visits in order to enjoy the different experiences each time.