At the time we were discussing the concept of Mystery Mine with Herschend Family Entertainment and I was hearing a designer who seemed to have a lot of opinions about how the ride should work because of the show. That was Bob.
By Adam Sandy, President of Business Development, Ride Entertainment
Bob Shreve recently retired from the attractions industry and is teaching at the Savannah Institute of Design. While I only interfaced with him at Herschend, he has a long career that started in the theatre and moved to Disney and Universal. I wanted to talk to Bob about his time in the industry.
One of the more interesting facts about Shreve was that he came from the theatre world and used that as a springboard to a long career designing attractions. Perhaps that was why we got along so well. Neither of us came into this industry as engineers.
I am a sales guy with a history degree, and Bob is someone who used their stage experience to create new concepts for companies like Universal Creative and Disney.
Transitioning from the theatre world to attractions
Bob entered the industry with a degree in acting/directing and technical theatre and design. "I never fully used it and I used it every day at the same time," he said. In the world of stage, everything was designed to be changed quickly and last for the show's duration. As Bob later learned, expectations in the attractions industry weren't the same. "The permanence of what we do is radically different," he said.
In 1990 he started at Disney, which had a rigid organisational structure. Each group was only responsible for its key discipline. "The core team had five individuals and they were solely responsible for their scope. Coming from the theatre world, which was where everyone jumped in and did everything needed to make the project succeed, it was a different approach."
During the early nineties, Shreve was part of the "Disney Decade". "I was lucky enough that my projects during this time were built," he said. A lot of shows and attractions during this era never got past the concept stage. "I was assigned good projects but I also learned a lot".
Some of these included Muppets 3D (area development), Sci-Fi Dine-In and Commissary Restaurants, and the Hollywood Tower of Terror (concept phase). Shreve felt that this experience at Disney allowed him to adapt to the reality of complicated projects with lots of moving pieces. "You learn quickly that panic is your best friend when you want to succeed," he said.
Setting design standards
He also worked at Epcot during his time at Disney. Before he left, Shreve said he "managed show equality standards at Epcot with Patrick Brennan. I saw design standards put to use and it later influenced how I managed design development.
"We focused on materials and that paid dividends when I was at Herschend. Looking at how things weathered and the properties of wood when it came to rot resistance played into how I understood material selection."
Later at Herschend Family Entertainment, many of Shreve's projects featured natural materials. Rides like Mystery Mine at Dollywood and Outlaw Run at Silver Dollar City were built to fit thematically into the property's wooded terrain.
After Disney, he did a few stints at Universal. The first was on the team that built Islands of Adventure, which opened in 1999. "Islands of Adventure was a five-year project, and that was compact. There was a lot accomplished in that amount of time," he said.
After leaving to work at Showequest for a brief period, Shreve came back to work on the Revenge of the Mummy roller coaster at Universal Studios Florida. He felt that Universal allowing him to be a show producer gave him a different perspective on attraction design.
Computers and theme park design
I asked Bob about the role computers play in today's theme park design, almost expecting a wistful look back at the way things used to be done. Instead, he was very insistent that computer design has been a boon for designers and park guests.
"Oh I think the industry has changed for the better," Bob told me. "I turned on a computer for the first time at Disney in 1990. I believe they implemented the first digital design department. To me, the advantage is the pre-visualisation."
Later at Herschend and Universal, he saw computer design playing a larger role. "The Mummy (2004) at Universal Studios Florida had the entire attraction in the computer first. This helped with sightlines and planning, we used to spend four times as much money on physical models.
"Now owners could update the digital model instead of re-spending dollars on a physical one. I think it is the best way to handle attraction design." The use of Studio 3D Max enabled Univeral Studios to digitally envision the experience.
Taking the collaborative partnership approach
As Bob transitioned to Herschend Family Entertainment after the Mummy opened, he experienced a difference in design philosophy. "By the time I came to Herschend, the philosophy was changing to 'give me a sketch up and I'll build it'. We learned to use the digital process to design and solve problems effectively."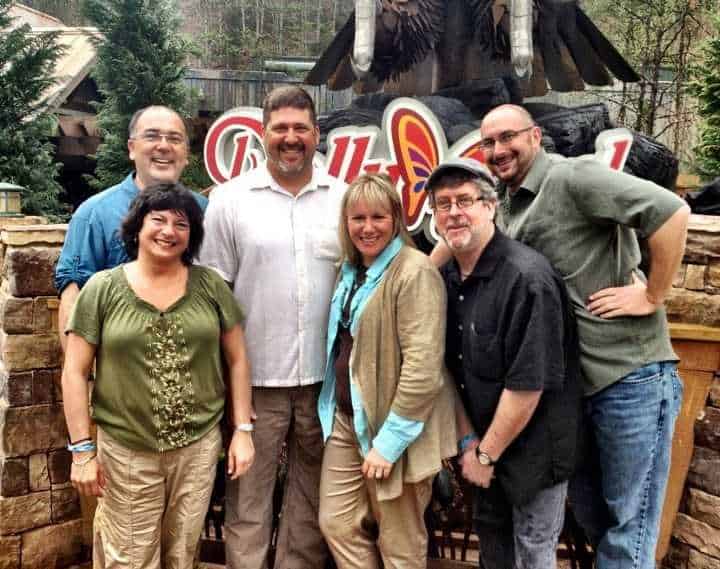 Shreve said his time at Herschend was very different from Disney or Universal. The company founders, Jack and Pete Herschend, set the tone. "The attitude was to grow together with manufacturers. Jack and Pete lived their life that way, they would have worked without a contract."
He said the approach grew into a collaborative partnership between the buyer and manufacturer, and the business model was to do whatever they needed to do to get it done right. In addition, Shreve said he enjoyed his time at the company because he got to hire talent under him, "I got to bring in quality people like Andy Westfall, which was great."
A digital step forward in ride design
I asked him about his favourite project at Herschend and Bob surprisingly said it was one I was involved in. "I really enjoyed FireChaser Express," he told me. Not many people know this, but the concept for the ride was worked out over several meetings, late-night work in hotel rooms by Gerstlauer and on a few drink napkins at the 2012 IAAPA Expo.
"The evening at the bar in Orlando with Gerstlauer and Ride Entertainment was extremely rewarding. Not many companies would be willing to have partnership and investment before the contract like that," he said.
Seventeen months after the Herschend Creative Team huddled with the other two companies at IAAPA, a large, new family coaster opened at Dollywood. The ride, which has a height requirement of one meter (39 inches) has become one of the most-ridden attractions in the park.
It was also done without hand drawn packages. This was another digital step forward in ride design that helped team members across project disciplines communicate effectively.
In 2019, Bob started a new position at the Savannah College of Art and Design (SCAD) as a Professor of Themed Entertainment Design. While he has retired from the industry, he is not done. Bob will be sharing his experience and teaching the next generation of attraction designers. As Bob puts it, "If you have to get up and go to work every f*!king day, there is no better place than the theme park industry."
Images kind courtesy of Bob Shreve, Andy Westfall, Lara McKay, and Adam Sandy (feature image).