by Adam Sandy, Zamperla
Cautiously optimistic. It's a historically overused phrase in our industry. But it's also one that seems apt for the place the attractions industry finds itself in. Compared to twelve months ago, we are in a period where things are starting to look up. The United States has administered over 200 million vaccine doses. And the United Kingdom is not far behind, with mainland Europe working to reach herd immunity by mid-summer.
The changing guest experience post-COVID
The problems of 2020 were stark. Parks needed to evaluate if it made economic sense to operate, safely open and then convince guests to visit.
Now, the challenges of 2021 could be vastly different, as there appears to be significant pent-up demand across the globe. The bigger issue is safely working within the strictures of attendance caps and health screenings. All while trying to offer guests a premium experience post-COVID. In addition, vaccine rates are rising. So, parks will need to review and apply changing recommendations from national health boards.
"We are seeing more guests that are seeking safe outdoor entertainment options to have fun with their friends and family," says Brad Malone, Manager, Marketing & Communications at Six Flags over Texas in Arlington, US.
"The safety protocols we have in place, like reservation requirements and requiring all guests over the age of two and all team members to wear a face mask, allow us to provide just that."
Visitors return
Meanwhile, at Dollywood in Pigeon Forge, US, President Eugene Naughton says that the park had been busy since the summer of 2020:
"We have been managing strong demand since we opened in June of last year with a reduced capacity. We currently require dated tickets and reservations for our season pass base. That helps us manage capacity on a weekly and then daily basis while maximizing guest experience and revenue."
Dollywood had a very positive response to their Flower and Food Festival. This featured Umbrella Sky, a series of umbrellas strung in the air that is essentially a modern art installation at an amusement park.
Ensuring guest safety is key
"A significant number of guests elected to not attend in 2020 due to health and safety concerns," says Chris Nicoli, Brand Manager at Canobie Lake Park in Salem, US. "In our area, the availability of the vaccine has been rolled out relatively smoothly. It is evident that those very guests who may have had concerns last year are ready this year for a fun entertainment experience.
"Our goal will be to ensure that every guest is able to properly protect themselves if they so wish and to ensure that we take responsible steps in regard to cleaning, sanitizing, and distancing."
Daine Applebury, Vice President of Guest Services at Audubon Nature Institute in New Orleans, US, agrees:
"There is a huge demand for outdoor entertainment venues. Our biggest lesson learned so far is how we manage our staffing to support the increase in attendance. Like many attractions, we were forced to reduce our workforce substantially last year.
"When we reopened our facilities, we utilized employees from all departments (Human Resources, Finance, Executive Vice Presidents!) in our guest-facing departments. As the capacity restrictions started to ease, we admitted more guests, but we didn't hire enough support employees to meet the demand."
A flexible & fluid approach
This year's focus will be what Cindee Huddy, an owner of International Ride Training, calls the two f's: "flexibility and fluidity."
Understanding where your staff will be needed on any given day is key. Especially with the trouble that some parks have had attracting labour.
"If you have a combined hard ride/water park facility, consider what changes might be necessary on hot days where, even with a reduced and limited park capacity, certain areas of the property – like the water park – may be very busy," says Huddy. "You may need to shift staff, control access to certain attractions, or manage crowd flow in and out of that area more so than in other areas of the park."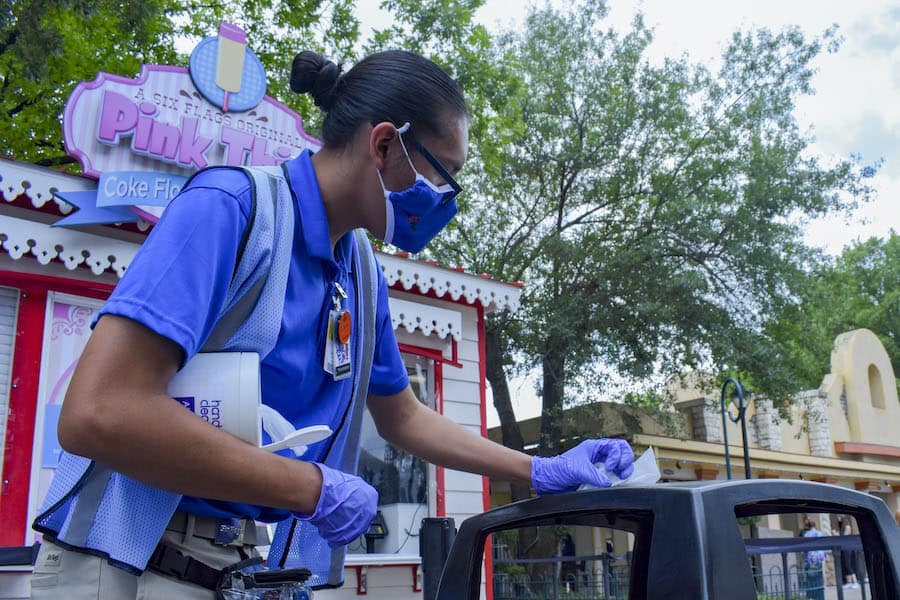 Finding labour continues to be a challenge for operators in mature markets. Many different parks have raised their starting pay for hourly employees. Six Flags Great Adventure is offering $15 per hour, a large step up from years past. Some Cedar Fair properties are offering full-time operator positions with paid time off and health insurance. This is a unique step in the American attractions industry.
"Unfortunately this is one area where parks around the US are already struggling due to restrictions on the J-1 program and a domestic workforce that hasn't been turning out in large numbers to apply for jobs," says Patty Beazley, another owner of International Ride Training.
"Training is going to be very important. Parks will also need to pivot quickly and adeptly as necessary to manage the increased demand while still operating within the continuing public health guidelines and restrictions – at least initially."
Managing guest expectations post-COVID
It has been difficult to wrestle with the varying degrees of restrictions. COVID protocols have varied across the world and regionally within countries, and parks work to set the expectations every day as new guests visit.
Beazley also shared proactive messaging examples to ensure guests understood expectations at the facility. At Canobie Lake Park, she said that at an antique car that was blasting music, passing out hand sanitiser, and reminding guests about distancing protocols. At Dorney Park, she noted they changed verbiage. Here, they were asking guests to "please RESET your masks" instead of "wear their masks," which created increased compliance.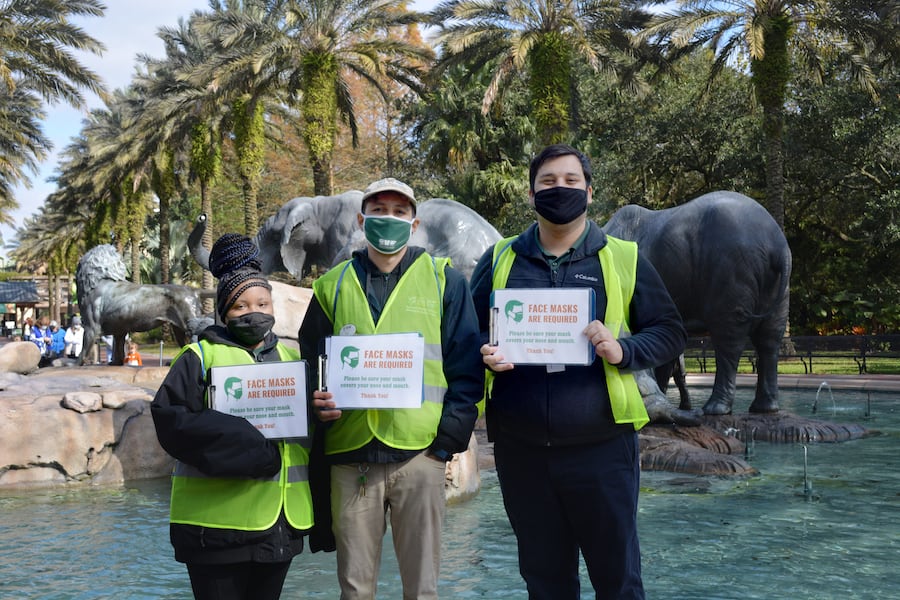 Appleberry said that the Audubon's approach has changed in the past 14 months:
"Operationally, our entire mindset has shifted to think of this question first: 'Is this safe?' Pre-COVID-19, our operational processes revolved around a positive guest experience and ensuring our guest were educated and entertained.
"When we reopened our venues in 2020, a lot of thought and planning focused on ensuring our guests, staff, volunteers, and animals were safe. This thought process has transformed our planning for the 2021 operational season and beyond."
Feedback is vital
Industry consultant Joshua Liebman, Guest Experience "Evangelist" for ROLLER Software, understands the frustration and challenges of working in an ever-changing framework. However, he believes parks need to continue to proactively solicit feedback and input from guests this year:
"I would ensure proper ways for guests to provide feedback through multiple channels and throughout every step of the journey," he says. "Additionally, systems need to be in place to respond directly to guests in a timely manner, and the ability to act and make changes from the feedback received.
Operators need to stay in tune with how the pandemic continues to impact the guest experience
"Operators need to stay in tune with how the pandemic continues to impact the guest experience. Specifically how guests perceive the quality of their visit and the effectiveness of COVID-related procedures. Don't wait for guests to reach out to you. Focus on soliciting feedback from every guest (or group of guests) that visits you in 2021."
Pandemic accelerates trends
The goal, both in 2020 and this year is to not only get guests through the front gate. It is also to make them comfortable and keep them on the property as long as possible. To that end, parks re-evaluated many business segments outside of COVID protocols.
Last year featured interesting trend reversals. Many operators who are traditionally season pass-heavy saw a greater number of one-day ticket attendees. In addition, park-goers spent more across the board.
This year, parks are capitalizing on the growth in per-cap spending. At Valleyfair the social media team celebrated many new food items. Their blog from early April showcased gyros, bowls and a nod to the local classic burger, "The Juicy Lucy". Overall it is a much more sophisticated food mix than what is traditionally found at American amusement parks.
In order to play games, Six Flags offered park-goers pre-paid cards, which increased guest spend on each game. As a whole, the industry pivoted to cashless applications whenever possible.
Liebman says that parks need to continue to maximize revenue post-COVID by offering premium options: "Include VIP packages that allow guests to have a less crowded experience, and charge accordingly for it," he says. "Take advantage of the demand by continually adding more value that resonates with what certain guests are willing to pay."
Unique guest experiences
With per-cap spending up at many parks, they are seeing interesting trends. Off-the-shelf pay-extra "extreme rides" continue a significant decline in popularity post-COVID and, at some properties, they have been replaced with unique guest experiences that are specific to the park and are also Instagrammable.
For instance, Blackpool Pleasure Beach in the UK debuted their new "Walk the Woodie" concept this year. Guests can pay a premium to scale the lift hill of the iconic "Nickelodeon Streak" wooden coaster.
Another example is from Ferrari World Abu Dhabi, where the "Roof Walk and Zipline" experience opened last November. Here, guests trek across the park's iconic red dome and zipline through an inversion in the "Flying Aces" coaster.
The UK's Alton Towers anticipates good crowds for the season. It has recently brought in three "pop up" rides that will be in place during the season to supplement capacity.
These came in addition to the "Gangsta Granny" dark ride that also opened this year. With a very-1980's theme, these attractions are marketed right at Gen-X parents with kids. They will help round out capacity in what the park hopes will be a busy year.
Meanwhile, the Columbus Zoo in Columbus, US, recently announced the opening of a Twister Coaster from Zamperla. This was purchased in late 2021 because the property forecasted interest returning as soon as the pandemic waned. They wanted to capture demand and market share in the central Ohio region.
Theme park investments
Parques Reunidos properties are opening their attraction 2020 capital in 2021 but also investing in the park infrastructure. Many of their properties are seeing infrastructure investments in the essentials. For instance, new bathrooms, updated locker rooms in the waterparks, and refreshed signage.
At Lake Compounce in Bristol, US, the park unveiled a new logo and a large, statuesque horse from 3dx Scenic on their Instagram page.
Dollywood and many other parks are deciding what to hold over from 2020 and what to discontinue.
"Certainly some cleanliness protocols make sense as do some of the operational adjustments," says Naughton. "We are looking at the guest management system we set up as a potential tactic to keep. It has provided a better guest experience and has maximized revenue. But it has also limited the ability for some of our guest sectors."
Naughton feels that the balance may shift somewhat as allowable capacity increases.
Some changes are here to stay
At Audubon Nature Institute, Applebury notes that their new online ticketing systems are a key part of the guest experience that will be kept post-COVID:
"Guests appreciate the ease of walking up to the admission gates, having their tickets scanned, and seamlessly entering the facility. Daily presale numbers allow our operational teams to forecast their individual operations for busy days. I always ask my leaders 'When did we think about today?' Having the ability to forecast a busy weekend, allows for us to think and prepare Saturday on Wednesday!"
At Canobie Lake Park, the enhanced cleaning protocols will be staying in place for the foreseeable future, even as case counts go down, says Nicoli.
Over at Six Flags, one benefit of 2020 was the speed at which decisions were made. That is a process they will keep moving forward, says Malone:
"A silver lining has been the fast-tracking of innovated ideas, and the outcome of many of these operational changes that elevate the guest experience are staying in place."
Striking a balance
There continues to be an obvious disparity between the countries with vaccine availability and those without.
Parks in South and Central America have seasons that run from October through March. This means that many struggled to get open as COVID plagued countries differently. The pandemic also curbed tourism, which made for an extremely difficult season.
Japan recently instituted another lockdown, which closed a majority of its parks. Some European countries have pushed their opening dates repeatedly. In Italy, amusement parks will not be open until mid-summer. This has caused understandable consternation as other outdoor venues are allowed to open earlier.
In Sweden, Gröna Lund delayed the opening of Monster, their new, custom B&M inverted coaster. This was because the government has pushed back park opening dates due to case numbers. The park remains frustrated because other venues, such as indoor malls, remain open.
Obviously, the pandemic will not be over once a handful of countries reduce their COVID infection rate. The recent spike in India and accompanying tragedies are clear evidence of that. However, as parks look forward it is important that they balance the lessons of 2020 with the realities of operating during the second half of a global pandemic.
Parks need to be ready to respond
Post-COVID, Liebman paints a picture of the landscape that operators face this year, saying: "While many of the challenges from 2020 will linger in 2021, parks now need to recognize what guests perceive to be what the experience will be. The shutdown happened so quickly, but the ramp-up will take so much longer, and many new questions are now surfacing."
"If vaccine passports become the standard, should parks require them? When should you drop your mask policy? Is temperature screening effective or does it cause unnecessary delays? What's your plan for removing your physical distancing markers when the time comes?
"As the vaccine rollout continues to ramp up, there may be more confusion from guests who wonder if your 2020 policies are still necessary. Parks need to be ready to respond – and be ready for that response to change frequently."
Top image courtesy of Dollywood