by the ProSlide team, the second part of a 5-part series on Atlantis Aquaventure
There's a global trend that has been growing over the past five years indicating that consumers are spending a good portion of their disposable income on experiences rather than on products.
This has seen a shift in consumers leaning towards more memorable moments and leisure activities with family. What better place to share experiences together than in exciting themed water parks and theme parks? These are places where visitors can escape from the everyday.
A global study conducted by Momentum Worldwide found that over half of respondents want to be part of an experience to escape from everyday life. Meanwhile, even more (70%) want an experience where they can laugh and have fun. Even amid COVID-19, that sentiment has never been stronger.
High-performance water coasters
With that in mind, parks are all trying to attract guests to their destinations. So how does a park owner differentiate within the marketplace?
In a few simple words: high-performance water coasters. ProSlide Water Coasters anchor the world's best water parks including Universal's Volcano Bay, Holiday World & Splashin' Safari, DreamWorks Water Park, SeaWorld, Six Flags, Great Wolf Lodge, Everland Caribbean Bay, Siam Park and now Atlantis Aquaventure.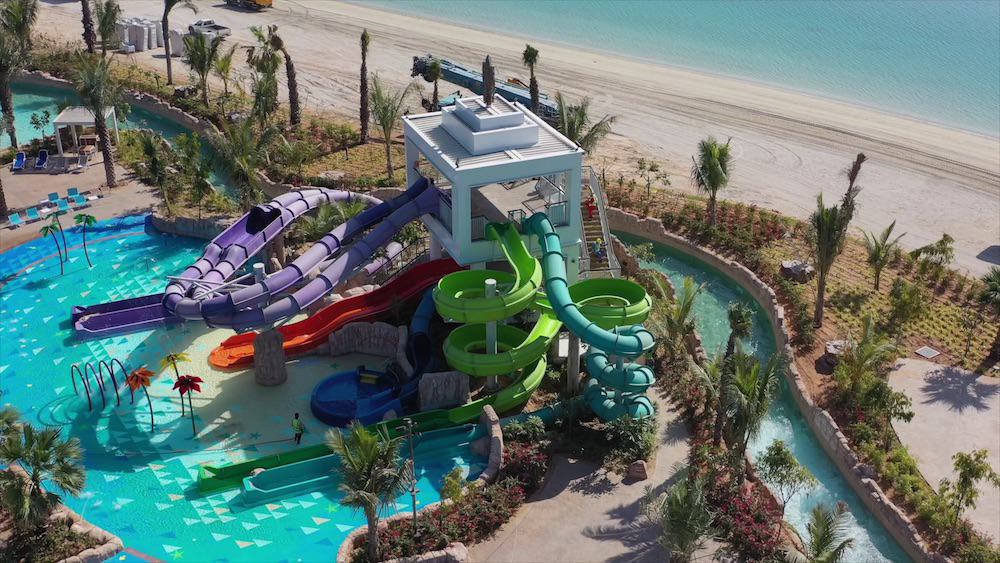 They're powerful, performance-driven attractions that also push the boundaries of what water rides are capable of accomplishing. Atlantis' Aquaventure Dubai has elevated its status and is leading the industry by making two high-performance water coasters the anchor attractions in its new water park expansion.
Atlantis raises the bar
ProSlide's Water Coasters are the most sought-after attractions in the water park industry. And it's easy to understand why: they're proven attractions; deliver an unmatched high-performance guest experience and use efficient, cutting-edge technology. They are also are visually iconic and have limitless track design capabilities.
Atlantis recognized that these attributes would elevate their world-leading vision and cement their park as "the" attractions destination with not one, but two ProSlide Water Coasters anchoring their iconic Trident Tower.
Guests can now enjoy the world's first MammothBLAST Water Coaster (Shockwave) and the EMEA region's first Dueling PIPElineBLAST (Medusa's Lair). Both debuted at Atlantis this past March to rave reviews.
Shockwave
Shockwave – the MammothBLAST/FlyingSAUCER 45/PowerRIVER water coaster–is powered by ProSlide's next-generation BLAST water propulsion technology. The unique combination of three powerful upward boosters as well as accelerating, high-speed FlyingSAUCER turns amplifies the experience high above the shoreline.
Just when riders think it's over, they transition into a grand finale PowerRIVER rafting adventure. This addition to a water coaster's ride path changes the landscape of family water rides and entertainment, taking it to a whole new level.
For a truly one-of-a-kind ride experience, ProSlide created a brand-new piece of technology built specifically for this water coaster. This is the 5-person Low-Center-of-Gravity raft. The new design delivers 25% more throughput than was previously possible and allows for a wider range of rider configurations. The vehicle can seat anywhere from 2-5 riders in a face-to-face position. It also includes cushioned seats and a lower centre of gravity for a more comfortable experience.
This increased capacity and versatility contributes to making MammothBLAST an ideal anchor attraction. One that sets a new bar for family water rides.
"Water coasters are the pinnacle of water ride technology and MammothBLAST is the new standard for family-adventure rides," says ProSlide Chief Commercial Officer Ray Smegal. "We envision the entire family – kids, parents and grandparents – climbing into the raft and enjoying the experience together."
Medusa's Lair
Medusa's Lair bolsters the excitement found on Trident Tower by giving guests a completely different experience from Shockwave. The award-winning Dueling PIPElineBLAST/FlyingSAUCER 20 is a competitive head-to-head racing water coaster. This attraction pits riders against each other in a high-speed race to the finish.
Featuring RocketBLAST water propulsion, riders race through a dynamic racetrack which also has multiple vantage points to gauge the competition. Strategically placed through the ride path are patented open-flume RallyPOINTS. These allow racers to both see and hear their competition as they approach the next booster and bank through the high-speed FlyingSAUCER turns.
ProSlide's high-performance water coasters have established a legacy of transforming water parks around the world. Medusa's Layer and Shockwave also cement Atlantis' status as the industry-leading global water park standard.
In part one, the ProSlide team explored how adding a purposefully designed ride mix will futureproof Atlantis Aquaventure for years to come. Next, they will also look at how a water park amenity adds value to hotels and resorts.