by the ProSlide team, the final part of a 5-part series on Atlantis Aquaventure
Racing is an important part of ProSlide's heritage. As a member of Canada's alpine skiing team for more than five years, ProSlide CEO and Chairman Rick Hunter has had the passion for racing coursing through his veins right up to this very day.
Taking the elements of vision, precision and quality that are present in high-performance racing, Hunter also brought those elements into the very DNA on which his company was founded. So, it comes as no surprise that the competitive edge of racing is woven into the very fabric of ProSlide designs and engineering.
Water ride racing began early in the company's history with rides like the multilane ProRACER that were designed to emulate ski racing's competitive edge. This high-speed mat slide pits riders against each other in a race to the finish.
Over the years, ProSlide's racers evolved into new variations like the KrakenRACER and OctopusRACER that integrated innovations such as additional flumes and braided and looping lanes. And while still wildly popular today, ProSlide has continued to innovate more experiences for parks that are set on increasing the competitive experience and the thrills of racing available to their guests.
Aquaventure Dubai: high-performance water ride racing for all ages
Atlantis was quick to identify the impact that racing can have on riders and the competitive environment it creates, knowing they wanted to make it a key attraction for its world-leading expansion. Five high-performance ProSlide water rides were installed at Aquaventure that deliver a heightened racing experience across all age groups in each part of the expansion.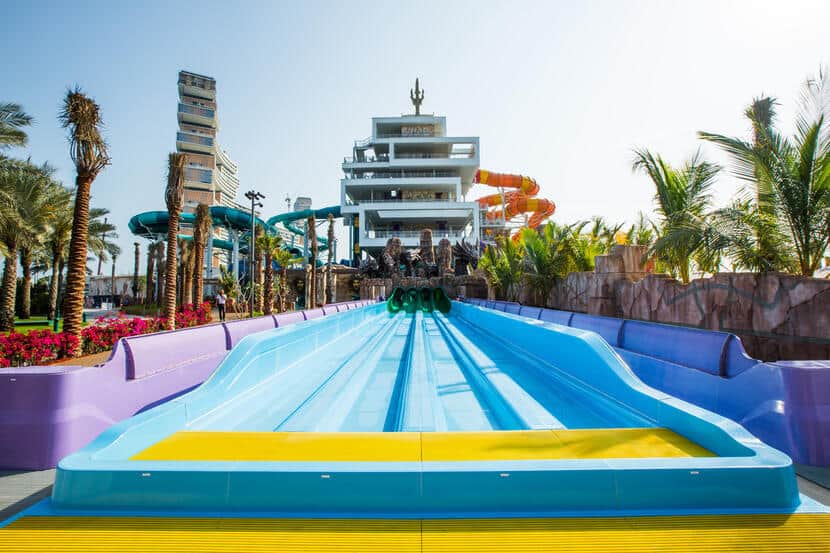 The award-winning Dueling PIPElineBLAST (Medusa's Lair) and the ever-popular RallyRACER (Hydra Racers) (anchored to the park's Trident Tower), the world's-first KIDZ RallyRACER and KIDZ ProRACER (part of the KidzADVENTURE Tower), and 6-lane KIDZ ProRACER (in Splashers Cove) all create unique and exciting multi-lane experiences that drive riders to chase their own first-place finish.
"Every ProSlide racer is a multi-lane experience that promotes the excitement and thrill of friendly, but determined competition," says ProSlide's Chief Commercial Officer, Ray Smegal. "With every ride, racers want to secure that first-place finish amongst their friends and family. And if they weren't able to get first place one time, racers return again and again until they can."
Features that enhance the race
While everyone loves a good race, especially if you're the winner, it isn't enough to simply race to the bottom against your opponents.
ProSlide recognized that for even more thrills, they needed greater dimension and interactivity to bring competitive water ride racing to the next level. They needed to create an environment that promotes and stimulates the feeling of competition, allowing repeat ridership to thrive and grow.
Features like ProSlide's patented RallyPOINTS – sections of u-shaped flume that include low separator walls, allowing racers to see and hear their opponents – were designed specifically to foster this kind of environment and are on full display throughout Atlantis' many racing rides.
The RallyRACER and Dueling PIPElineBLAST on Trident Tower, and even the world's first KIDZ RallyRACER on the KidzADVENTURE Tower, all have RallyPOINTS that serve to amplify the competitive spirit already designed into these rides.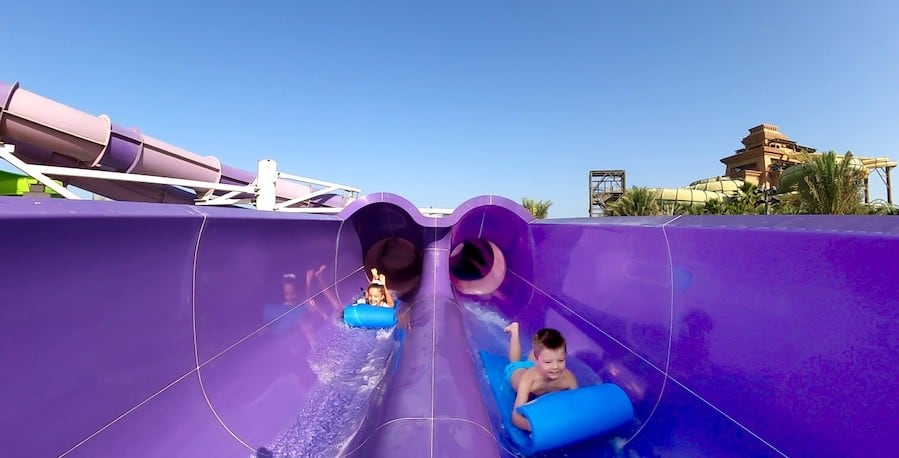 Knowing where your competition is at strategic points in the race gives riders a sense of anticipation for the finish; something that makes the journey to the end that much more exhilarating. And with a different outcome for every single ride, racers experience an inherent level of discovery that ensures a memorable experience with each and every ride.
Another interesting twist to the ride path is ProSlide's innovative lane switching by design that is in many of Atlantis' new racers. This creative approach to racing alternates a rider's position on the ride by travelling under or over the other racer and adds another dimension to the competitive experience. Both Medusa's Lair and Hydra Racers have the lane-switching feature at key points during the ride path, further increasing the competitive nature of the rides.
Racing toward the future
The inclusion of racing as a core component of Atlantis' expansion, from the kid's to the adult's rides, continues the trend of using racing as a vehicle for heightened water ride experiences. Having been around since the 1980s and seeing continual innovation and evolution up until today, competitive racing is clearly here to stay.
In their previous post, ProSlide explored the appeal of graduated ride designs.