by the ProSlide team, the first part of a 5-part series on Atlantis Aquaventure
Voted one of the top water parks in the world by TripAdvisor, the highly anticipated expansion at Atlantis' Aquaventure Dubai opened its doors this past March. This groundbreaking addition uses a ProSlide powered, industry-leading ride mix. This will set the park up for success today as well as going forward into the future.
Known as futureproofing, the inclusion of successful, proven attractions – as well as new, marquee rides that use the latest technology – are key elements designed to differentiate Atlantis Aquaventure, attracting guests and keeping them entertained for years to come.
"We always focus on customer needs and demands, and constantly evolve to ensure that each and every experience at Atlantis is unique, with all our visitors making memories that last a lifetime," says Sascha Triemer, Atlantis Dubai Vice President Marine & Waterpark.
Atlantis accomplishes this by combining a multitude of proven ProSlide water rides and attractions that continually deliver on performance and high-entertainment value with immersive theming and second-to-none guest experiences.
Trident Tower – a masterpiece worthy of Atlantis
At 48-metres tall, Trident Tower is a breathtaking beacon within the new water park expansion. This marvel of advanced design and technology was created to be the park's main attraction for years to come, futureproofing Atlantis Aquaventure.
Situated along the resort's shoreline, eight high-performance water rides anchor the tower. This makes it one of the largest custom complexes ProSlide has ever designed. But it's not just the number of rides on the tower that are significant. The rides themselves also each hold their own distinctions.
In any park, a ProSlide Water Coaster anchors the site and serves as the main attraction. These popular rides draw guests in as well as driving repeat ridership. Atlantis has not only one ProSlide Water Coaster but two, on a single complex that delivers a powerful entertainment experience that can't be found anywhere else in the world.
First among them is Shockwave. This is the world's first MammothBLAST Water Coaster and also the world's longest family rafting water coaster. The thrilling water ride accommodates up to 5 riders in a face-to-face position, powering them through a 449-meter-long track with three BLAST boosters as well as an iconic FlyingSAUCER turn. It then transitions into a thrilling PowerRIVER finish – a unique first for a ProSlide water ride.
Futureproofing Atlantis Aquaventure
On the other side of the tower, making its debut in the EMEA region is the IAAPA IMPACT Award-winning Dueling PIPElineBLAST/FlyingSAUCER 20. Known as Medusa's Lair, this is the only true dueling water coaster in the world. This ride's head-to-head positioning brings the unique feeling of competitive racing to the world of water coasters. Plus, the 1.05m height requirement makes it accessible to an incredibly wide guest demographic.
The other high entertainment water rides on the tower also command their own iconic distinctions, like the region's first RallyRACER. This is a fast-paced, multi-lane slide with sections of u-shaped flume and low divider walls called RallyPOINTS. These allow riders to hear and also see their competition.
Another ride making its debut in the region is the world's tallest Double TornadoWAVE 60. This visually stunning water ride anchors the top parks around the world. It also features the industry's only curved wall, which riders sweep across the top of to experience zero-Gs.
In addition, the tower hosts the tallest FreeFALL in the Middle East. This is a straight plummet down an almost-vertical drop with extreme thrills and high velocities that riders love.
Revolutionary kids complexes
West of Trident Tower stands two additional water ride complexes catering to Atlantis' family guests: Splasher's Cove and Splasher's Lagoon. By including robust family areas throughout the new expansion, Atlantis Aquaventure is futureproofing – cultivating and nurturing its younger audience for their future graduated rides.
Splasher's Cove is home to the world's first KidzADVENTURE Tower (KAT). Inspired by the iconic design of Trident Tower, the KAT features modern architecture and smaller versions of award-winning ProSlide water rides.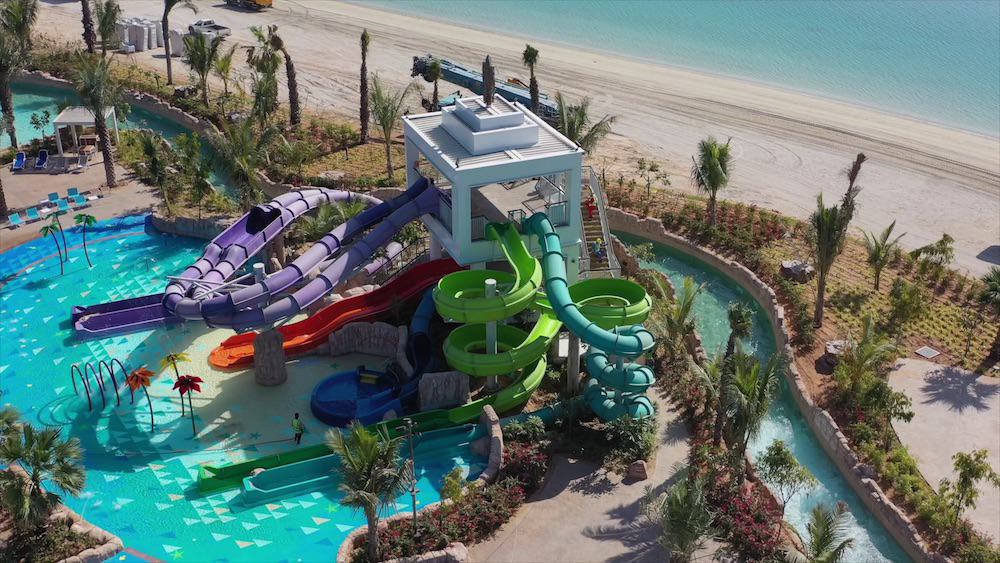 Innovated specifically for kids and families, this complex creates unique, graduated ride experiences for the younger guests to gain the ability and confidence to conquer Trident Tower.
Chief among the rides is the world's first KIDZ RallyRACER, which brings competitive water racing to young riders. This mimics the experience of its larger counterpart on Trident Tower. Riders launch their mats from ergonomic start tubs into the ride, speeding through the flumes and an open-air RallyPOINT. This allows the young racers to both see and hear where their competition is in the race.
Between Trident Tower and Splasher's Cove, guests can also find Splasher's Lagoon. This is a second family area, complete with a wide-open Spray Park and ProSlide's innovative KIDZ rides. For example, the 6-lane ProRACER and the KIDZ TORNADO 24. Both of these rides are making their debuts in the Middle East.
Realizing a vision for the future
Parks that focus on purposefully designed rides are actively securing their investments to stay relevant today and also for years and decades to come. By working with ProSlide, Atlantis Aquaventure is futureproofing the water park for the future.
"The future of a park and its success will always be determined by how well you exceed your guest's expectations when they spend the day at a water park," says ProSlide's Chief Commercial Officer Ray Smegal.
"Purposeful design, high-performance technology, and differentiated experiences are all things that come with authentic water rides. Those are the things that will keep your guests coming back again and again."
In part 2 of this series, ProSlide will look at MammothBLAST and Dueling PIPElineBLAST, Atlantis Aquaventure's new adventure and racing water coasters.