ProSlide Technology Inc., an industry leader in water ride manufacturing and design, has announced new design patent protection as well as a world-record expansion at Dubai's Atlantis The Palm.
ProSlide Technology is pleased to announce that it has secured design patent protection for its RallyRACER water ride technology, the world's first head-first mat racer with multiple RallyPOINTS. In addition to this, the company has also announced that it is the water ride partner for Atlantis Aquaventure Phase 3 at Dubai's Atlantis The Palm.
Atlantis Aquaventure Phase 3 is set to be the most ambitious water park expansion in the world, featuring cutting-edge water ride technology.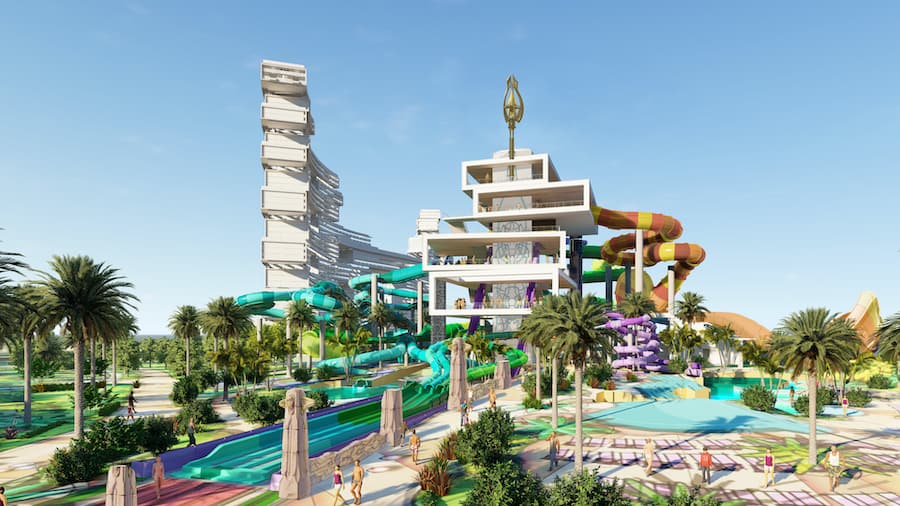 RallyRACER
RallyRACER's unique RallyPOINTS are sections of the flume where riders can see and hear each other, meaning they can enjoy a fun racing experience as they come together and separate several times throughout the ride.
The patented RallyRACER technology features in the design patent-pending Dueling PIPElineBLAST – the world's first and only true-duelling water coaster. This fun coaster includes head-to-head flume sections where riders come together, thanks to powered, uphill RallyPOINTS. The IAAPA Impact Award-Winning Technology (2019) will feature at Atlantis Aquaventure Dubai, which will be home to the unique duelling water coaster.
"We're thrilled to bring these industry-leading water rides to our Phase 3 water park expansion", says Director of Operations at Aquaventure Dubai, Olivia Wyrick. "Together with ProSlide, we made sure that every water ride is the world's best of its kind and we're thrilled to bring real racing to our guests at Atlantis Aquaventure."
Earlier this year, ProSlide announced that it has been granted several patents for its award-winning FlyingSAUCER water ride. This innovative ride includes a high-speed feature that changes how to turn within a water ride. FlyingSAUCER is already being enjoyed by water park guests around the world, with installations at SeaWorld, Six Flags, OCT, Siam Park and Holiday World.