The attractions industry is constantly changing, utilising innovative technology and attempting to meet customer demand for new experiences. We've compiled the latest visitor attraction trends to keep an eye on as we welcome a new decade.
Visitors today expect state-of-the-art technology, authentic immersion and customised experiences – ideally all at the same time. The overall trend is one of experiential convergence. Visitor attraction trends are blurring the boundaries to create hybrids like retailtainment, edutainment, artainment, eatertainment…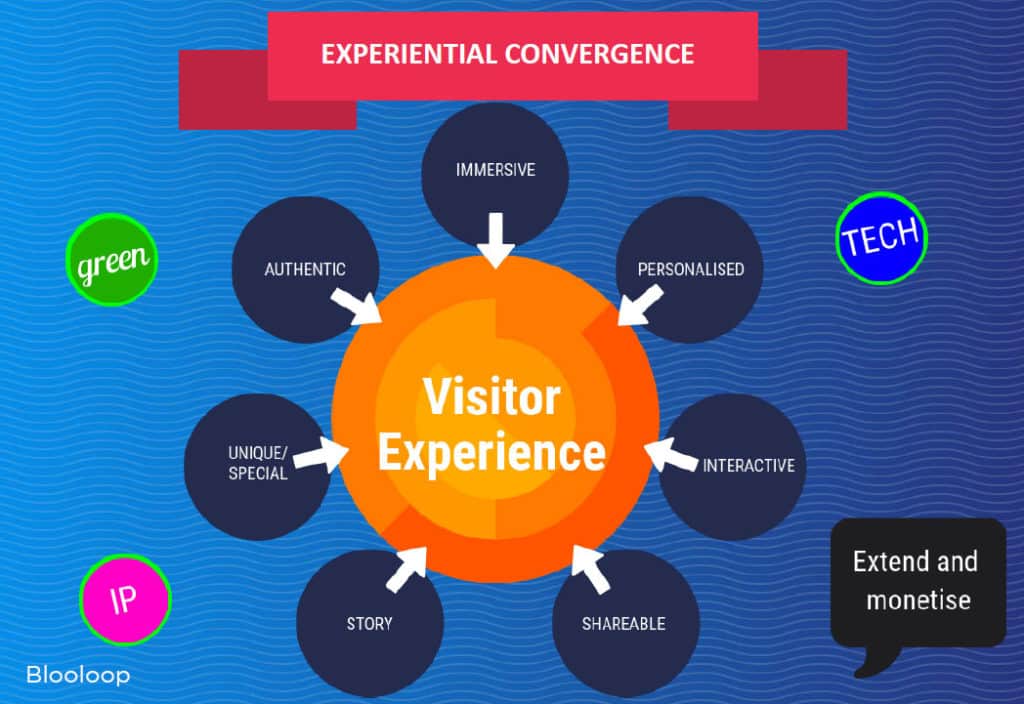 Visitor attraction trends for 2020
Guest experiences should aim to be authentic, immersive, personalised, interactive, unique and shareable. Plus they need a great story. Tech can enable, intellectual property (IP) can inspire, and we should all be working towards a greener future. And of course, if it's working, extend and monetise the attraction with a shop (physical or online), hotel or restaurant.
Here, we take a look at some interesting trends and developments in the attractions industry for 2020. This list of visitor attractions trends provides some insight into the trends that we think are worthy of your time. From themed hotels and animal welfare to social media and the evolution of virtual reality.
1. Augmented reality (AR)
Augmented reality is essentially a virtual layer on the real world. It uses computer-generated sensory input such as sound, video, graphics or GPS data. If you've ever used a Snapchat or Instagram filter, you've met and played with AR.
Attractions are gradually employing augmented reality. Most recently, Ginza Sony Park in Tokyo unveiled a 'Ghostbusters Rookie Training' AR experience. Players could explore Ginza Sony Park and exterminate ghosts popping up throughout the venue, using a prototype AR headset.
Museums in particular are adopting AR. Tate Britain recently partnered with Facebook to create a Spark AR-powered art exhibit called 'The Virtual Wing'. Here, visitors can view the art in greater depth using a smartphone and Instagram's camera to scan and activate the experience. Using a map, guests can then navigate their way around eight AR-enhanced paintings.
Elsewhere, Apple and New York's New Museum have created AR artworks, experiences and art sessions at Apple Stores. These include an interactive walk featuring works by contemporary artists, a class teaching the basics of creating AR using Swift Playgrounds, and an AR art installation.
As for theme parks, AR experiences with park-specific reality-altering lenses have been launched between Snapchat and Disney, Universal and Six Flags.
2. Themed hotels
Attractions are always investing in new ways to get people to stay longer and spend more. Themed hotels are key to the strategic growth of the big theme park operators like Merlin and Compagnie des Alpes'.
Miral and Warner Bros are opening the world's first Warner Bros hotel on Yas Island in 2021. Meanwhile, Europa-Park has constructed a hotel themed on a natural history museum close to the new Rulantica water park. Star Wars: Galactic Starcruiser, an immersive two-night hotel experience, will also debut in 2021 at Walt Disney World Resort in Florida.
Brands are getting in on the act, with the world's first Cartoon Network Hotel scheduled to open in June 2020.
And interestingly we are seeing a new trend, the museum hotel. Mona, Tasmania's unconventional Museum of Old and New Art, is leading the way with a $450 million five-star hotel set to open in 2024. Mona's unnamed hotel will have more than 170 rooms, as well as new artworks, 'special experience' rooms, a theatre, spa centre, library and outdoor concert stage.
Elsewhere, the Official Hip Hop Hall of Fame Museum & Hotel is set to open in 2021, while Meow Wolf is opening a combined immersive exhibition and hotel concept in Phoenix, Arizona.
The National WWII Museum in New Orleans also launched The Higgins Hotel & Conference Center. Pub chain JD Wetherspoon is also creating a museum and hotel at The Moon Under Water in Wolverhampton.
3. Social media
Modern museums are busy trying to connect with Millennials and Gen Z. They need to be active online to ensure they engage with the internet generation. Museums can reach out to this audience through innovative exhibits, new technologies or pitch-perfect social media accounts.
Instagram, in particular, has dramatically impacted the tourism and attractions industry. Theme parks and visitor attractions are no exception, as guests attempt to snap the perfect Instagrammable moment.
Look no further than the Museum of Ice Cream (MOIC) in New York, which is arguably where this trend began. With its bright colours and fun exhibits, it quickly became known for its 'instagrammability'. Multi-sensory installations at MOIC include a giant ball pit filled with sprinkles and balloons, a three-storey slide, a floating table full of sweet treats, and a hall of giant scoops.
That said, MOIC founder Manish Vora recently revealed that he believes more social interaction and less social media is key for visitors. If the poster child for Instagram museums is advocating more human interaction, have we reached peak instagrammability?
The San Francisco Museum of Modern Art (SFMOMA) has used technology to engage with the internet generation in several ways. In collaboration with Adobe Systems, the Self Composed project lets visitors reimagine and create their own selfies. In addition to this, Send Me SFMOMA allows users to connect to the museum by text, with a word, emotion, colour or emoji.
The Los Angeles County Museum of Art's Snapchat strategy involved pairing images from the museum's collection with witty phrases and 'internet speak'. Meanwhile, the shareable images and captions of Museum Meme Day made it easier for social media users to engage with a museum. Therefore proving that engagement works alongside marketing.
Many modern museums have realised that interacting is key, using GIFs and memes on social media. Remember the "absolute unit" shared by the Museum of English Rural Life on Twitter in 2018? Well, the museum continues to create shareable content, including "happycowgifs".
4. Green agenda and animal welfare
As concern over the effects of climate change increases around the world, attractions are busy developing green agendas, whether they are reducing plastic, going solar, or offering vegan options.
At the annual World Economic Forum conference in Davos, Switzerland, climate activist Greta Thunberg berated world leaders for doing "basically nothing" to reduce carbon emissions. Sir David Attenborough told BBC News that "the moment of crisis has come" in efforts to tackle climate change.
In December 2019, Six Flags Discovery Kingdom became the first solar-powered theme park on the West Coast. This follows a similar move by Six Flags Great Adventure. PortAventura World is also installing a large solar energy plant to power the whole resort. Meanwhile, a solar farm now provides Walt Disney World with more renewable energy.
Merlin Entertainments has stopped using plastic straws at all of its owned attractions globally, and PortAventura World plans to eliminate plastics in the resort by 2020. The Walt Disney Company also eliminated single-use plastic straws and plastic stirrers at all of its owned and operated locations. The London Resort has partnered with EDF Energy to make it the most sustainable major theme park in the world.
Veganism is also a popular sustainable option when it comes to looking after the planet. More than 400 vegan, plant-based options are being added to all dining locations at Walt Disney World and Disneyland Resort. The sustainable, plant-based Impossible Burger is now on menus at all SeaWorld, Busch Gardens, and Sesame Place theme parks.
Of course, animal welfare goes hand in hand with veganism. Attractions are distancing themselves from animal shows and captive creatures, in particular, cetaceans.
In October, TripAdvisor announced that it will no longer sell tickets to, or directly generate revenue from, attractions or experiences where cetaceans are captive and put on public display. This followed similar decisions from Qantas, British Airways Holidays and Virgin Holidays. Furthermore, BA will no longer sell tickets to attractions that feature captive wild animals, not just cetaceans.
TripAdvisor also praised Merlin Entertainments' SEA LIFE Trust Beluga Whale Sanctuary. This is home to two formerly captive beluga whales, Little Grey and Little White, who came from an aquarium in China.
And what of SeaWorld? Following the release of documentary BlackFish, the company has gone through a period of restructuring. It is also investing in advertising and marketing, as well as pricing, new rides and attractions and free beer. The company recently announced its 36,000th animal rescue.
We predict that 2020 will be huge for green and compassionate agendas. But how will this affect the industry as customers look to reduce travel and consumption? It will potentially have an impact on merchandise and visitation. However, a current desire for experiences over 'merch' could limit the damage to retail revenue.
5. Immersion and interactors
Increasingly popular in the attractions industry are immersive experiences, some using little to no technology, and often employing interactors. These are actors who talk and engage with the audience to tell the story and create an entirely unique experience.
Making use of actors in attractions is not new. But there has been a rise in interactors, perhaps because of a lack of human connection in real life. Look to Evermore, which takes character immersion to every corner of the 11-acre theme park. It provides a fully-immersive theatrical experience at a park-wide level.
"Evermore is a living theatrical park," said Evermore chief creative officer Josh Shipley. "It's experiential. It's like jumping into a live video game."
Emphasising play and imagination, Evermore invites visitors to become a knight, hunter or elf on a quest. Activities include axe throwing, archery, shows and music. However, there are no traditional theme park rides and attractions. The emphasis is on interactive storytelling, interactors, and fantasy role-playing.
Similarly, Cedar Point recently opened a new interactive experience called Forbidden Frontier on Adventure Island. It is an "immersive living story" with challenges, competitions and secret missions.
This marked a significant change for Cedar Fair, best known for its record-breaking roller coasters. The inhabitants of Forbidden Frontier interact with visitors, engaging them in various activities. All the characters have background stories and information, which can lead to a hidden treasure.
Another example of low tech is escape rooms, 160 of which have opened in the UK over the past two years. Even the Royal Collection Trust launched its first escape room in the Queen's Gallery at Buckingham Palace. Escape Live also recently opened the world's first official Peaky Blinders escape experiences in Birmingham.
Theme parks are also seemingly moving away from 3D and going back to the basics. Universal Studios Hollywood has now removed 3D technology from two of its major attractions. Furthermore, Walt Disney CEO Bob Iger previously said the company doesn't plan on pushing VR at its theme parks, instead opting to create immersive themed lands.
Two Bit Circus is a unique experiential entertainment company. It fuses futuristic technology with carnival-style spectacle to create immersive experiences. The company builds social games and experiences that engage and inspire. And they don't have to be high-tech.
Two Bit Circus champions board games, escape rooms, scavenger hunts and wine-tasting game shows. What's more, mobile phones are not allowed.
6. VR evolution
Virtual reality (VR) has been big business in recent years, but it's evolving into a new, immersive beast. A successful VR experience is driven by social interaction, a good story and gameplay mechanics. Last year, we welcomed an abundance of new VR developments. Some of the following may hint at what's to come in 2020.
Lionsgate Entertainment World is one of China's most technologically advanced theme parks. It opened in August 2019, finally unveiling the cutting-edge technology, including VR and augmented reality (AR), used in its rides and attractions.
The interactive destination boasts more than 50 key attractions based on Lionsgate's film franchises. The Twilight Saga: Midnight Ride, the next-gen VR ride at Lionsgate Entertainment World, is the world's first multiplayer interactive hyper-reality VR simulator experience.
Museums are also getting in on the VR action. In 2019, the Louvre collaborated with HTC Vive Arts on its first VR experience for visitors, Mona Lisa: Beyond the Glass. Cincinnati's Museum of Natural History & Science launched a VR experience, Jurassic Flight, allowing guests to explore prehistoric skies and interact with dinosaurs.
The Museum of Future Experiences (MoFE), a virtual reality pop-up museum, also opened in New York. The multi-sensory experience uses immersive theatre, psychology, VR, and the psyche of visitors themselves. Before entering the attraction, guests are quizzed about their thoughts and desires. Their answers reveal their subconscious and shape the personalised content they'll see.
The experience includes individual analysis, audio-visual stimulation, and dreamlike VR. This is curated to visitors' inner being, based on their hopes, dreams and fears.
Virtual reality experiences using IPs are popping up all over the globe, too. In 2019, we've seen VR experiences inspired by Men in Black, Game of Thrones, and Assassin's Creed. Meanwhile, Holoride, Universal Pictures and Ford launched the world's first in-car VR experience, Universal Monsters Presents: Bride of Frankenstein Holoride, for a temporary time at Universal CityWalk.
Elsewhere, Virtuix developed the Omni virtual reality treadmill and Omni Arena esports attraction. The full-body VR attraction allows up to four players to run around and compete inside video games. The Omni Arena is now a leading VR attraction across the US, as well as the world's top location-based esports platform.
Immotion, the UK's largest group of VR experience centres, previously showcased a haptic VR experience. Here, various surprising events are augmented with mid-air haptic sensations, which relate to the sense of touch. The Twilight Saga: Midnight Ride at Lionsgate Entertainment World also uses force-feedback haptics. It is designed to fully engage all the senses.
7. Customised experiences
A growing number of customers are looking for some control over their visits. They value unique experiences and expect attractions to cough up. Fortunately, technology is making customisation a little easier, with apps and smartphones playing a large role in this emerging trend.
Smartphones are now very much part of the museum experience. Guru's Dana Duran describes them as a "tool for enhancement, engagement, sharing and interactivity".
For example, the Getty Villa has taken inspiration from the Percy Jackson books for the Demigods audio tour. This combines storytelling, game mechanics and personalisation. Here, visitors discover their own godly parent who guides them around the exhibits.
At the Museum of Old and New Art (Mona), not all of the artwork has wall labels. Instead, a downloadable app called the O helps the visitor navigate through the gallery's spaces using built-in GPS.
The O displays information accordingly, under headings such as 'Art Wank'. More recently, the High Museum of Art launched a Tinder-style app for art called Heartmatch. This allows users to swipe right and swipe left on artworks they like or don't like.
The Play Disney Parks app at Star Wars: Galaxy's Edge lets guests hack droids, translate alien languages, and pick sides. Elsewhere, Super Nintendo World, first opening this summer at Universal Studios Japan, combines the real world and video games.
Visitors will be able to use a wearable wristband, called a Power Up Band, alongside a smartphone app. The Power Up Bands are themed to different characters, and allow guests to collect digital coins and compete with other guests.
accesso's wearable tech has been implemented at the Bear Grylls Adventure to make the guest journey as seamless as possible on site. All visitors receive a wristband, or 'BearTag', on arrival. This keeps track of their experience times, logs photos taken, provides free locker access. It can also be used to pay for food and drink, merchandise and any additional experiences booked.
Many attractions are using interactive apps to reduce friction such as long waiting times for food and rides. Leading app creator attractions.io helps attractions ramp up guest satisfaction by providing mobile ordering or live queue times.
Holovis, a leading experience designer, recently launched its new software platform HoloTrac. HoloTrac identifies guests through an attribute recognition engine in order to offer personalised experiences, with guests interacting within the space and enjoying a nonlinear narrative.
8. Artificial Intelligence (AI)
Another tech trend to keep your eye on in 2020 is artificial intelligence. This year, the Dali Museum used AI and machine learning to create an uncanny lookalike of Salvador Dali. Meanwhile, Westfield created an AI-powered pop-up shopping experience.
In more AI developments, the UK's pavilion at the Dubai World Expo 2020 will use artificial intelligence to write poems in a giant illuminated "message to space". Elsewhere, Samsung's Artificial Intelligence Centre in Moscow has developed new AI software that can generate videos using just one image. This is known as deepfake technology.
Microsoft also has a $125m 'AI for Good' programme, and previously announced 'AI for Cultural Heritage', which uses artificial intelligence to tackle challenges in society. This is a response to modern threats to cultural heritage, a bid to preserve people, places, languages and historical artefacts.
This follows Microsoft's recent work using AI. For example, the company's collaboration with the Metropolitan Museum of Art and MIT to look at ways in which AI can make the Met's Open Access collection accessible and useful online.
We expect to see more use of AI in attractions. Dreamcraft Attractions exhibited Project Eve at IAAPA in 2019. Technology is advancing to allow avatars of guests to ride and play alongside our favourite movie stars in IP-based rides of the future.
9. Eatertainment
The combination of eating and entertainment is no longer reserved for Come Dine With Me. Now, food is more than an afterthought at attractions. It's becoming an essential element of the visitor experience – from themed food and food-based experiences to food festivals.
Yes, it looks like eatertainment is one of the visitor attraction trends that is here to stay. Operators are certainly moving away from the traditional fare of burgers and chips.
At Universal Orlando, visitors can explore iconic food locations from the Harry Potter franchise. For example, the Three Broomsticks, the Leaky Cauldron and the Hog's Head. At Disney's new Star Wars: Galaxy's Edge expansions in California and Florida, visitors can eat and drink at Ronto Roasters, Docking Bay 7 Food and Cargo, and Oga's Cantina.
Also heading to Walt Disney World is the new Space 220 at Epcot. This will be as much an attraction as a restaurant when it opens in the expanded Mission: Space pavilion. Guests at the table-service restaurant will feel like they're dining 220 miles above the surface of the Earth.
In addition, fans become a part of the Disney classic Beauty and the Beast in the Be Our Guest Restaurant. Disneyland Paris has also announced a Frozen eatertainment experience.
Eatertainment is also popping up elsewhere too. Recent announcements include a reimagined, theatrical menu at Cirque du Soleil JOYÀ at Vidanta Riviera Maya in Mexico and Andasi, the world's largest underwater restaurant and Asia's first underwater bar, as part of Aquaria Phuket.
Holovis and Discovery Destinations have teamed up to create new immersive experiences that engage all five senses.
"The immersive environments will feature surround, seamless and all-encompassing visuals, spatial audio, SFX including gentle winds and mists, scent to complement the scenes and a fully themed menu, enabling guests to go on spectacular journeys around the world and enjoy authentic cuisine in these stunning environments," said Christine Wacker, VP of LBE at Discovery.
Described as culinary pornographers and architectural foodsmiths, Bompas & Parr's blend of art, food and sensual expression has proved a recipe for success. The duo recently launched magnetic meringues. They even created a whisky ping-pong explosion at blooloopLIVE, which you can watch above.
10. Artainment
Another key trend to watch is artainment, which fuses art and technology with spectacular results. Art becomes part of digital, immersive experiences. These can be interactive or serve as a way of exposing art to a new audience.
Meow Wolf, a Santa Fe-based arts collective, opened Kaleidoscape, the world's first artist-driven dark ride, at Denver's Elitch Gardens. In May, Meow Wolf also revealed it had raised more than $158m to expand its footprint across America, with new attractions in Phoenix, Las Vegas, and Washington, DC.
teamLab, an international art collective, is opening digital-only experience teamLab SuperNature Macao in March 2020. teamLab projects art onto the walls of its attractions, which is in constant motion. The pieces evolve and interact with each other.
MORI Building DIGITAL ART MUSEUM: teamLab Borderless opened in Odaiba, Tokyo in June 2018. Then, teamLab Borderless Shanghai debuted in Huangpu District, Shanghai in November 2019. The immersive space teamLab Planets TOKYO in Toyosu, Tokyo is on view until fall 2020.
The Meet Vincent Van Gogh Experience in Barcelona, created by the Van Gogh Museum in Amsterdam, offers an immersive experience that combines entertainment with education. Elsewhere, Culturespaces teamed up with Barco to create a digital art museum, called Atelier des Lumières, in Paris. As visitors travel through the rooms, the museum immerses them in digital art.
More examples of artainment include Artechouse in Miami, The Barbican's immersive exhibition Digital Revolution, and Wisdome. This describes itself as "the world's first fully immersive entertainment art park".
And some others…
11. Traveltainment
Customers are looking for experiences everywhere they go. This includes airports. Leading the way in airport attractions is Jewel Changi Airport. This entertainment destination boasts shops, restaurants, play attractions, accommodation, and the world's biggest waterfall.
At Vienna International Airport, Christie's laser projectors are providing a panoramic cockpit view at a multimedia visitor experience. Meanwhile, Emaar is developing a business and tourism complex in the aero-economic area of Beijing Daxing International Airport. AmazeVR has also launched its first location-based VR experience at Incheon International Airport in Seoul, South Korea.
In light of this, is there a gap in the market for entertainment at motorway services? We've witnessed a rise in posh food on the motorway. But will we soon be stopping for a coffee and a VR experience?
12. Wellness
Discussions about mental health and wellbeing are no longer taboo, and wellness is big business. Even attractions are getting involved, seemingly recognising the important role they can play in supporting visitors and raising awareness.
Lately, we've seen museums, restaurants, shops and theme parks offering more services for people who are struggling mentally. Or for those who just enjoy getting fit and healthy.
Meow Wolf previously hosted a pop-up of The Depressed Cake Shop, while the Natural History Museum put on a series of yoga and wellness classes under a large moon artwork by UK artist Luke Jerram. Disneyland Paris is also getting involved, hosting a massive yoga class with 700 participants.
Elsewhere, Two Bit Circus offered an immersive virtual reality (VR) wellness experience. Dubai Aquarium & Underwater Zoo has also been offering underwater yoga sessions.
As above, the Museum of Future Experiences (MoFE) uses the psyche of visitors, who are quizzed about their thoughts and desires. Their answers unveil their subconscious and shape the personalised content they'll see. Although this is not a clear-cut mental health or wellness experience, it does hint at what's to come as the ultimate millennial experience offering fascinating psychological nuggets into your own psyche.
13. Magic
The wonderful world of magic started with Harry Potter. This lends its IP to a wealth of attractions, experiences and stores. Magic and the occult remain a strong source of entertainment, with Hasbro taking its Magic: The Gathering card game to new heights with a digital game, esports league, and animated series on Netflix.
Elsewhere, Tyffonium dabbled in the occult with the launch of a magical VR experience called Tarot VR: Voyage of Reverie. Furthermore, Merlin opened Gardaland Magic Hotel at Gardaland Resort.
Amid the trend for magic-themed entertainment, Jeson Zheng's Novaex Group plans to develop multiple themed entertainment projects across China. Under the Magic Castle brand, they will fuse immersive technology with theatrical illusion and storytelling.
14. Retailtainment
This year and beyond, we expect to see more shopping malls turning to entertainment options. From small-footprint attractions such as VR arcades to huge permanent attractions like theme parks, water parks, and surf pools.
American Dream is a huge retail and entertainment complex in New Jersey. It opened its first phase in October with the Nickelodeon Universe theme park and The Rink, an NHL regulation-sized ice rink. The phase two opening date of DreamWorks Water Park was postponed, but the third phase kicked off in December with Big SNOW. In the fourth and final phase, set for March 2020, American Dream will welcome guests to shops, F&B, and the New Jersey SEA LIFE Aquarium.
Unibail-Rodamco-Westfield (URW) recently unveiled a retail trends report. This suggests that retailtainment and experiential retail will play increasingly important roles in shopping. The report predicts that 2025 will be the "experience tipping point in retail", when more than half of retail space in shops will be dedicated to providing experiences.
Many IPs, brand owners, retailers, estate owners, property developers and investors want to develop their LBE offering. However, a lack of operators may be holding back growth.
15. Middle East
Expo 2020 Dubai kicks off in October with hundreds of themed and interactive pavilions. It will also feature immersive cultural experiences and live entertainment. Ain Dubai, the world's tallest observation wheel, is opening to coincide with Expo 2020 Dubai.
In addition, a raft of incredible projects are planned for the Middle East region. Recent developments include CLYMB Abu Dhabi, the world's first Warner Bros hotel, a theme park at the Mall of Qatar and Kuwait's Entertainment City. This is a tourism and entertainment city featuring theme parks, a museum and a water park.
From Qiddiya to NEOM, Saudi Arabia is also creating a host of attractions and giga-projects as the country develops its tourism and recreation sectors. Cutting edge technology is driving innovation in theme parks and attractions in the Middle East, with the region diversifying away from oil.
16. Surfing
Surfing is set to gain more global recognition, thanks to its inclusion at the Olympics for the first time this year in Tokyo.
Surf parks like The Wave are being developed to cater to an upswell in interest in out-of-sea surfing. With authenticity a buzzword, venues will be expected to provide waves customised for recreational surfers as well as elite athletes, for example, Surf Stadium Japan, BSR Surf Ranch and The LAKE.
Indoor surf parks also play to the retailtainment trend. For example, malls like Oasis Surf have opted to include a surf pool as a hub for activity, entertainment and related brands. In addition to this, American Dream will include huge surf pool as part of the DreamWorks Water Park.
17. Esports
Esports, a form of sport competition using video games, is growing in popularity. It is set to challenge NFL with a predicted 300 million viewers by 2022. Esports is now a global multi-billion dollar industry featuring professional players with a huge fan following. Esports events often sell out, and specialist stadia have popped up around the globe to host tournaments.
In July, Sanya revealed plans for an esports theme park with a total investment of $682 million. GameWorks also opened 40 Esports Lounges in the last year. More recent developments include Super League Gaming's partnership with Wanda Media to host esports events in China, and a hotel dedicated to esports in Japan.
Even casinos are experimenting with esports, in a bid to attract a new audience after something different. For example, the LINQ Hotel & Casino at Caesars is transforming itself into an experiential casino space. It has holographic games, interactive art exhibits, esports, fan caves, self-service beer, and VR.
18. Sunken attractions
In 2019, we noticed a bizarre trend that involves sinking planes and tanks to create underwater 'theme parks' and 'museums'. Dive Bahrain, the world's largest underwater theme park, officially opened in September with its submerged Boeing 747. Jordan also unveiled an underwater military museum dive site off the coast of Aqaba. Here, divers can explore tanks, troop carriers, and a helicopter.
In December, a 'Living Museum in the Sea' was launched at La Caleta Underwater National Park in the Dominican Republic. The underwater museums are designed to protect and preserve historic shipwrecks and their coastal environments. They are open to the public but accessed by snorkelling or scuba diving.
Visitor attraction trends: to conclude…
We reckon that by 2030, we'll all be sipping themed drinks while wearing virtual reality headsets and enjoying augmented reality features on social media. Perhaps then we'll head to our museum hotels for a customised exhibition and a rest. All without an animal show in sight.
Today's visitor has a hankering for both low-tech immersion and high-tech interactivity. Now, there's a thirst for customised, individual and shareable experiences. There are also new technologies like VR, AR and AI. State-of-the-art technology will, of course, play a huge role in the evolution of attractions. However, immersion need not necessarily be techy.
The overarching theme of these visitor attraction trends, however, is innovation – in whatever shape or form. It has never been more important for attractions to focus on the visitor experience in the age of social media. Highly themed, innovative, shareable and engaging destinations are the way forward in 2020 and beyond.