Make every visit count with a guest-facing mobile app that transforms your guest experience.
Connect your entire guest journey with a guest facing mobile app from Attractions.io and deliver personalised experiences that encourage guests to explore all you have to offer, increase their on-site spend and share positive experiences with others to grow your brand.
Over the past 10 years, we've helped world-leading experiences like Merlin Entertainments, San Diego Zoo and Butlin's launch native, fully branded mobile apps using our ready made platform. They're benefitting from:
4.8 star average rating on the app store
42% increase in average transaction value
11% average increase in net promoter scores (NPS)
Our apps help you deliver a better visitor experience, increase revenue and unlock powerful insights for your attraction. These insights then transform into targeted actions using our integrated operator CMS, which enables operators to send personalised push notifications and promotions to key segments before, during and after they visit.
As a result, 96% of users at attractions we surveyed said a mobile app enhanced their day.
Attractions we support include:
Theme parks and amusement parks
Zoos and wildlife attractions
Resorts
Heritage sites
Museums
Improve your guest experience.
Interactive Maps: Highlight points of interest and provide interactive directions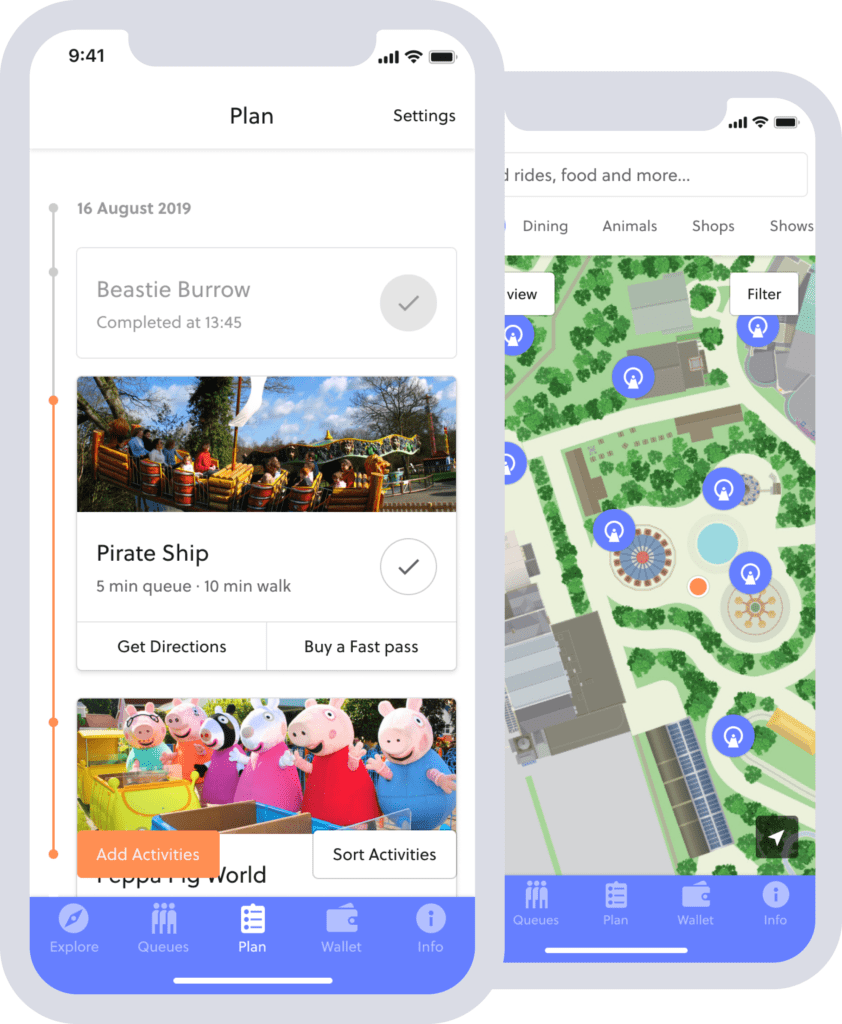 Location Awareness: Help visitors find the nearest bathroom, ATM and more with just a tap.
Day Planning: Engage visitors before they arrive and help them to make the most out of their day.
VIP Experience: Share personal greetings and contextual information with guests as they arrive.
Increase on-site spend
Intelligent offers: Use location, time and more to send targeted promotions to customers
Easy payment: Pay for tickets via the app and store them in the wallet.
Instant food ordering: Integrate with your POS and food ordering system for mobile ordering
Easy integration: Keep ticket inventory management in sync by integrating with your existing ticketing system.
Understand your visitors
Real-time Movement: See where your visitors go, understand what they're doing and drive powerful targeted campaigns.
Customer Journey: Understand how guests really spend their time at your attraction.
Real-time Feedback: Get real-time feedback from visitors and monitor performance against KPIs.
Integrate with your CRM: Push and pull data between your own CRM with our open APIs
Make Every Visit Count
We can help launch a branded, native mobile application in less than eight weeks. Find out more at www.attractions.io and request a free digital audit with our technology specialists.