Dollywood is a theme park and resort that truly puts family first. From wholesome entertainment to attractions that the family can enjoy together, the Dollywood family experience is at the heart of a visit to this popular attraction.
By Lance Hart, Screamscape.
I had the pleasure of attending a special influencer conference at the Dollywood resort and theme parks last week. It proved to be very educational.  I have always been familiar with the Dollywood park and product they offer from a guest point of view. However, it was interesting to listen to staff from Dollywood and Herschend Family Entertainment talk. They discussed the company mission and goals for the park, and how the Dollywood family experience fits into this vision.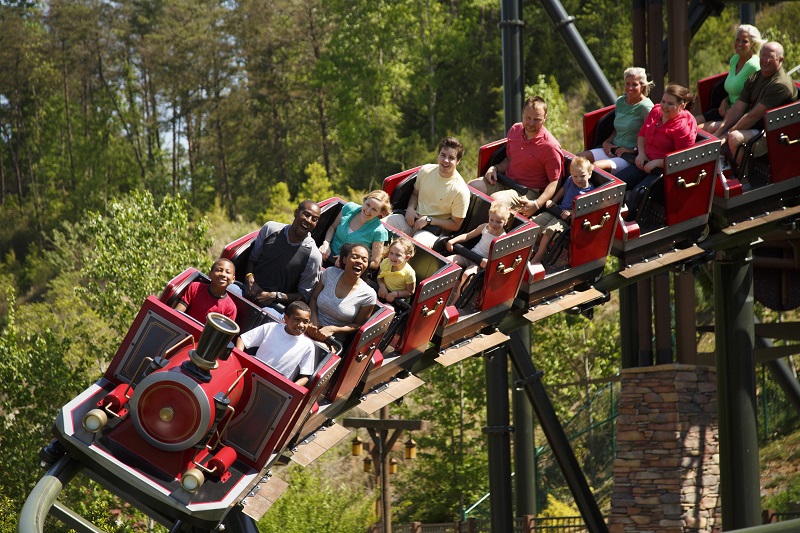 The Dollywood family experience
In short, Dollywood is all about "family" in every possible way. Not just the offering of good wholesome clean family entertainment, which that have an abundance of. But they want the park to attract whole families together. The goal is to create family memories and experiences that will live on long after the guests return home. This also opens the door for future visits.
This goal of creating experiences for the whole family extends from the youngest guests to the oldest. It stretches out into the very nature of the attractions and enhancements at the park.
A family retreat
For example, on the surface, it may not seem like much that they have added a new, plusher "Deluxe Retreat" to their list of country-themed cabanas at Dollywood's Splash Country waterpark for 2019. However, the new creation is key to the Dollywood family experience. They wanted to offer a bigger retreat offering for family groups. The accommodation comes complete with luxury couches, loungers, refrigerator and a windscreen TV. There is also bar-stool seating along the edge of the lazy river.
These retreats are more than just a place to relax. They become headquarters for your entire family to use during your day at the waterpark. A piece of home… away from home.
Wildwood Grove
Move over to Dollywood itself. The park just opened Wildwood Grove, their largest capital expansion project of all time, a $37 million new themed land within the theme park. Again the theme of "family" was front and center during the creation of this new land. Other parks might create what I'd call a "kiddieland" area, focused on the youngest park guests with tiny rides and attractions. But this is not the case for Wildwood Grove.
The goal during the selection process for the various new rides and attractions in Wildwood Grove was to create the Dollywood family experience. The focus is on experiences that all family members can partake in together, instead of separating the group.
So you really won't find too many attractions here that only the smallest children can ride by themselves. Instead, you will find well-themed classics like a swinging galleon ship called the Sycamore Swing. This ride allows for a family group to sit together, side-by-side. They also offer other rides that most family members can ride together. For example, the Treetop Tower, Mad Mockingbird or The Dragonflier family inverted coaster.
In addition to rides, they've created an atmosphere with lush landscaping full of places to sit and relax. There is even a fun little creek area where everyone is invited to pull off their shoes and wade through the cool shallow running waters, right in the middle of it all.
On-site resort hotel
Then there is the Dollywood DreamMore Resort. Honestly, it makes me really wonder just what took them so long to build their very own on-site resort hotel. It really is a hidden gem in the Smoky Mountains. It features great family amenities that run the gauntlet: from a game room to the on-site spa, from the pools (indoor and out) to the kids' activity club.
This is all in addition to various special activities and events that take place throughout the resort. These change with the seasons. Checking in during the winter holiday season? Don't be surprised if your kids are lured away by Santa's Elves to partake in some holiday crafts at a nearby table. Enter the resort lobby at the right time on a hot afternoon and you might find a special cart rolled into place offering everyone free cups of Dolly's pink lemonade.
Then there are the guest rooms, where a large number of them come with built-in bunk beds for the kids to sleep in. That is, once they come back to the room after a visit to the fire pit behind the pool where they offer the chance to make your own yummy S'mores over the flames.
Cabin rentals
And if you have a big family, Dollywood has this covered as well. The collection of Smoky Mountain Cabin rentals is perfect for even the largest family gatherings. Cabins are loaded with extra amenities like hot tubs, and lots of extra fun things to do than can range from arcade-style video games, darts and billiards, and even some with foosball and air hockey tables. Some even come with an assortment of queen-sized bunk beds so you can fit in every member of the family.
So for the Dollywood family experience… it really is all about making fantastic and memorable experiences for all, during every step of your visit.