During the exhibition, museum professionals will look at ways to ensure their institutions remain relevant, dynamic and sustainable. Here are our highlights of the week, from inspiring speakers to top exhibitors.
Ahead of the AAM Annual Meeting & Museum Expo, how are museums moving with the times? Museums have always had a significant impact on inbound tourism. PGAV Destinations recently released its 'Welcome!' report. This shows that historical landmarks and museums are number 3 and 4 respectively in the top reasons for international visitors to travel to America.
Museums are also economic engines closer to home. A report from the American Alliance of Museums (AAM) states that 850 million US visitors visit museums domestically. In addition to this, US museums support 372,000 jobs and generate $15.9 billion in income.
This importance is shown in a slate of recent expansions in the museum sector. For example, the $650 million LACMA extension designed by architect Peter Zumthor and the $160 million expansion at Albright-Knox Art Gallery. The Museum of Science and History also recently announced an $80m project: MOSH 2.0.
Embracing technology in museums
These expansions come at a time when culture is changing and museums are having to adjust to the times to stay relevant.
Embracing technology can also help museums engage the digital generation of visitors. For example, the $38 million expansion at the Dali Museum in Florida will focus on new AI and AR technologies. Earlier in 2019, the Dali Museum announced 'Dali Lives'. This uses AI and machine learning to create a lookalike of the artist.  Visitors can then interact with the artist throughout the museum.
Museums have also been harnessing digital technology to wow visitors with a series of 'artainment' exhibitions, for example at the Atelier des Lumières in Paris and LA's new fully-immersive art park.
Museums and accessibility
Technology is also helping accessibility. The Smithsonian has rolled out Aira technology that helps guests who are blind or who have low vision to use their own smartphones or smart glasses to get free on-demand verbal descriptions. Blending AI and AR, the tech connects visitors to trained staff who can remotely view what is in front of the visitor.
Accessibility is a key factor for the modern museum. Many museums are working to ensure that they are engaging with all members of the community. For example, the New York Transit Museum has a programme designed for neurodiverse visitors and those on the autism spectrum.
New museum trends
Other trends across museums include wearable tech, holograms and VR,  Wellness events and engaging on social media with celebrity influencers to help museums drive a new generation through the doors.
It is fitting then that the upcoming theme of the AAM Annual Meeting & Museum Expo is Dynamic, Relevant, Essential: Sustaining Vibrant Museums.
The AAM Annual Meeting & Museum Expo 2019
The AAM Annual Meeting & Museum Expo takes place from May 19 to 22, 2019. Museum professionals will gather in New Orleans to learn from over 160 sessions. These aim to inspire professionals to keep their organisations sustainable, dynamic and vital to the communities they serve. They also explore collections management and curatorial practice, education and audience research.
Sessions will also cover exhibit planning and design, marketing and community engagement and more. Last year over 5,000 attendees visited, from 42 countries.
A wide range of keynote speakers
Attendees can hear from AAM President Laura Lott, as well as from keynote speakers:
Carol Bebelle (Akua Wambui), co-Executive Director of the Ashé Cultural Arts Center, a non-profit that supports activities and programs that emphasize the contributions of people of African descent based in Central City New Orleans.
Mitch Landrieu – Mayor, City of New Orleans (2010 – 2018). Landrieu worked to turnaround post-Katrina New Orleans, with a devastated, near-bankrupt city to secure billions in federal funding for schools, parks, hospitals, recreation and critical infrastructure.
Kimberly Drew – Writer, Curator, and Activist. Drew was first an intern at the Studio Museum in Harlem, which led her to create the Tumblr blog, Black Contemporary Art. With her writing in Vogue, Glamour, W among many more, Drew recently left her role as the Social Media Manager at The Met to pursue writing full-time.
I spent the last week talking to students at @YoungArts, then journeyed to @Harvard for #VisionandJustice and came home to interview @MuholiZanele — a busy, inspiring week. Feeling thankful. pic.twitter.com/wQIZlgBJla

— Kimberly Drew (@museummammy) April 28, 2019
Rick Lowe– Social Practice Artist and Community Organizer. Based in Houston, Lowe has exhibited internationally, exhibiting at the Contemporary Arts Museum, Houston; Museum of Contemporary Arts, Los Angeles; Kwangju, Korea and more.  In 2013, Lowe was appointed by President Barack Obama to the National Council of the Arts.
Jose Antonio Vargas – Pulitzer Prize-winning Journalist, Filmmaker, Human Rights Activist. Vargas is the founder of Define America, the non-profit that through the power of storytelling tackles injustice and anti-immigrant hate.
At the AAM Annual Meeting & Museum Expo, more than 260 exhibitors will be showcasing the latest in technology, design, and services for the sector. Highlights on the show floor include:
Science North – Booth #2027
The team at Science North have had a busy year, now with the return of exhibit Arctic Voices to North America as well as the extension of the popular Science of Ripley's Believe It or Not! Tour.
On the booth, the team will showcase their newest exhibition The Science of Guinness World Records, which will be available Fall 2020. Attendees at the booth can even attempt a Guinness World Record at the show.
In addition, Ashley Larose, Director of Customer Relations will be presenting at the ILE Traveling Exhibitions Forum, held Sunday 19th from 5:00-6: 30 pm at Westin New Orleans Canal Place.
Also at the expo will be Troy Rainville, Senior Manager of International Sales if attendees want to arrange a meeting with the specialists in travelling exhibitions.
Guru – booth #1317
Leaders in augmented reality experiences, Guru will be showcasing their immersive mobile tours, videos and content. This will also include a demo of their data platform capabilities and case studies from top museums.
Reach out to Whitney Roux, Customer Success Manager and Alenna Gatti, Director of Sales and Global Partnerships who will be on the stand.
Lexington -booth #1727
Part of the Companies of Nassal, scenic fabricators Lexington will be at the show in Booth #1727. The company has completed a variety of projects across cultural institutions including the Motorsports Hall of Fame, Idaho State Museum, and Space Shuttle Atlantis.
Michael Shearin, Director of Design; Heather Witt, Project Director; Melissa Ruminot, VP of Marketing and Client Development and Lisa Jey Schanley, Manager, Marketing will be representing the company. Attendees can reach out to Schanley to arrange a meeting.
Listen Technologies – booth #1141
Providers in assistive listening, interpretation and live audio streaming, Listen Technologies will be showcasing two products at the AAM Annual Meeting & Museum Expo. Listen EVERYWHERE is a tool for museums and cultural attractions. It engages audiences through wirelessly streamed audio direct to their smartphones, as well as ListenTALK for group tour communication.
Mikey Shaffer, Marketing and Jason Dalley, Inside Sales Representative will be representing Listen Technologies on the booth. Reach out to them directly to arrange a meeting.
JRA – booth #1812
JRA will be exhibiting at the show, hot on the heels of its recent museum and cultural projects including the National Comedy Center, the CR Smith American Airlines Museum, the Kodak Experience Center, the Mascot Hall of Fame, Nancy & David Wolf Holocaust & Humanity Center and the Firth Third Bank Museum. In Q3 2019, their project the Toyota Visitor Center will open its doors too.
At the show will be Shawn McCoy, Vice President; Rick O'Connell, Senior Project Director; and Clara Rice, Director of Communications. Attendees can reach out directly to them to arrange a meeting.
GSM Project
Leaders in experience and exhibition design, GSM Project will be attending the show. Recent projects by the company include the Perfume House and Dubai Creek: The Birth of a City, both at Al Shindagha Museum in Dubai
Jeremy Taylor, Content Director at GSM Project will be moderating a session: 'Historic Sites: When the Places of the Past Meet the People of the Present' including speakers from Vizcaya Museum and Gardens, the Whitney Plantation and Pointe-à-Callière, Montreal Archaeology and History Complex. The session will take place on Monday 20th May 2019 at 15:30 in Room 348/349.
Also at the AAM Annual Meeting & Museum Expo will be Genevieve Angio-Morneau, Creative Director. Attendees should reach out to Taylor to arrange a meeting.
Gateway Ticketing Systems – booth #1420
Gateway will be showcasing their full suite of Galaxy Ticketing and Admission Control Solutions, which give museums a relationship with their visitors, not just a ticket. This includes their Membership & Donor management, CRM+ and Reporting+ tools as well as products for Food & Beverage and Retail. Gateway also recently helped National Museums Liverpool to win an Impact Award.
Representing the company at booth #1420 will be Randy Josselyn, Principal, and Kelly Bules, Business Solutions Manager. To schedule a meeting with the team click here.
PGAV
After the recent launch of their 4th Annual Voice of the Visitor report, attractions design firm PGAV Destinations will be speaking at the show on their latest project with the historic icon the Alamo. John Kasman, Vice President and Tom Owen, Vice President, Senior Designer from PGAV will speak with Doug McDonald, Alamo CEO and Roberto Trevino, San Antonio City Councilman and Tri-Chair of Citizen's Advisory Committee. The event will be at 13:30-14:30 on Monday 20th April, at the Solutions Center, booth #1053.
Diane Locher, Vice President will also be at the AAM Annual Meeting & Museum Expo, attendees can tweet Locher to arrange a meeting.
Flying Fish Exhibits – booth #2221
Touring exhibition specialists Flying Fish Exhibits will be showcasing their new exhibition Hockey: The Story of the Fastest Game on Earth as well as their portfolio of exhibitions and services including exhibition design and fabrication, logistics and planning and international exhibition tour development.
Jay Brown, Principal; Carrie Reid, Director of Sales and Sam Easterton, Exhibition Designer will be representing the company at the show. Attendees can arrange a meeting with the team here.
The company will also be presenting at the ILE Traveling Exhibition Forum.
Birdly VR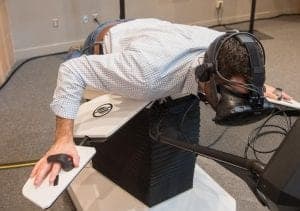 Mark Katz, SVP Film Distribution and Theater Development will be at the show representing Birdly VR, creators of the Jurassic Flight VR experience, and Giant Screen Films. For Birdly, Katz will be promoting the upcoming marine coral reef experience on the virtual reality platform, as well as new flying city experiences. For Giant Screen Films, he will also be showcasing the major 2020 release Dinosaurs of Antarctica. To meet Katz contact him here.
The Event Network
Leading operator of gift shops for museums, science centres and cultural attractions, The Event Network recently announced their partnership with Lincoln Park Zoo. The company has also improved its offering with a mobile POS solution and commitment to sustainability. For example, it is reducing single-use plastics due to its partnership with Aurora World.
Attendees can reach out to Veronica Nicholas, VP of Strategic Growth for a meeting at the show.
Forrec
Having recently completed the master planning assignments for clients including the AS Roma Hall of Fame, the B & O Railroad Museum, Longleat House and Safari Park, the BBC and the Panama Canal Authority, Forrec will be attending the show. Contact James Anderson, Senior Director for Visitor Attractions and Matt Dawson, VP of Business Development to arrange a meeting.
Exhibits Development Group – booth #2129
EDG will be unveiling new exhibitions at the show. One of the latest shows is A Queen Within: Adorned Archetypes. This features more than 100 articles of fashion, photography, and video. In addition, EDG has several exhibitions in development to be released at the show. These include The Art, Science, and History of Harley-Davidson,  Doctor Who, Digital Me and many more
EDG is also unveiling its new division CultureNut Xchange.  This provides museums with a solution for upcycling because it encourages the buying and selling of idle assets. EDG is asking museums to take the CultureNut Pledge in 2019 to upcycle/recycle at least 30% of their project materials.
Exhibits Development Group is bringing a large team to the AAM Annual Meeting & Museum Expo.  Amy Seitz, CEO & Founder, Elizabeth Frerichs, Director of Tour Operations and Kathy Ludwig, Chief Registrar & Exhibition Development Coordinator will all be attending. Willis Klatt, Sales & Marketing Coordinator and Jessica Grandbois, Senior Creative Manager will also be present. Attendees can contact the team to make an appointment.
Also at the EDG booth will be a series of roundtable presentations, from Troy Carlson, Geoffrey M Curley, Dr. Dennis Wint and Piero Cozzi.