Most attractions around the world were forced to close as countries fought the coronavirus outbreak. Now, operators are thinking about what safety precautions they must put in place to open again safely in a post-COVID-19 world.
As China begins to recover, we have already seen several previously reopened attractions forced to close again due to a second wave of infections. Therefore, it is clear that attractions must put the right safety precautions in place as they prepare to open after the COVID-19 crisis.
These precautions will depend on the location, size and type of attraction. A zoo, for example, with more open air space might be able to reopen more easily than a cinema or FEC.
We discuss 10 procedures that attractions might implement when reopening to the public. Above all, ensuring visitors feel safe is key.
10 safety precautions to ensure safe reopening after COVID-19
1) Limiting visitor numbers
It is becoming increasingly apparent that it will take a while for the world to return to 'normal'. This means that some form of crowd control is likely to be necessary for a while. As part of this, attractions will need to reduce visitor numbers. Theme parks, for example, could open at 50% capacity, or even less, to avoid overcrowding.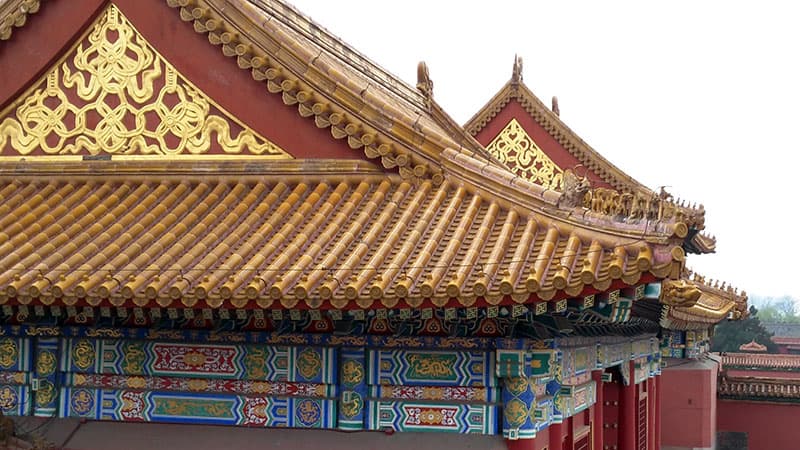 Attractions could also introduce an advance booking system to allow them to control the number of visitors. For example, Beijing Palace Museum has reopened with advance reservations necessary.
Kolmarden Zoo is partially open, but tickets must be booked in advance online. This ensures that the attraction will not admit more visitors than is safe. And it avoids disappointing visitors who cannot enter a full attraction.
2) Using time slots
As well as limited visitor numbers, many attractions may start to stagger visitor arrivals. Dutch theme park Toverland has said that it is thinking about time slots to avoid crowds when it reopens, as well as introducing a visitor cap of 4,000 people.
This safety precaution would also be particularly easy for museums to introduce when opening after COVID-19. It is something that many exhibitions already do and so would be easy to expand.
Theme parks could consider expanding any fast pass systems they already have, with visitors having to reserve a time slot on a ride before they get to the park
Theme parks could consider expanding any fast pass systems they already have, with visitors having to reserve a time slot on a ride before they get to the park. This would ensure no crowd or queue becomes overcrowded.
Pre-booking time slots in an FEC would ensure that there is enough time between visitors to clean the games thoroughly. It would also help to limit the number of people within a centre at one time, as people would not have to hang around waiting for a game to become available.
One example of a solution that allows for this type of capacity management is VenposCloud by Vennersys. Its events module has capacity-driven and timed entry capabilities. This means that operators can manage how many guests are on-site in real-time.
3) Ticketing
Ticket prices may be lower than normal when attractions begin to reopen to encourage visitors. This can be adjusted as people gain more confidence in returning to attractions and group settings. However, attractions may have to increase ticket prices to cover more of their running costs when opening to a limited capacity.
As more Fantawild theme parks reopen in China, many of them are offering discounted admission tickets. Several are even offering a 'Buy a Park Ticket, Get an Annual Pass for Free' promotion. This would encourage repeat visitation and is something attractions could do to increase attendance.
Attractions may offer more VIP ticketed experiences that promise low crowds. These events could be similar to Disney's Halloween and Christmas parties which offer lower crowds and shorter queues.
In terms of safety procedures, some ticket booths may not open, in order to increase the physical distance between staff and visitors after COVID-19. E-tickets are likely to become more popular, especially as this would make it easier to limit the number of visitors in one day. Attractions that use fingerprint checks as part of entry may pause this, since these stations will be difficult to keep clean.
Attractions could also offer more prepaid options when buying a ticket online. In order to reduce contact between visitors and staff, visitors could add parking or locker rentals as extras when they purchase a ticket online.
4) Increased cleaning procedures
People will want to feel safe. Part of that will be ensuring attractions are frequently cleaned, particularly those with frequent touch-points. FECs, for example, will have to sanitise their games more often. Providing wipes, sanitiser and disposable gloves may help visitors feel more comfortable.
Rides in theme parks will have to be cleaned frequently. Bellewaerde has said that ride safety rails will be disinfected after every use when it reopens. Attractions may even close once a week in order to do a deep clean. As well as this, we are likely to see hand sanitiser stations like Sanitise Now's automatic foam dispensers.
Food and beverage options are also likely to change. For example, self-service stations are likely to be removed, alongside condiments on tables and shared menus.
Several Fantawild theme parks are now open again in China. These parks have a "thorough sanitization and disinfection" policy. Furthermore, those dining in the parks use disposable utensils as an extra safety precaution.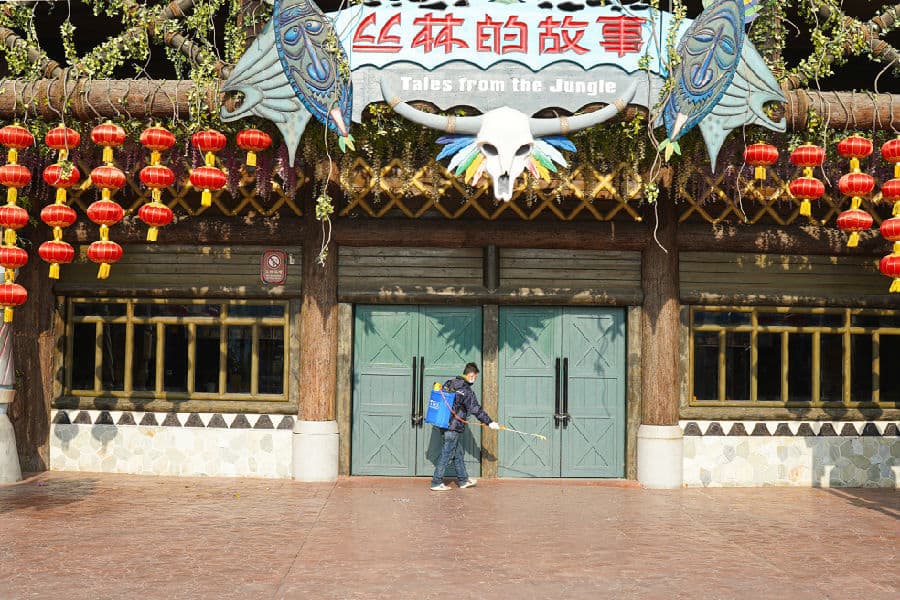 Cleanliness has long been an issue surrounding VR. This may be the push the industry needs to become more creative with VR cleanliness. Or, as Bob Cooney suggests, people may not "focus on headset cleanliness" as it is just "one more thing in an entertainment location that needs to be constantly cleaned."
Cooney elaborates, saying "you can clean a headset all you want; it doesn't stop people passing along germs. Because we all touch things and our faces. All. The. Time." Only time will tell how much this situation will change visitor habits permanently.
5) Checks upon entry
If government regulations require it, attractions may have to have a full-body disinfection station at the entrance. But attractions could theme these; museums could make it similar to an immersive art experience, whilst theme parks can brand them to suit the theming of the park.
Bob Iger has said that he is looking to China and how their attractions are reopening. He stressed that Disney is preparing for "a world where our customers demand that we scrutinize everybody" so guests feel safe when entering the parks.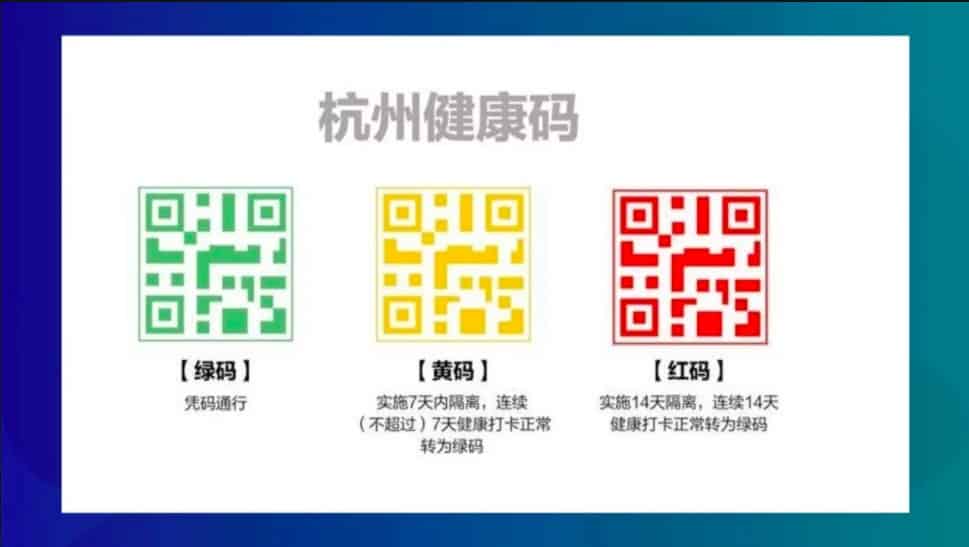 Many attractions are likely to introduce some sort of temperature or health check upon entry. One of the safety procedures parks may introduce after COVID-19 could be the addition of thermal imaging cameras at attraction entrances to scan for high temperatures.
At some Chinese attractions, guests must present a green QR health code before being allowed to enter.
Before it closed in early April, Universal Studios Singapore had increased health and safety procedures at the park. Visitors had to fill out an online Health and Travel Declaration Form to signal that they were healthy before entering the ticket booths or park gates.
It is likely that guests will have to wear a face mask to enter an attraction. Theme parks could provide masks with characters or rides on to encourage people, especially children, to wear them. Similarly, museums could print artwork or famous artefacts on masks. Zoos and aquariums could hand out animal-themed masks. Human 2.0 has launched a line of quality face masks with a high Bacterial Filtration Efficiency (BFE) of 95%.
6) Allowing for social distancing
Even if opening at limited capacity, visitors will still have to maintain appropriate social distance. Ride queues may need to be marked out so people do not come into close contact with each other. Alternatively, rides may transition to virtual queues to avoid crowds altogether.
Museums may need to mark out two metres in exhibition spaces to help people stay aware of social distancing rules. Restaurants and cafes could similarly move tables to create more space between visitors.
As an extra safety procedure, theme parks may not fill rides to full capacity immediately after COVID-19. Riders could fill every other row for example. To limit interaction between people who did not go to the park together, single rider queues could be closed.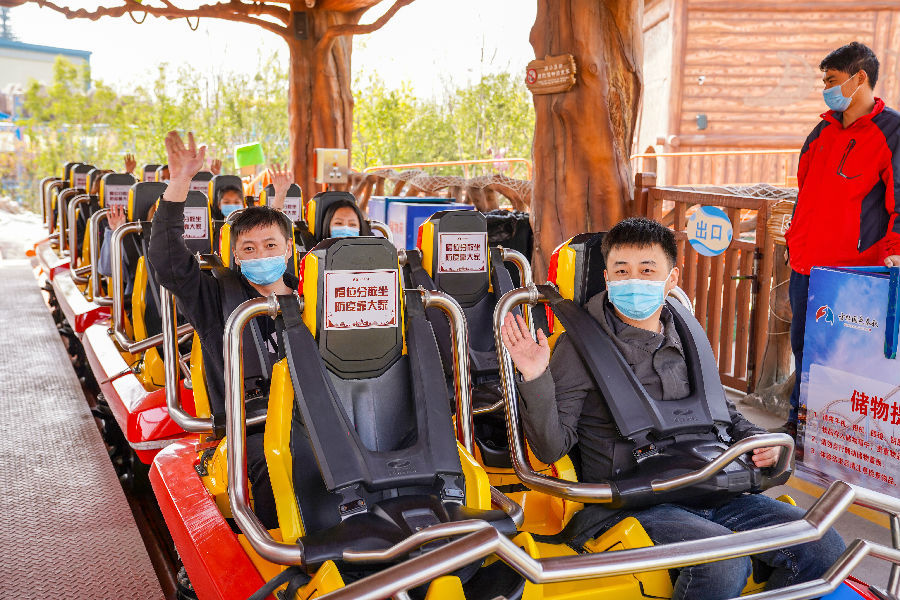 Zoos and aquariums will also have to rethink their offerings. Many have continued educating visitors on social media by live streaming animal feedings. But this may not happen in person for a while. This is because public feeding sessions draw crowds.
At Kolmarden Zoo, animal shows and public feeding sessions have been cancelled to avoid crowds gathering.
Some rides or shows may not be able to open for a while at theme parks. At Bellewaerde park in Belgium, they have said that their Stunt & Dive Show and the meet and greets with King Lion will not reopen with the rest of the park, as it would not allow for adequate social distancing between visitors.
Theme parks may have to cancel parades or nighttime shows initially to prevent crowds.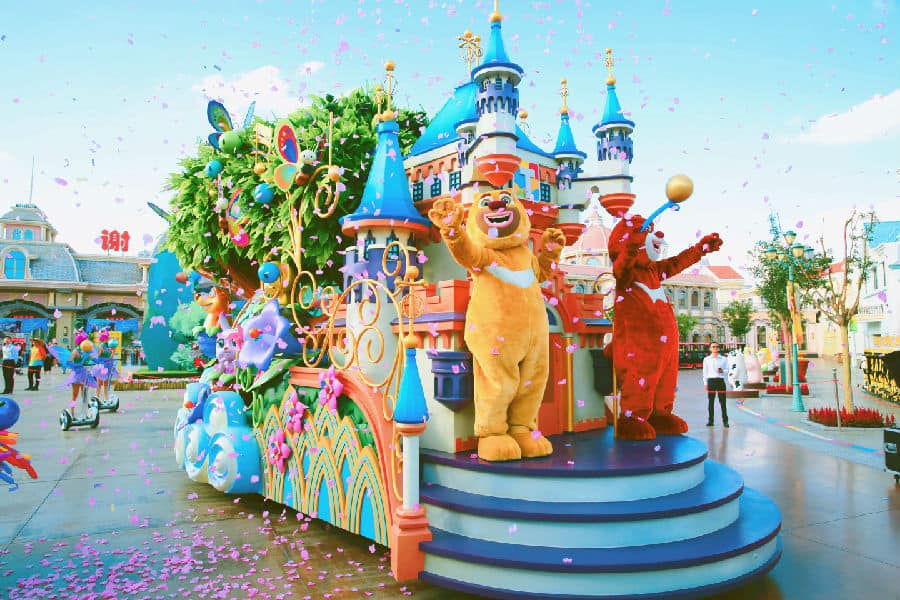 7) Only open outdoor spaces
We are seeing several outdoor attractions in China reopening, such as some theme parks and zoos. However, indoor areas might have to remain closed to avoid close contact with other people.
Gift shops might have to remain closed, for example, or move to smaller carts outdoors. Many theme parks already use roving carts as a way to sell merchandise to people waiting for a parade. These could increase in number to avoid overcrowding indoor shops.
Museums could create several smaller pop-up shops around galleries to avoid crowding within one shop. These shops could then be themed to whichever artefacts or artworks are in those galleries.
If indoor areas are temporarily closed after COVID-19 as a safety precaution, attractions may encourage visitors to eat outside, setting up more outdoor carts and kiosks.
8) Staff health and training
It is also vital that attractions look after their staff members, as well as visitors when they reopen. Ensuring staff have access to the correct personal protective equipment, such as masks, is just as important as enforcing visitors to wear masks. As well as taking visitor's temperatures, attractions could start taking the temperature of its staff members before they are allowed to work.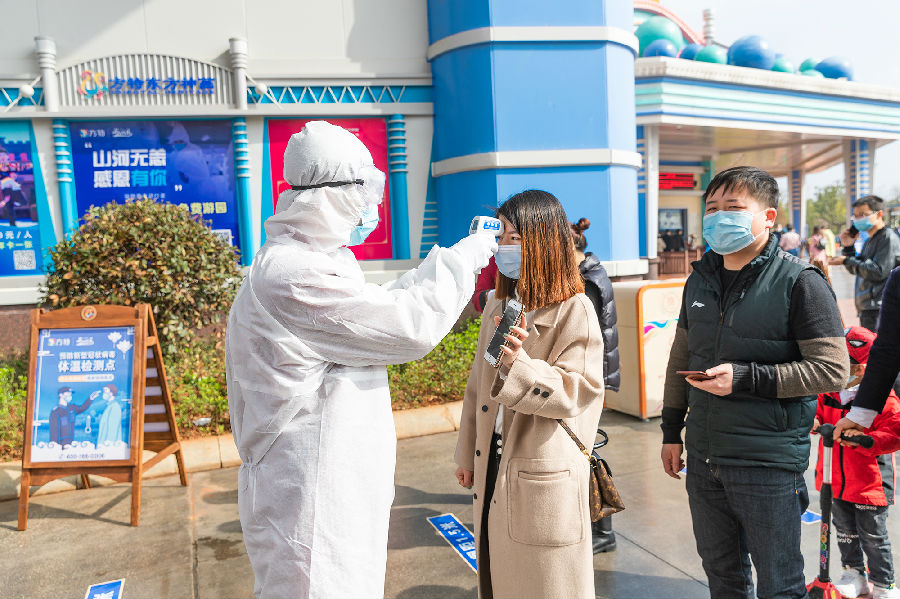 An increase in staff training is likely to be necessary before opening. Attractions need to make sure their staff are comfortable having important conversations about social distancing with visitors.
Staff in all attractions will need more training on new cleaning and safety precautions after COVID-19. There may also be a need for more staff in certain attractions to ensure visitors are following all necessary rules.
9) Apps
With social distancing being extremely important for any attraction when it first reopens, it is likely that apps will become more important than ever. Apps allow people to order food from their phone rather than a touch screen, as well as joining a virtual queue. You may also be able to purchase merchandise via an app rather than inside a crowded shop.
If we do see attractions introduce entry slots or pre-booked ride times, or even more virtual queues, an effective app will be invaluable to reduce points of friction for visitors.
Holovis has just launched Crowd Solo, an app that allows guests to make reservations as well as giving operators information on guest movements. The app also vibrates if a user gets too close to another group. This helps to remind everyone to stay a safe distance from each other.
Apps will also be useful for entertainment while waiting for a queue. With anxiety about cleanliness, it is unlikely visitors will play with current queue games. Apps that are similar to the popular Play Disney Parks could provide entertainment, as well as encouraging physical distancing within a queue.
Introducing apps will do more than help visitors. As attractions.io point out, they also provide vital customer data for attractions. This will allow them to study visitor behaviour, see what they are buying and adjust any current procedures.
WhiteWater's Vantage platform shows interactions between visitors and which facilities they have visited, and so could be used to help attractions manage physical distancing.
10) Using technology differently
One safety precaution that we'll see after COVID-19 is an increase in hands-off and cashless solutions. Visitors are likely to take a while feeling comfortable in our post-COVID world. After months of being told to touch objects as little as possible and avoid physical contact with others, technology will have to change to help visitors feel safe.
We are likely to see a move towards card-only payments, since handling cash carries bigger risks of germ-transference. In the UK, the limit for card contactless payments has been increased. This will allow for more physical distancing between staff and visitors, as well as reducing surface contact.
Walt Disney World already uses Magic Bands which store resort bookings, dining reservations, park tickets and credit card information. When Super Nintendo World opens at Universal Studios Japan, guests will be able to use Power Up Bands to compete digitally with other guests and collect digital coins. Other attractions may follow this lead and create wearable wristbands for visitors.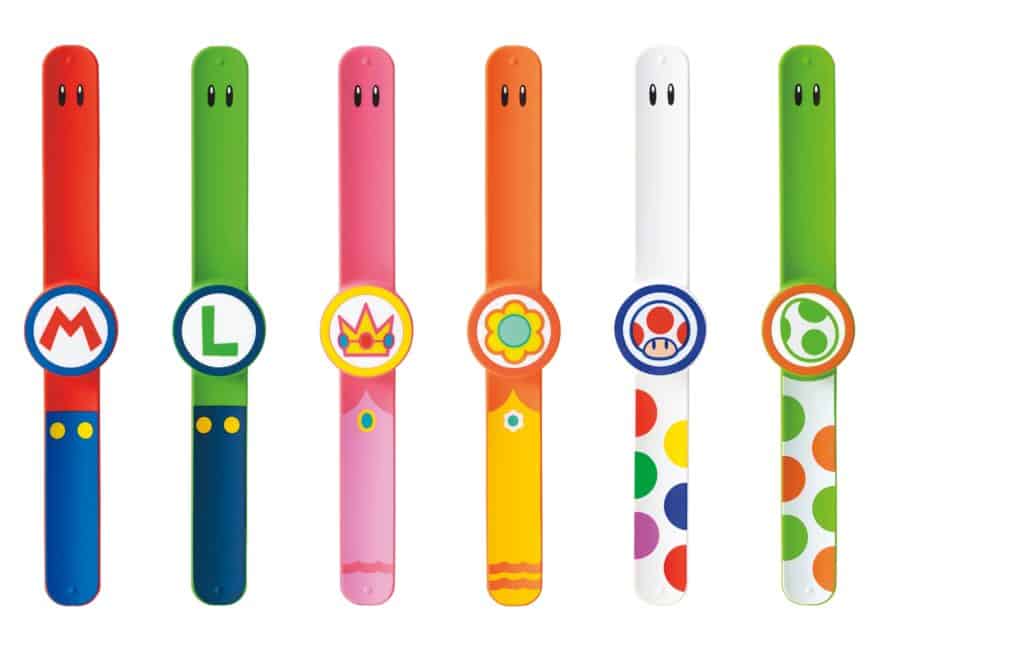 As visitors are more hygiene-conscious, they may not feel safe using touch screens. Haptics may become more popular, reducing the need to touch objects and therefore becoming more sanitary. Perhaps ride queues could feature immersive, haptic games to keep children occupied.
If visitor habits change significantly as a result of coronavirus, then more permanent changes in how attractions run and use technology will be necessary. More creative uses of technology will take longer to implement. But these will hopefully encourage attractions to create more impressive experiences for visitors than ever before.