Soon everyone, no matter where they live or what weather and ocean conditions prevail, will be able to experience surfing.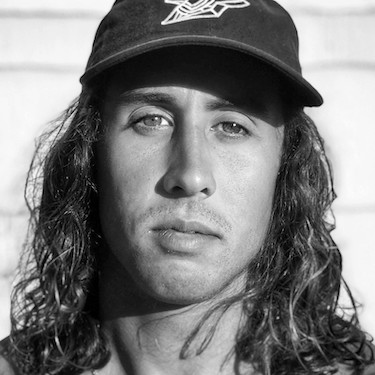 Blooloop spoke to professional surfer Rob Kelly, who talked about his career and his love of surfing. He also talked about new surfing technology and the difference between surfing in the ocean and in out-of-sea wave pools.
Rob Kelly's passion for surfing
Rob Kelly grew up in New Jersey and started surfing aged 10, on a family trip to Hawaii.
"After that first wave I was instantly hooked," he says. "After returning from that trip, I asked my parents about looking into the surfing scene back home. Obviously, there was a little bit of contrast, but it turned out there were a lot of surfers in New Jersey. We do get good waves sometimes. So I started surfing locally and kept pursuing it, getting better.
"I started to get some sponsors and do competitions when I was 15, and since then I've been able to make a career out of it. I'm 30 years old now, so I've pretty much been doing it my whole life."
Kelly has surfed all over the world. from tropical to hostile cold-water environments. He often travels off-grid to seek unridden waves.
He has also surfed man-made waves, both at BSR Surf Resort and at American Dream's indoor wave pool.
He describes the first time he surfed in a wave pool as a "unique, trippy experience."
"When you go surf in the ocean, probably the most difficult part of the whole experience is getting out past the waves. You have to paddle out to where you're going to catch a wave."
"With a wave pool, you have dry hair, you never have to go under or dodge a wave. That's a pretty big difference, right off the bat, the first time. When that first wave comes, especially on American Wave Machines' PerfectSwell, as soon as you stand up, you almost forget you're in a wave pool. It's designed to be as similar to a real ocean wave as it can be.
"Your instincts from surfing in the ocean so many times kick in. And you ride the wave without really thinking. Then you kick out, you're expecting another wave, and it's just a clear pool.
"So the stuff outside of actually riding the wave is different. But, for whatever reason, when you're actually riding the wave your muscle memory means there really isn't too much difference. That actually surprised me."
With a wave machine, surfers can ride the same wave over and over again, perfecting technique and manoeuvres. This makes it a formidable training tool.
Speaking of the opportunities afforded by the surfing technology, Rob Kelly says:
"That is the biggest thing: the opportunities when it comes to competition. In a traditional surfing competition, you're at the mercy of whatever the weather and the ocean and the swells are doing.
"So you can plan an event, like they do, months or a year prior. But you show up that day to the beach and it could be almost dead flat. And because it's all planned, sponsors are involved, people have travelled, you have to go out. When the waves aren't there, the best surfer definitely doesn't always win."
"Dealing with Mother Nature has held back the sport, as well as the scheduling and the broadcasting. You could build this huge event up, but if there are no waves, no one's going to want to watch it. It really has limited the sport, until now.
"All those problems are solved with the wave pool. You're guaranteed you're going to have waves, and the quality of the waves is also assured. It levels out the competition in a way that has never been possible before. Because everyone's on the same playing field, like in other sports. The best surfers really do end up winning most of the time."
Rob Kelly on surfing competitions
It is, he points out, all very new at this point:
"There have been some elite level competitions in wave pools. However, it's something where we're only just beginning to scratch the surface of."
Surfing will make its debut appearance at the Summer Olympics in Tokyo, which was recently postponed until 2021 due to the coronavirus pandemic.
"When I heard that news that surfing would be a part of the Olympics, I was hoping that it was going to be in a wave pool, for the reasons I've discussed. This is the first time surfing has had the opportunity to be in the Olympics. As a fan of surfing; as a competitor myself, I want surfing to be portrayed in the best possible light.
"That is going to come down to what the weather and waves are like in Japan that day. I'm keeping my fingers crossed that there will be really big waves. But had it been a wave pool, there would be none of those worries.
"It's a matter of timing. Perhaps the development of wave pools just missed that window, this time. Moving forward, they are the future. They will be game-changers when it comes to competition."
Surfing technology will grow the sport
Surf technology and artificial waves are opening up the world of surfing to a people who might not previously have had the opportunity to surf.
"It is going to grow the sport," says Kelly. "There is the accessibility issue, meaning there are waves for people that don't live close to the ocean.
"Even for those who do, the barrier of entry is so much easier in these wave pools. You don't have to worry about waiting for the right day to learn. You don't have to worry about the weather, or the temperature of the water, or the current, or sharks."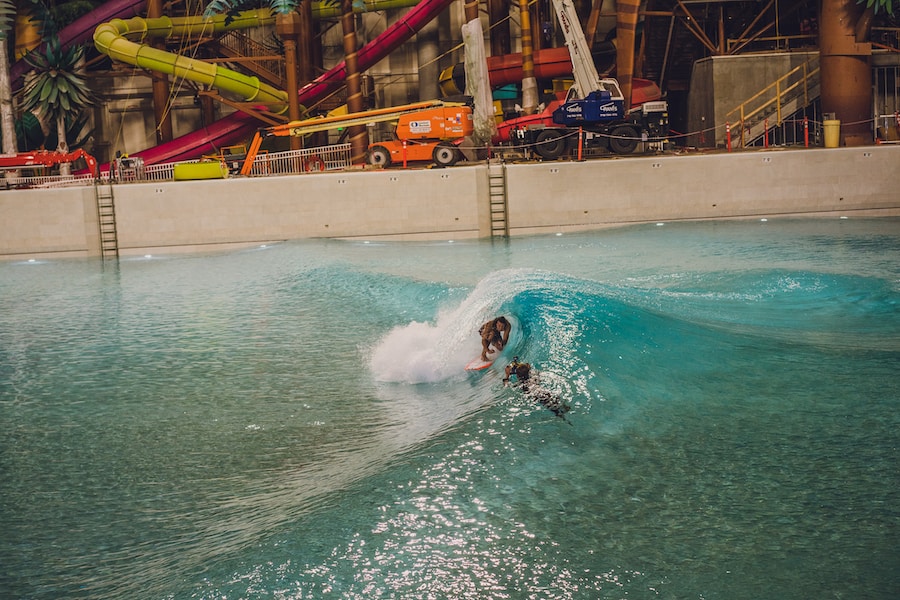 "As a first experience for someone who has never surfed, a wave pool is ideal. They're going to have a much better time and learn and progress faster. Because the waves can cater to what they specifically need at their stage. That's a huge plus."
American Wave Machines
Rob Kelly has surfed on the PerfectSwell in the 1.5-acre wave pool at the new American Dream retailtainment complex in New Jersey.
"Obviously, in New Jersey it does get cold in the winter, so it has been designed indoors. But it's the PerfectSwell surfing technology, so it feels like an ocean wave of a slightly smaller size, even though it's indoors. It's an authentic experience."
Kelly envisages that wave pool technology will spread globally, growing the sport as it does so.
Japan also plans to open a wave pool powered by American Wave Machines (AWM). The project is a joint venture between AWM and Surf Stadium Japan.
"The Olympics will be the biggest promotion of surfing that we've ever had," says Kelly.
"AWM has also just announced a wave pool in Virginia and another in Brazil. There is definitely a growing global network of these high-performance wave pools with PerfectSwell. And that is going to open doors to opportunities. Whether that is another surf league, or the existing one jumping on board. With different venues in different cities, there is the potential for tours, like they do in other sports."
In cold-water locations, Rob Kelly feels wave pools will improve the performance level a lot.
Changing the game with surfing technology
"The bottom line is that what surfers have to do is ride waves," says Kelly. We have to do whatever it takes to get that feeling of riding away; of your fins flying through the water.
"For me, and I know many people say the same, the first time you experience it, has you hooked. Then you spend your whole life chasing it, even if it's three or four seconds on a wave. And nothing, not distance or weather or temperature, will stop you. No matter how hard, how difficult it seems to get those seconds, it's worth it. But it doesn't have to be hard.
"With the wave pools, you still get that exact same feeling out of it. Some of the surfing purists, before they try the wave pool, say, 'Oh, it's not real surfing.'
"But everyone that I've talked to, even those purists, once they go and surf it, agree it's that same feeling you get. They're instantly converted. As a surfer, I'm stoked: I'm excited about the technology. It's going to grow the sport, and to give us endless waves. So it's awesome."