Cloward H2O, an expert in aquatic design, has over 45 years of experience in the field of recreational water and has worked on the engineering of numerous surf venues over the years. In-land surfing will continue to be a growing trend, with four new commercial facilities opening in the last year, doubling the worldwide total.
Surf parks are gaining popularity as they allow surfers of all levels to enjoy the sport and to work on their skills in all weathers, rather than having to wait for nature to provide the perfect waves. Surf parks are ideal for both recreation and training, as well as hosting competitions.
Starting with its work on Sun City in 1987, Cloward H2O has been involved in several in-land surf projects, both modern and classic.
The evolution of surf parks
"No other aquatic engineering firm can match our experience or proficiency in regard to the unique requirements involved in developing a Surf Park Venue," said a statement from the company.
"Cloward H2O has been proactively involved in the evolving regulatory status affecting Surf Parks serving on joint committees with ASTM, NSF, CMAHC and others as the industry works to get a handle on the complexities involved in a growing sector of our industry…since Sun City in South Africa first opened to the public, Cloward H2O has been delighted to continue to work in the realm of recreational lagoons and surf venues."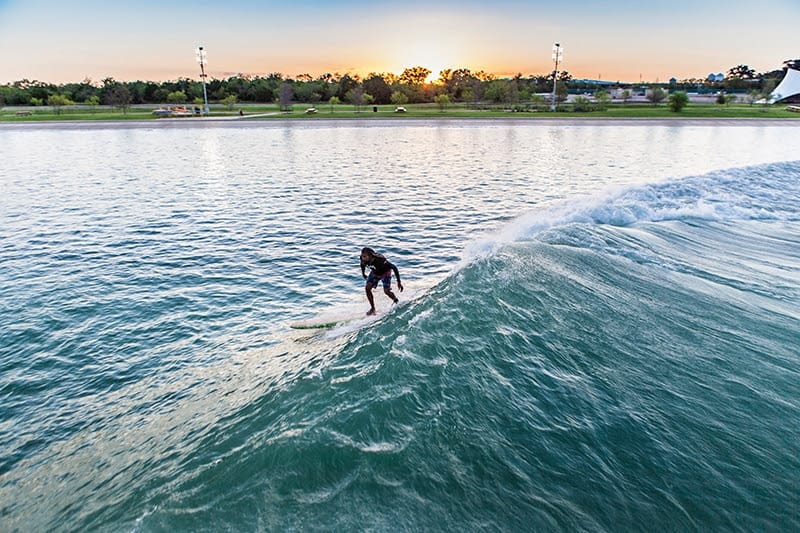 Surf parks have the ability to bring the sport to any location, making it more accessible to a wider audience. Modern surf technology can produce the perfect wave several times per minute, consistently producing waves in the same location each time. In-land surf venues are also a safer option, allowing surfers to enjoy the past time without worrying about dangers such as rocks, riptides or sharks.
Water quality is key
To create a successful surf-park, mechanical wave-generating technology must be carefully matched with specific bottom profile geometry (bathymetry). This combination causes the wave to perform as desired and is able to produce waves for everyone from beginners to professionals.
While wave pools, such as Disney's Typhoon Lagoon in Orlando and Sun City's Valley of Waves in South Africa have been around for many years, a new generation of surf wave technology is now available. This allows for larger format waves, longer runs, bigger faces, programmable waves, and barrels that are comparable with the world's top surf spots. Now, the industry is on the verge of the next evolutionary step.
As well as the wave technology, water quality management is also key to a successful in-land surf venue. Unlike traditional wave pools found in waterparks, modern surf venues can cover several acres and contain millions of gallons of water. And dirty water is undesirable, unhealthy and uninviting to guests, no matter how cool the wave technology is.
Last month, Cloward H2O celebrated the opening of Conrad Punta de Mita Hotel in Mexico. The company provided its design expertise for all the pool amenities at the new hotel, which is the first Conrad-branded resort in Mexico.