Australia's Funfields waterpark has added the nation's first ProSlide WAVE, delivering crisp, reliable waves at the touch of a button.
The wave pool is designed with industry-leading edge-to-edge laminar flow. The WAVE features eight pre-programmed wave patterns, providing clearly defined, predictable and turbulence free waves up to 1m (3.3ft) high.
The wave generator went into use in December at Funfields' Volcano Beach, which features more than 1.5 million litres of heated water.
Funfields doubles attendance with ProSlide
The waterpark near Melbourne has been doing great business since adding a trio of record-breaking attractions from ProSlide. Featuring both wet and dry attractions, Funfields was founded in 1985 but has doubled attendance in recent years.
Located in Whittlesea, Victoria (about 40km north of Melbourne), the park is surrounded by many large municipal indoor waterparks. To stand out from the competition it turned to ProSlide.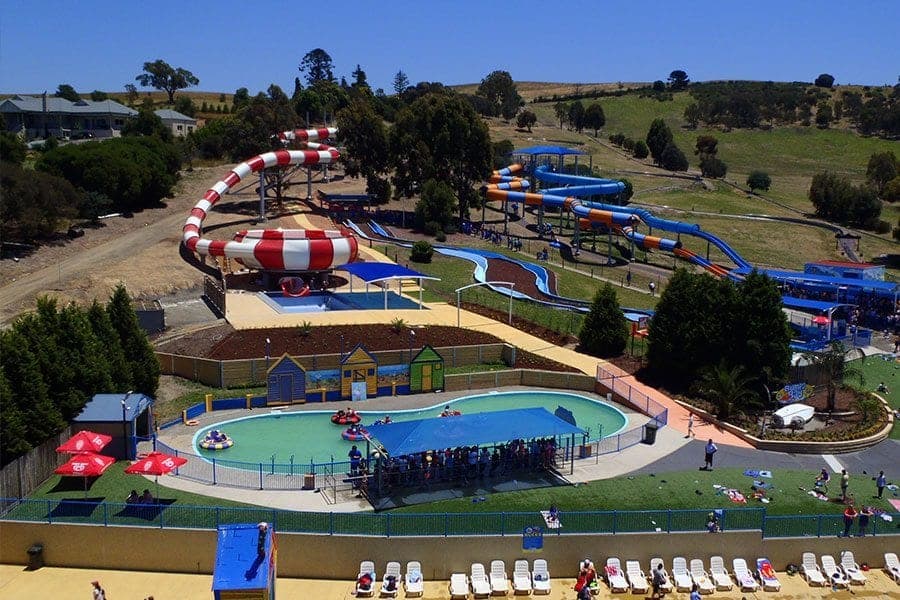 Opened in 2013 was Typhoon – pictured above. This 137m-long (550ft) two-person enclosed tube ride is ProSlide's longest CannonBOWL 40 to date. Riders hurtle down the steep in-run, dropping 19m at speeds of up to 30 km/h. They then shoot into the wide-open bowl and run high on the wall before eventually being dispatched into the exit pool below.
KrakenRacer, added two years later, is a 113m-long (370ft) racing slide. Riders speed alongside each other in four parallel lanes. It is the first KrakenRacer in Australia and is the longest that ProSlide has ever built.
The waterpark also features Gravity Wave, the world's biggest, longest and tallest Tornado Wave by ProSlide – pictured below.
In addition to its waterslides, other attractions include a Ferris wheel, go-karts, carousel, Voodoo 360 pendulum ride, Samba Balloon and Blackbeard's Fury – a pirate ship equipped with VR goggles.