Leading design and build company for themed attractions, Jora Vision, has brought Caribbean colour and style to Walibi Belgium's Aqualibi waterpark.
The waterpark's transformation into a tropical paradise includes colourful façades, eye-catching props and plenty of lush greenery.
Jora Vision designed the major makeover in cooperation with Walibi Belgium's parent company, Compagnie des Alpes.
"We wanted people to feel relaxed and welcome", explains Vincent Jansen, Head Designer on the project. "We designed a Caribbean town made up of different buildings which look improvised, well-worn and sun-bleached. Furniture is intentionally multi-coloured and mismatched. This gives guests a sense of place, and makes the space feel more intimate."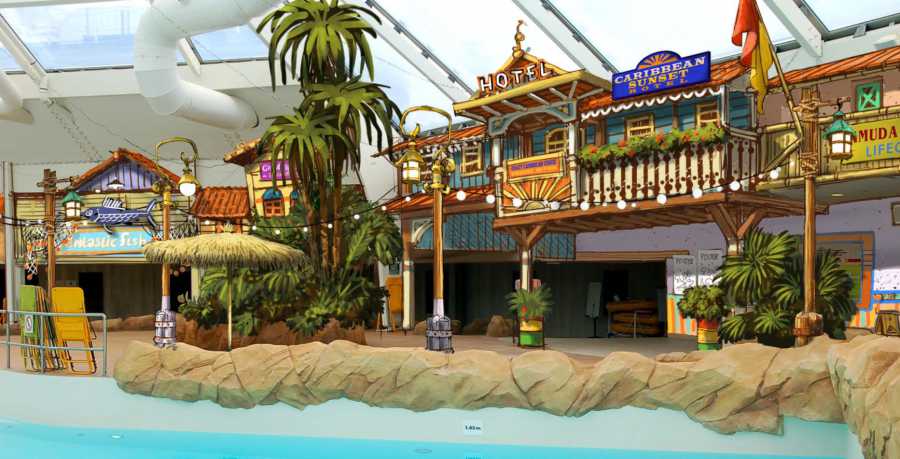 A memorable visual anchor
Jora Vision also transformed an existing rock formation in the middle of the pool.
"This centerpiece is visible throughout the pool area, but lacks something exciting," observes Jansen. "In our concept, a fishing boat has stranded on top of it during a storm. This should function as a fun, memorable visual anchor."
Aside from the retheming, the expansion will also include a new children's water play area. This will bring the total park area to 7000 square metres.
Jora Vision's expertise is already in evidence at the park. The company provided theming for Pulsar, the world's first powered Splash Coaster, and also for Psyké Underground, a redressing of a classic Shuttle Coaster.
Alongside the Aqualibi transformation, Walibi Belgium theme park is also set to undergo a €100M improvement plan. This will include major refurbishments and new attractions. By the end of this process, three quarters of the park will have been enhanced. The transformation of Aqualibi is slated for completion in spring 2018.
Jora Vision specialises in theme park design & master planning as well as the creation of themed attractions and dark rides. The company has worked with major industry names including LEGO®, Center Parcs, Merlin Entertainments, Parks & Resorts Scandinavia,  Compagnie des Alpes, Disneyland Paris, Parc Astérix, Efteling and Wanda Group among others.