Ka'ana Wave Co., a provider of innovative surf solutions, has announced new developments in the wave pool space. The company has run a successful small pilot of a portable wave system and is now building its catalogue of dynamic wave shapes. The system can produce any type of wave in any body of water for any type of guest.
Explaining Ka'ana's wave technology, CEO Jamie Watson says:
"In the space right now, you have lagoon surf pools and stationary wave machines. Everything on the market fits into one category or the other. So where do we fit? We are stationary, but we are also deep water, and in a pool. We're a "Stationary Wave Pool." A new category. Add to that, we are also bathymetry-agnostic, which is new in the space."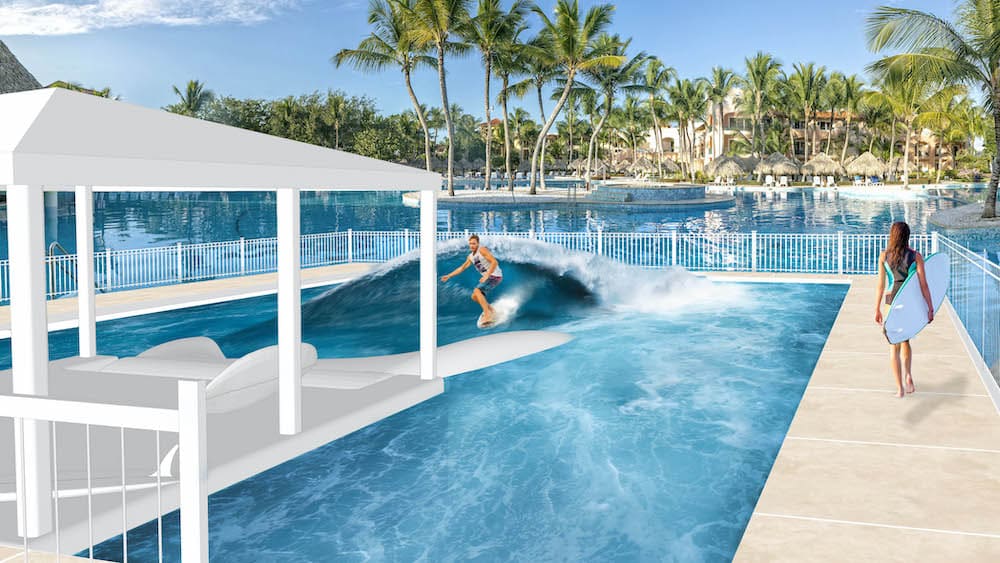 The inspiration
The inspiration struck Watson on a surf holiday to Peru, where he observed water barreling on a box drain. Speaking about how he began to develop the concept, he says:
"I [had] this colossal challenge to create a stationary, continuous, bathymetry- agnostic, deepwater wave. As I thought more, I could see even greater implications. If I could make surfing accessible to me, I could make surfing accessible to others. I could share the experience of surfing with those who didn't, otherwise, have access.
"As for the surf industry, I began to see this wave idea as a catalyst that could ignite sustained, quality growth. I had this formula rolling around in my head that Increased Access = Increased Participation = Increased Quality Growth. Surf parks would make surfing accessible, which would increase participation, which would fuel growth."
The technology also means that venues such as hotels, resorts, waterparks, mixed-used developments and more could offer surfing, with a stationary wave in an existing swimming pool.
New technology
With Ka'ana's CM7 technology, waves are shaped by water passing through the active edges and surfaces of a passage, and through the subsequent discharge into, and interaction with, a water body. The Ka'ana system creates different types of surf-able waves including a hydraulic jump wave, a boat wake wave and a barrel.
"At the highest level, the CM7 is a dock that is installed in a pool and produces a variety of dynamic wave shapes. Under the dock is a drivetrain that powers a wave-shaping head. The shaping head protrudes from the dock and into the pool. When you're ready for a surf, you walk out onto the head and drop into the wave."
The company, which takes its name from the Hawaiian word meaning 'to share', is a team of experienced people in the fields of product development, sales, marketing, and operations. It also works with a range of design, engineering and manufacturing partners.
The team has partnered with leading manufacturer AdvanTec Global Innovations Inc. to scale up manufacturing and provide global service and support for the CM7-series installations.
"We are excited to apply our globally successful commercialisation model to Ka'ana's ground breaking surf technology. As technology and equity partners, we are confident we can significantly accelerate the worldwide rollout of Ka'ana wave projects" said Brad Miller, AdvanTec Founder & CEO.
Ka'ana will also partner with companies such as Martin Aquatic Design & Engineering on the design of larger pools.
Successful pilot
Last summer, the company built a test basin on a farm near Vancouver, allowing it to confirm the technology's scalability, surf-ability and portability.
"Once we confirmed that the concept worked; it was surf-able, and it was fun, we focused our energies on safety and user experience. With regards to safety, we had the opportunity to spend a lot of time in the water, to move around in the currents, and to test mobility around the inlets on the dock.
"Once we were confident with all considerations around safety, we turned down the flow and let our four- to eight-year-old kids loose on the wave. Then a friend brought out his 11 and 13-year-old kids and they were playing with the wave in ways that we hadn't even thought of, like cannonballing into the flow so they could be fired out the back."
Fine-tuning the product
Since the success of the pilot, Ka'ana has been fine-tuning the product.
The system can produce a wide range of waves by swapping the shaping head on the machine and can also change the characteristics of these waves by adjusting flow volumes and velocities, as well as by articulating the pitch and plunge of the head. Sequences can be programmed for repeatable waves.
To begin with, the company will offer the CM7-Small and the CM7-Medium, but will eventually have four CM7 sizes available. The CM7-Small has a 9-foot wide drivetrain and can deliver waves up to 4 foot 6 inches. Meanwhile, the CM7-Medium is 12 feet wide with waves around 6 feet high.
"The machine widths, while important, don't tell the whole story as the shaping heads themselves can be much wider," adds Watson. "We recently did a few wake head designs that, when scaled up to CM7-Medium size, are 15-16' wide. That's two times the width of a typical wake surf boat hull. The wake on that would be about 9' tall."
Ka'ana is developing a catalogue of wave shapes and will have its first production CM7-Medium unit in a pool soon. The team will also be attending IAAPA Expo 2021 in Orlando from 16 – 19 November on booth #3679. To arrange a meeting with Watson, click here.
Images: Ka'ana Wave Co.