Global manufacturer of waterslides, ProSlide, has provided a raft of iconic attractions to the newly expanded Kalahari Resorts and Conventions waterpark in the Pocono Mountains in Pennsylvania.
The new line-up, which also features a wave pool and lazy river, makes this the largest waterpark in America.
"Every single ride out there is a ProSlide product," confirms Kalahari Resorts owner, Todd Nelson. "We're very pleased with them."
ProSlide rides making waves at the 220,000 square foot attraction include looping waterslide the Sahara Sidewinder (ProSlide SkyBOX/SuperLOOP) featuring a trapdoor start, family raft ride The Smoke That Thunders (ProSlide Dark Mammoth) and the 250-plus foot Screaming Hyena (ProSlide FreeFALL).
Youngsters are also catered for at the Coral Cove which offers activities, slides, bouncers and more.
The Africa-themed resort has also beefed up its accommodation offering, adding an extra 520 rooms and suites, along with two new dining experiences and more. Another addition is the free-roaming virtual reality attraction 'The Arena'.
But, says Nelson, it's the waterpark that reliably pulls in the punters:
"The indoor waterpark is the reason people come…and for us to have the latest, greatest, and the best things out there – it's crucial."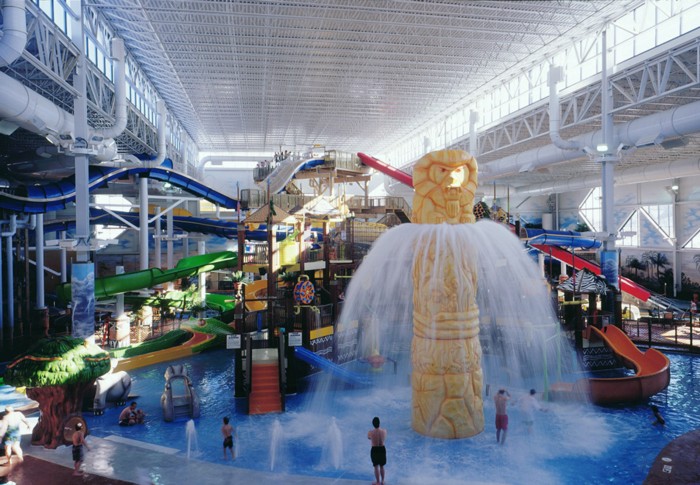 Nelson is no stranger to breaking records. Until this latest Poconos resort expansion, America's largest indoor waterpark was Kalahari's Sandusky, Ohio resort.
"This thing couldn't have turned out any better," adds Nelson. "Our guests are loving it, they're smiling, the families are happy. We love working with ProSlide…we love what we do, just like they all do at ProSlide, so we'll continue to create together."