Leading designer and manufacturer of glass roofs and skylights, OpenAire, is celebrating today's grand opening of Epic Waters in Texas, the USA's largest indoor waterpark under a single retractable roof.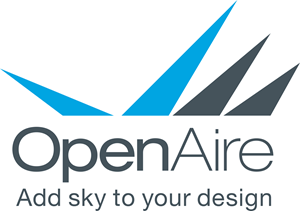 Designed and built by OpenAire, the curved roof is on an appropriately epic scale, providing an all-weather solution for the 62,000-square-foot enclosure.
The roof was chosen to provide a naturally-lit, outdoor/indoor atmosphere throughout the year. Right now, it provides a sunlit respite from the cool mid-winter weather.
VIP guests were treated to a sneak preview of Epic Waters early yesterday. Many more visitors are expected from across the Dallas-Fort Worth metroplex today.
Whitewater West provided the array of thrilling water attractions under the 83-foot tall cupola.
Among the rides are the Lassoloop, the tallest Aqualoop in the country; Yellowjacket Drop, the first indoor combination of the Boomerango and Constrictor slide; Aquanaut, the first indoor double-rider Aquasphere ride; RioGrand, a 600-foot lazy river; and many more.
What's more, no one needs to wait for good weather to enjoy them.
Epic Waters indoor waterpark will attract revenue all year round
While many attractions are forced to close in the winter months, Epic Waters will be attracting revenue all year round. In addition, it is expected to save the operator up to 27% on its annual energy bill.
OpenAire has been designing and manufacturing high-end, environmentally-conscious,  retractable roof structures and skylights for over 25 years. The company offers a complete service from design to installation, transforming weather-dependent settings into year-round attractions.
OpenAire has successfully completed close to 1,000 projects around the world, in North America, Europe, and the Middle East. These encompass solutions for a wide variety of situations including restaurants, pools, waterparks, observatories and cruise liners.
Previous waterparks projects include Aqua Sferra Aquapark (the biggest aluminum dome in the world) in Donetsk, Ukraine; Kalahari in Pocono Mountains, PA (the largest waterpark under one roof in the USA) and Tropicana Waterpark in Stadthagen, Germany.