3 of the 8 U.S. waterparks named in Travel Channel's 'Most Incredible Indoor Water Parks' list feature retractable roofs from leading specialist, OpenAire.
They are Epic Waters in Texas, Kalahari Resorts and Conventions' Pocono Mountains and WaTiki Indoor Waterpark Resort in South Dakota.
Epic Waters proved a hit the moment it opened its doors in January 2018. The 80,000 square foot water park, developed and operated by the City of Grand Prairie, is the USA's largest water park under a single retractable roof. The OpenAire enclosure, which provides a sunlit, summer atmosphere whatever the weather, has helped to ensure full-capacity crowds every day since the park opened. Guests are reportedly delighted with the park's expansive outdoor-style environment.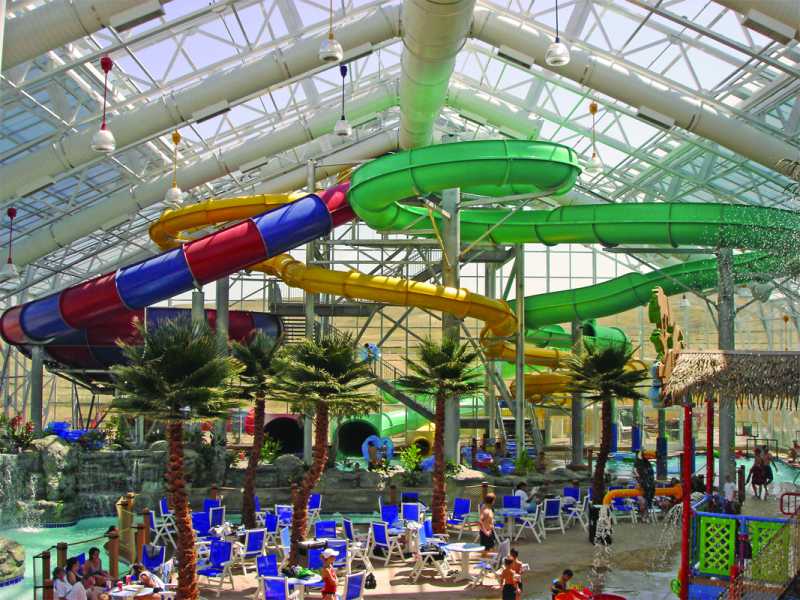 Aside from making the No.5 spot on Travel Channel's 8 Most Incredible Indoor Water Parks in the United States, the park has also been ranked No.2 by Texas Hill Country's Top 5 Indoor Water Parks in Texas.
OpenAire roofs help attract high attendance all year
In both cases, Epic Waters' retractable roof has been given a special mention. The huge glazed enclosure features 40 curved, motorised, retracting roof panels, providing plenty of natural light as well as stunning views. When the weather warms up, the roof can be opened effortlessly, letting in the sunshine and fresh air. This outdoor/indoor mix keeps the park open all year and ensures ideal temperatures and air quality inside via natural ventilation and lighting. According to OpenAire, Epic Waters is predicted to save up to 27% annually on energy costs.
Kalahari Resorts and Conventions' Pocono Mountains, Pennsylvania (below) took the No.2 slot, while WaTiki Indoor Waterpark Resort in Rapid City, South Dakota (above) came in at No.7. Although very different in size and style, the two water parks have enjoyed major success and visitor satisfaction, no doubt thanks in part to the advantages of their all-season retractable enclosures.
More and more aquatic attractions are seeking OpenAire's retractable roof enclosure solutions as a way to keep the weather out and the guests coming in. The company has been designing and manufacturing leading-edge, environmentally-conscious retractable roof structures and skylights for over 25 years.