Leading adventure attractions specialist, Ropes Courses Inc. (RCI) has designed and installed a third high ropes adventure course for Carnival Cruise Line.
The Sky Trail® Expedition course will be available to over 3,900 passengers on the new Carnival Horizon ship, when it sets off on its maiden voyage in April.
The single-level, circular structure features 24 different elements that follow two different paths. The design accommodates high throughput as well as a range of abilities, offering one route for beginners and the other for more experienced adventurers.
RCI is well-versed in tailoring its installations to a ship's specific requirements. The company has already designed and installed Sky Trail® Expedition courses on Horizon's sister ships, Breeze and Magic.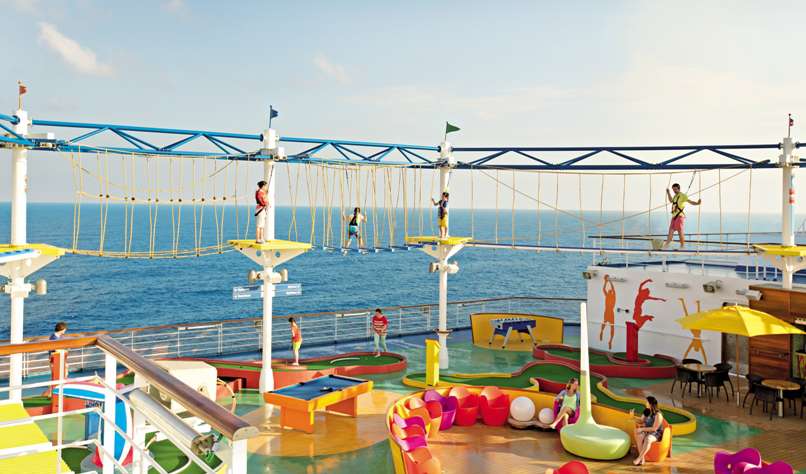 "Designing another Sky Trail® course for a Carnival cruise ship was an exciting opportunity for us," confirmed Jim Liggett, founder and owner of RCI. "Working with a smaller amount of space than we typically use for our many land-based structures, and still managing to add so much variety and challenge, made this a really fun and rewarding installation. We realise that deck space on these vessels is at a premium and we were honoured to be welcomed back."
Carnival Cruise Line known for 'thrilling, open-air attractions'
Located on Deck 14, the aerial course sits 150 feet above the sea. Wearing a safety harness, passengers can choose either the beginners' or intermediate route. Both offer a wide range of obstacles including rope bridges, swinging steps, and narrow beams. Open to adults and children taller than 48 inches, participants can hone their skills on the beginners' course before progressing to the more challenging intermediate route.
"Carnival Cruise Line is known for its thrilling open-air attractions. The ropes course on Carnival Horizon promises to be a spectacular attraction on our newest ship," commented Dominic Chancellor, Manager of Outer Decks Experience for Carnival Cruise Line.
"Guests can enjoy the thrill of traversing suspended ropes while taking in the breathtaking views to the sea below. We can't wait for our guests to check it out."