ProSlide Technology Inc., an industry leader in water ride manufacturing and design, has brought a brand new ride, the MammothBLAST water coaster, to Atlantis Aquaventure in Dubai as part of the water park's world-class expansion.
This new design brings together the company's BLAST water coaster technology with the fun of a rafting experience, for a new type of family ride experience.
Family water coaster
"Innovation is in our DNA and the new MammothBLAST Water Coaster represents the pinnacle of our innovative technology," says ProSlide Chief Commercial Officer Ray Smegal.
"This revolutionary combination of vision and design makes the MammothBLAST the first true family water coaster. It raises the bar by bringing together speed and power into one thrilling shared experience. We're excited to work with our clients around the world to bring this game-changing water ride to their parks for the ultimate family water coaster experience."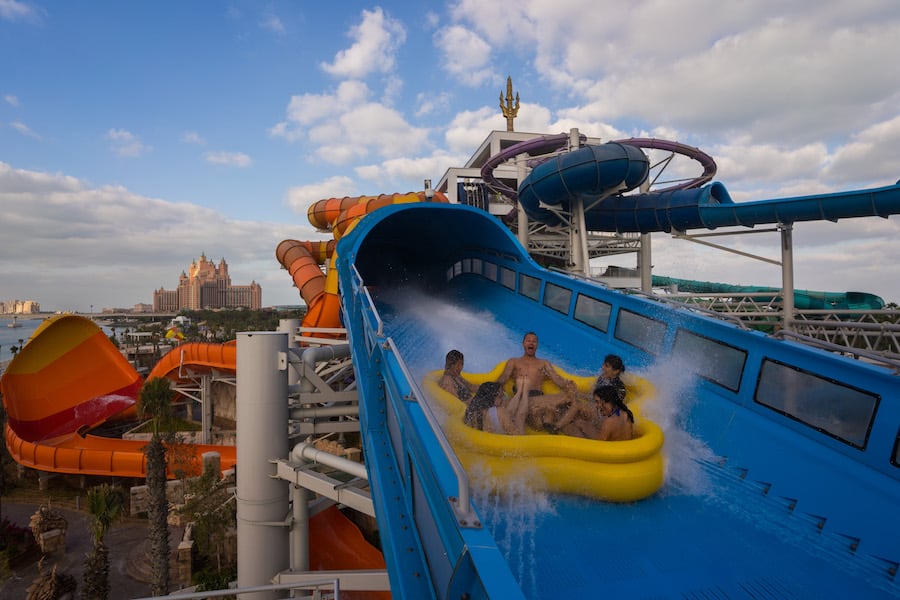 The MammothBLAST water coaster adds a face-to-face rafting experience to ProSlide's MAMMOTH water ride, powered by water propulsion from BLAST water jets. To create the ride, the company produced a new piece of technology, the 5-person Low Center-of-Gravity raft.
This allows for a 25% increase in throughput and means that each raft can seat between 2 and 5 riders at a time. During the ride, guests will also enjoy cushioned seats and a lower centre of gravity. These new innovations mean that MammothBLAST is a flexible anchor attraction for operators on the lookout for a new family water ride.
Earlier this month, ProSlide unveiled a new attraction within its WaterKINGDOM suite of products, the KidzADVENTURE Tower (KAT), also making its debut at Atlantis Aquaventure. This customisable attraction features classic ProSlide waterslides attached to one single tower and provides a graduated ride experience.