After approval to build a £250 million wellbeing resort in Manchester, Therme Group has announced plans to develop the concept in other cities in the UK, including London, Scotland and Wales.
The project will create more than 3,000 new direct jobs and represents a major investment in the health and wellbeing of the UK population.
Therme Group's additional destinations will be based on the Therme Manchester concept, and all projects will be developed at sites close to city centres.
The concept combines nature, sustainable technology and culture. It offers a fun and relaxing experience, but also focuses on mental and physical health, including tackling obesity.
The wellbeing resorts will feature thermal bathing tradition from around the world, fun and healthy activities, and affordable wellbeing therapies in a biodiverse natural environment.
Health and wellbeing resorts across UK
"Our resorts provide a vital piece of social infrastructure in our cities, creating relaxing and fun places to meet whilst also nurturing mental and physical health.
"Our aim is to ensure that a Therme Group wellbeing resort is within easy reach of 90 percent of the UK population," said UK chief operating officer James Mark.
Therme Group believes that wellbeing should be accessible to everyone, and entry prices will be set at a socially inclusive level.
Therme Group already operates in Europe, with its latest resort opening in Bucharest in 2016. It welcomes 1.3 million visitors annually.
The UK development will be a significant driver for economic growth, and Therme Group is at an advanced stage of talks with local authorities and stakeholders.
New developments in Asia, Europe and North America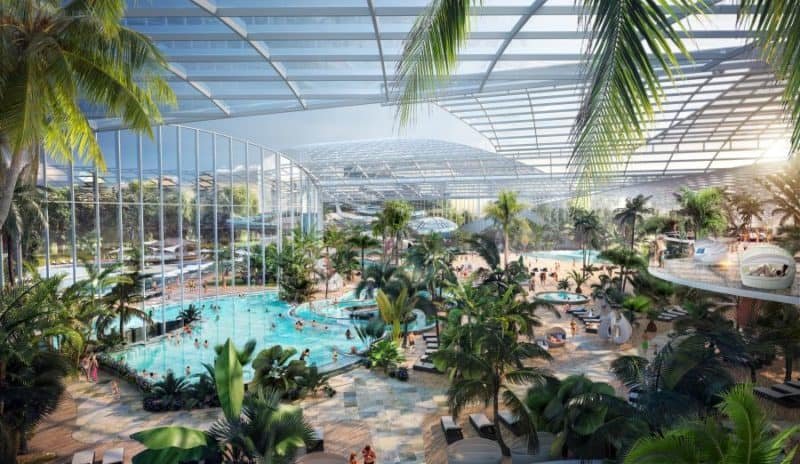 "We will be locating our resorts within large population centres," said Mark. "Now more than ever, people living in cities need opportunities to have relaxing and affordable wellbeing experiences close to home.
"Our concept, creating indoor biodiverse ecosystems that combine pure waters and natural environments, is already hugely popular in a number of European cities and it is a concept that will fundamentally improve the way we will live in the future."
Construction work begins on Therme Manchester in 2021, with the resort set to open in in Peel L&P's TraffordCity in 2023.
Therme Group recently appointed Richard Land to manage its UK business as chief development officer, leading the Therme Manchester project.
Therme Group also has plans for developments for Asia, Europe and North America.