Fort Worth Zoo is the number one zoo in the USA. It has a long-term vision to strengthen the bonds between humans and animals.
Fort Worth Zoo has been named as the number one zoo in the nation by USA Today and entertains over 1 million guests each year. It is on a mission to strengthen the bonds between humans and animals, promoting this through responsible stewardship of wildlife, as well as education and conservation.
The zoo is in the middle of a $100-million capital campaign called A Wilder Vision that will include new exhibit spaces, renovated habitats, special events spaces, multiple dining areas and restrooms. It will also include new ways to observe, interact with and learn about animals.
We spoke to Fort Worth Zoo about some of the key projects that are underway. We also explored how its long-term partnership with Longhorn Organics, an expert in high-quality filtration systems, is helping it to achieve excellence as it works towards this long-term vision.
Fort Worth Zoo
Fort Worth Zoo is the oldest continuous zoo site in Texas. It was founded in 1909 with one lion, two bear cubs, an alligator, a coyote, a peacock and a few rabbits. It was operated by the city until 1991 when the Fort Worth Zoological Association assumed day-to-day operations.
"From that point on, we've been able to do some wonderful things," says Avery Elander, Assistant Director of Public Relations at the zoo, "We have become a leader in conservation and provided a special unique place for the people of Fort Worth to come and visit. This year we were named the top zoo in the nation by USA Today readers."
In terms of working towards its mission to strengthen the bonds between humans and animals, Elander says:
"We do that at home, here at the zoo, and we also do it abroad through all of our conservation work. So, here at the zoo, we have several education programmes and different experiences that you can come to at the zoo, ultimately to establish that bond and create that relationship between humans and animals.
"We want to inspire guests, for them to learn more about the animals and their counterparts in the wild, as well as showing them things that they can do to conserve the species. Outside of the zoo walls, we are also involved in conservation projects in more than 30 countries around the world."
Longhorn Organics
Fort Worth Zoo has been working with Longhorn Organics since 2016. We spoke to Holly Dempsey, President and Co-Founder; Toby Lowry, Veterinarian; Daniel Agee, Superintendent and Art Hart, Life Support Systems QC/QA about the unique relationship between the two organisations.
"Our relationship began with Fort Worth Zoo back in 2016," says Dempsey. "They were getting ready to launch their master plan, A Wilder Vision. They had been fundraising for several years before that, so we were aware that it was out in the market."
"We started building a bridge with the zoo to understand what their needs were and what we could add to the equation. Then our relationship became more formal, so we got things on paper and contracts in place, so we were able to provide our services.
"So we were there at the very beginning of their plan. We were able to consider together how we do Life Support Systems (LSS) in a way that is comfortable for the zoo. These were some of their first very big aquatic projects. Therefore they were looking for a strategic partner who was going to be able to come in and both install and build the system.
"The zoo was also looking for someone who could provide a lot of training and education. Someone who can support the zoo staff, as they became familiar with the use of these types of systems."
A long future 
"That's how our relationship started," says Dempsey. "And we've since provided all sorts of services directly to staff throughout the other parts of the zoo, not related to this construction. We've also done multiple phases of construction with the zoo. We started with hippos and flamingos and rhinos, and now we've gone into elephants, lions, tigers, bears and more."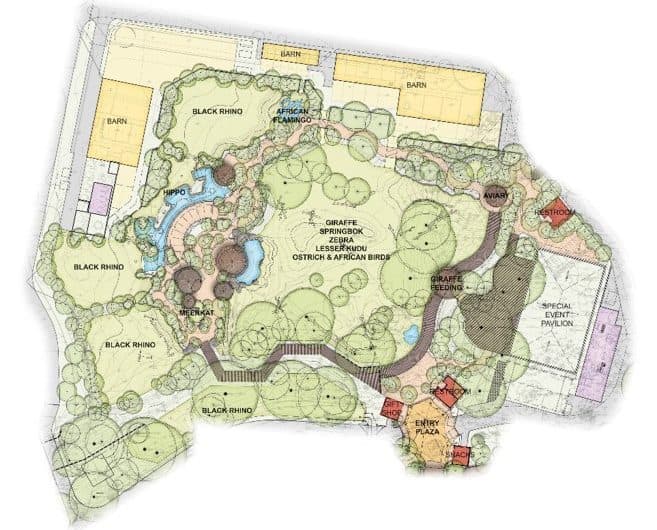 "We are looking forward to what I think is going to be a long future with the zoo. They have a beautiful master plan. They're in roughly the middle of it at the moment. Longhorn Organics has had multiple years with them already and we expect to have several more in the future."
A Wilder Vision at Fort Worth Zoo
Talking about Fort Worth Zoo's A Wilder Vision plan in more detail, Elander says:
"Much of what our visitors have grown to know here at the Fort Worth Zoo will change. That includes new exhibits for the animals, as well as some additional dining elements, restaurants, and so on.
"After we completed the fundraising portion of this capital campaign, we were ready to take on the building projects, and that began in about 2016. Our first phase of this overall capital campaign was the African Savanna."
A Wilder Vision is divided into four stages – African Savanna, Elephant Springs, Hunters of Africa & Asian Predators and Forests & Jungles. It aims to further the zoo's mission to conserve wildlife, as well as educating and motivating future leaders.
The African Savanna opened to the public in 2018. This new area imitates the natural ecosystem of East Africa, where many different species roam freely and co-exist.
"Longhorn Organics came on in 2016 to help with the life support systems and filtration systems for our Hippo exhibit, as well as our Flamingo exhibit, within the African Savanna. And now they are currently helping us with our life support and filtration systems for the next phase, which is elephant springs.
"For the first two projects, they simply did the install of each of these systems. They have since been hired to not only instal but design the water features for our third phase which is over the big cats and our predator area."
The importance of LSS
Speaking about why Fort Worth Zoo chose to work with Longhorn Organics, Elander says:
"Like us, they are based in Texas. They have done some other work with Texas zoos and aquariums as well as organisations across the United States. They had a reputation that preceded them. And since we joined forces in 2016, we've been pleased with the work they've done. The team has been great to work with and so we're happy to be continuing that relationship."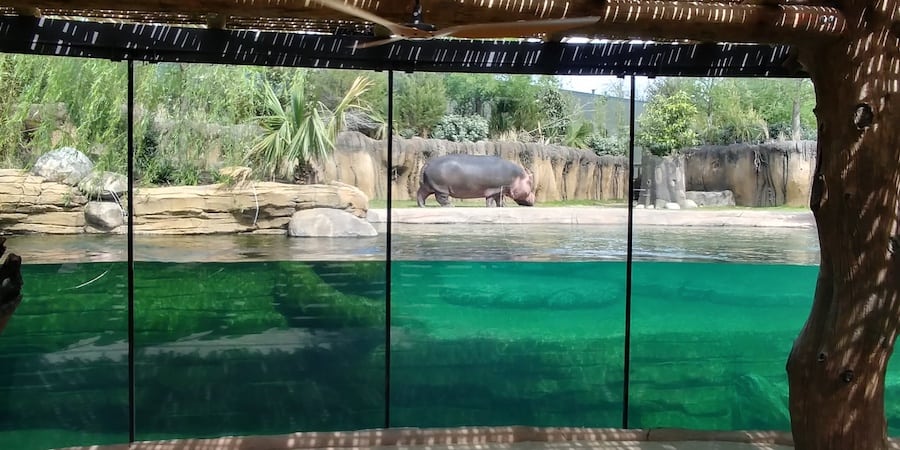 "These life support systems are critical components, not only of the exhibits and the aesthetic but also to the animals themselves. For instance, for our flamingos and our hippos who spend the majority of their time in the water, these LSS must be functioning properly and filtering properly.
"Longhorn has the knowledge and the experience in completing these systems and making sure that they're functioning and they're running as they should.
"And then, in addition to the critical necessity, they are aesthetically beautiful, and they're adding some enriching experiences for animals, like the Asian elephant, who may not live in the water but they spend a lot of time interacting with it.
"For our guests coming through, it adds another element of beauty to these exhibits and it's adding to their overall experience. We are a landlocked zoo, we're surrounded by land here in Fort Worth. There are not a lot of natural water elements in this part of the city and so it's a beautiful little escape that you can come through and see some of these water features."
Using technical expertise to bring projects to life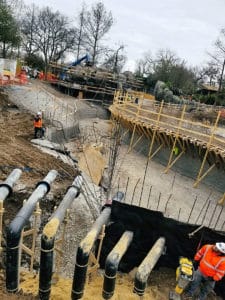 For the work that Longhorn Organics does, many different factors need to be taken into account. The projects must meet the goals of the attraction but must also function in a way that is best for the animals. Hart explains a little about how the company approaches new projects, to make sure that everyone's needs are fulfilled:
"First, when we hear about a project, we'll investigate it as much as we can. So we try and learn what we can and then approach the customer to see if we can be a service to them. There are official bid processes too when we'll be asked to bid on a project."
"To start with, we'll look at what the project is. We have good working relationships with the LSS engineers that develop these projects; we work with them to understand the project and provide feedback to them and the potential customer."
"From the very beginning, we are working to make sure that we understand what they're doing or what they're trying to do. Then we just apply our experience to it, to help develop that as best we can.  We'll come in and talk about the technical side of things."
"Our company has a great relationship with the engineers," adds Agee. "This means we can get a first look at a project while it's being designed. At that time, we can talk with the client and walk through any issues that we have noticed or pinch points that we can see."
Insider experience
The company is well-positioned to understand this type of project since it has a great deal of experience across the sector. This is thanks, in part, to the individuals who make up the team, as Dempsey explains.
"We have staff members that have been operators. It's one of the things that makes us different from a typical company. For instance, we have a biologist, a veterinarian, we have those people on our staff who know the sector. Art, for example, was an LSS operator for SeaWorld for 15 plus years before he came to work for Longhorn Organics."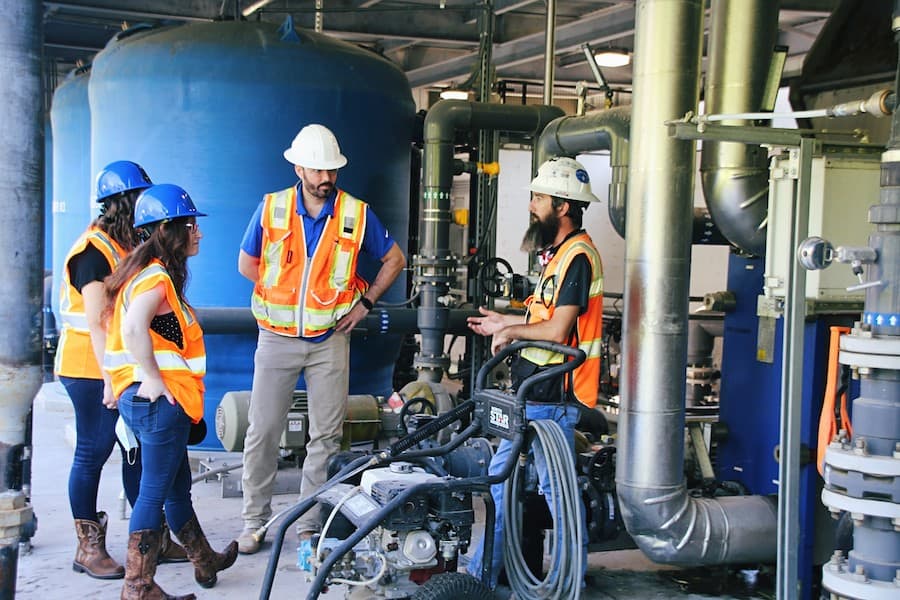 "So we get to use all of those experiences and be the translator between this engineering firm who is designing things in a perfect world, on paper, and then the operators who know the realities of how things work on the ground.
"Being that translator between the two, we refer to that as design-assist. We're able to step into that gap and explain, for example, 'hey look if we just rotate that 90 degrees, they're going to be able to maintain that much more effectively.'
"Things like that are what we add to the equation. And they really matter to the client. If you don't catch it early, if you don't catch it until after construction, then you're backtracking. Of course, that can be expensive."
Providing value and expertise
This expertise can help to make projects run much more smoothly, says Hart.
"These are really specific projects. A lot of the time, the general contractor is not familiar with building a life support system, starting it up and getting it running for the customer."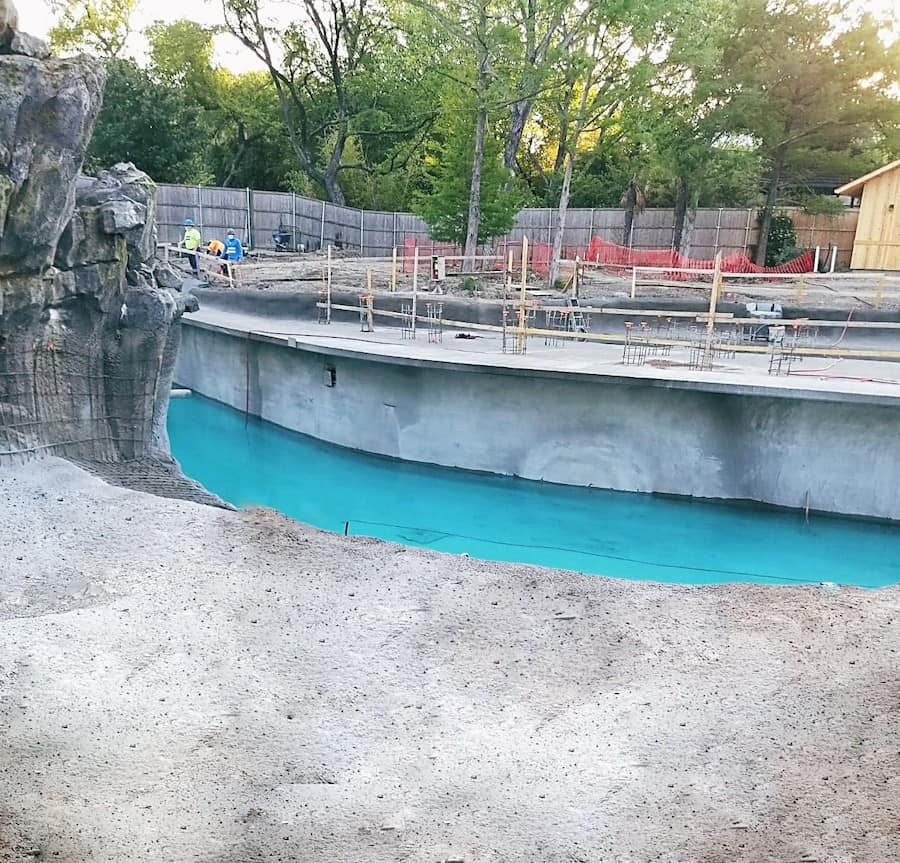 "That's where we can add value. Longhorn Organics can guide this part of the project. For instance, we can say: 'You need to make sure we have this amount of time, because when you do this, these are the things that are going to happen, and you need to account for time in your schedule for that.'
"Things like timings can create serious pain points in a project and a budget if they are not accounted for. We've seen in the past where general contractors sometimes don't get that. It's great that we have an opportunity to work with them and also with the customer. We can help that get resolved before it gets to be a big issue."
New LSS technologies 
Hart also spoke about some of the recent developments in Life Support Systems and how the technology has evolved over the years:
"A lot of what we do is filter water for aquariums and marine mammal exhibits. That was primarily done by high rate sand filters, and on smaller systems, cartridge and bag filters."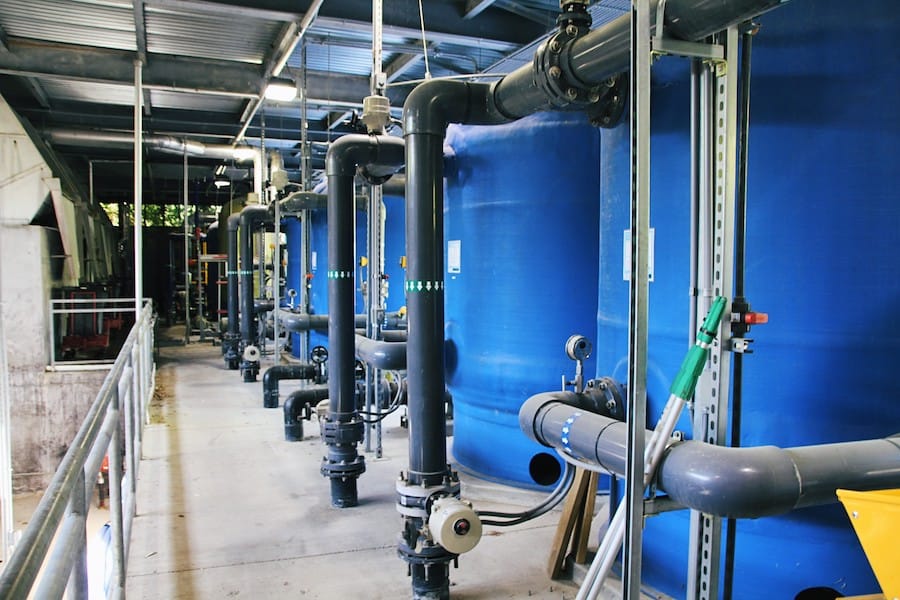 "But in the last 10 years, we've seen the implementation of screen filters, drum filters, and now regenerative media filters.  This takes a big load off of sand filters. There are trade-offs when deciding which technology to use but generally, the newer technology requires less power and saves water.
"Then we also have ozone, which has been around for a long time. But the technology and equipment to manufacture ozone have improved a lot, so it's much more reliable. Plus, we also see UV being used extensively as well."
Other new technology
As well as the LSS side, there have also been many recent improvements in construction technology which Longhorn Organics is utilising, as Agee explains:
"The construction side of the industry has several new technology pieces that have made things drastically different in recent history. For instance, the HDPE pipe is much more durable. It'll last longer and we're being able to construct new things with it. We can also use GPS and endpoint layout to make the flow of the project work better."
"From the veterinarian side of it," adds Lowry, "the 3D modelling is great. We can lay that out and see it and it looks like just a bowl of spaghetti. Then Daniel and his crew can take that schematic. They can go out and precisely place all those pipes, without interferences."
"Having that 3D design capability and technology is fairly new to our industry," says Dempsey. "The engineers have been using it for several years. But it's just recently moved into this fabrication level of the industry. Now, we get to use that tool as the actual translation piece, so we're able to show that to the client. They're able to visualise what the system is going to do.
"We can show it to our biology staff and our chemistry staff and they can understand the interactions of these biological and chemical pieces on the backside. So they know what to change before we ever start constructing anything. For instance, they can see things like is your ozone piping in the right place so that it's not interfering with something else?
"All those things get solved so early now, which is drastically different than before. And it's all GPS tagged, so it makes it nice and accurate too."
3D modelling 
"Throughout a project, that 3D modelling is now used by all of the contractors. From mechanical and LSS to electrical," says Hart.
"Coordination meetings occur to make sure that, as we build a project, everyone is coordinated on where they're placing their equipment and their hardware. It saves a lot of time for the customer and expands the experience for them as well. It helps us to make sure that everything is done correctly the first time."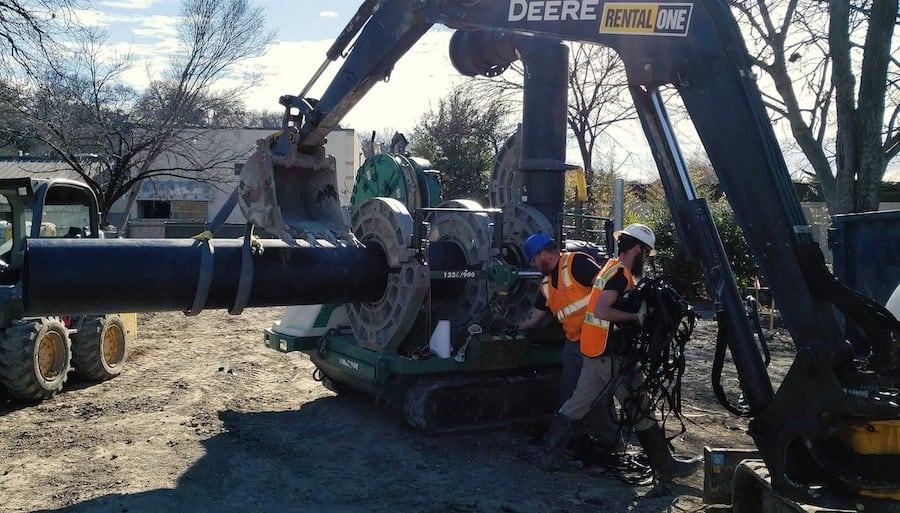 "The general contractors and local contractors are doing things like the excavation or the plumbing and sanitary sewers. Nine times out of ten, they have never built an aquarium or aquatic system," says Dempsey.
"And so a lot of our time has been spent educating. Now, we have that ability to show them what we're talking about and why it would need to be changed. That's before we even get started commissioning where we need the biology work."
Construction in a working zoo
For Longhorn Organics, many of the projects that the company works on are done while the zoo or aquarium is open to the public. For instance, the projects at Fort Worth Zoo are currently underway while it is open. We spoke to the team to find out about the challenges that this can present.
"When a facility is open, as opposed to a new construction, the animals are already there," says Lowry. "The standard of care for the animals and the safety for the animals is paramount for us. So we also coordinate and work with the biology staff"
"It is a kind of a natural role for us that we go in and act as a liaison between the biology staff and the construction side. Just because that's who we're made up of. We have experiences on both sides. We can speak both languages, to make sure that the safety of those animals is taken care of while we're on site.
"Some of the things that may be overlooked or not thought about is the vibration of equipment or the construction process. Especially in our aquatic environments. For tanks or enclosures that are maybe close by or adjacent to where we're working, a lot of those vibrations can negatively affect animals.
"Also, dust debris and VOCs are something that we need to address. It is important to communicate those concerns from a client standpoint to a construction crew. They may not understand why there is an issue with keeping the dust and noise down or lights off during certain periods of the evening. Or why that's important."
Longhorn Organics and COVID-19
Like everyone across the industry, the company has had to make some changes in response to the global pandemic.
"We've added some additional PPE to our normal PPE line up," says Dempsey. "We've added face masks. The teams now have these on the time, instead of just when it is needed it for particular OSHA regulations.
"So many of our facilities in this industry have been impacted. We've had some of our facilities pull back on projects and choose not to spend money. But at the same time, we've had some other projects move forward because they were closed for a period. So they're thinking, 'Oh, we have this blank slate, where we are not interrupting the guests. Let's get some things done.'"
"We saw kind of a mixed reaction to it, at least in the beginning. We certainly are trying to keep our finger on the pulse of what that looks like long term for these facilities. Because I think it will have a long term impact.
"Here at Longhorn Organics, we are trying to support them in any way that we can to make sure that they're all still around. We have joined a couple of committees where we are helping with our advice on animal transport. Some facilities are having to close. So we're trying to help support the care of those animals. We are making sure that the animal takes precedence here because they get caught in the middle, unfortunately.
"But these facilities have been around for a long time and they've weathered a lot of storms. We know that they're still going to be here and people will continue to support them."
Looking to the future at Fort Worth Zoo
The future certainly looks bright for Fort Worth Zoo as it continues its A Wilder Vision project.
"We're right in the middle of this capital campaign," says Elander. "We are gearing up to open that next phase, Elephant Springs, next year. And then later this year, construction on the third phase, which is our big cats and predators, will begin. That will open a few years down the line, roughly 2023.
"Ultimately we are redesigning and renovating the zoo, as people have come to know and love it. I think people in the next few years will be surprised to come in and see these renovated habitats. These are offering new and enriching experiences for the animals.
"Plus, they're also allowing guests to get up close to these animals. They will be able to interact with them in ways that they haven't before. This all ties back to our overall mission which is strengthening those bonds between humans and animals."
"We've got about six more years in this project but it's only going to get better. It's only going to be a more special place for visitors and guests here in Fort Worth.
"In addition to this, outside of our zoo walls, we're still involved in conservation work around the world. We have six independent non-profit conservation organisations that have all been founded here at the Fort Worth Zoo. They are now independently run by their own organisations but we also have Zoo staff actively involved in these projects.
"We have got a great momentum going forward, and we're just continuing that stride."
Fort Worth Zoo's mission
The Longhorn Organics team is looking forward to continuing a long and meaningful relationship with Fort Worth Zoo. The company is helping the zoo to achieve its mission as it heads into this promising future.
"We are in a really exciting spot in our relationship with Fort Worth Zoo," says Dempsey. "We're just wrapping up the elephant project which is so close to opening. Plus, over the last year, we have also been working on the next phase. To keep momentum, our pre-construction group is working on the next future phase. Our current construction group is closing out this phase."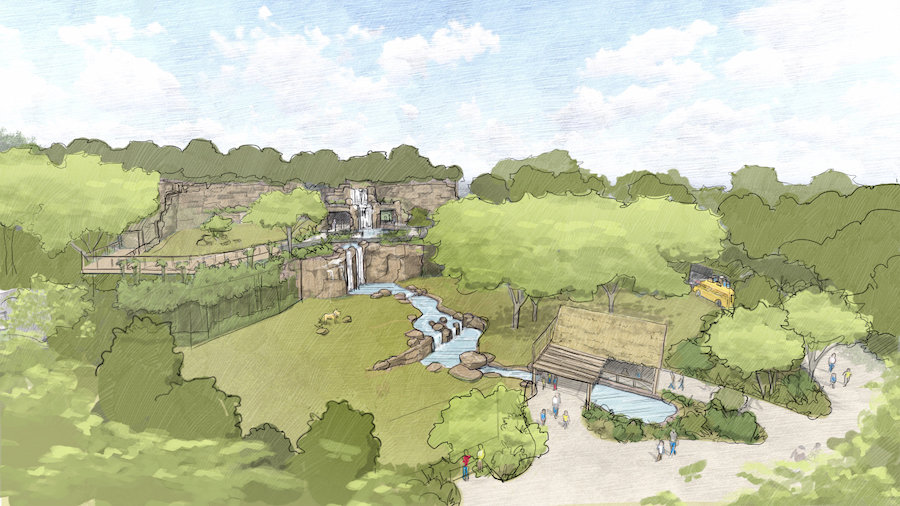 "The next phase, predators, includes a remodel of the main entrance to the zoo. For this, we will be building in all-new filtration equipment for their waterfalls and entry features, which we're excited about. Our stuff tends to be behind the scenes, back of house and hidden underground. So this is fun for us. This is one of the big projects that's a showcase for what we can do.
"In developing this relationship over the years, the zoo has entrusted us with the design of this phase which we are proud of. They've given us our own opportunity to show what we can do on the design side as well.
"As we move forward with them, they have future phases still to come. The master plan is about halfway through. We also have a strong set of future projects and lots of other partnerships throughout North America. These are projects that we are very excited about."
What makes Longhorn Organics unique?
"The thing that sets our company apart is truly this long term partnership that we aim for," says Dempsey.
"Fort Worth Zoo is a perfect example. It's the number one zoo in the United States and we have the opportunity to stay with them long term. The zoo was a client before they started construction and they will be a client after their construction is finished. That is because we also provide ongoing continuous training and support for their LSS staff."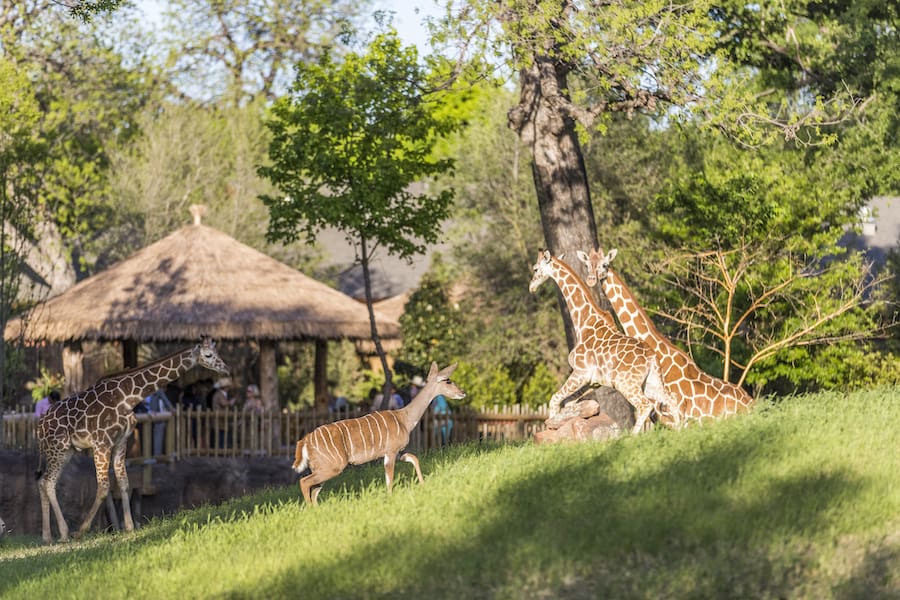 "We provide all sorts of simple things, like replacement parts. Every relationship we have and every piece of instruction we do, that's a lifetime customer for us. We become friends with their staff and get to know them, providing constant support.
"For instance, they can call Daniel and say, 'what do you think about this?' And we don't charge for those kinds of things. It's just about making sure everybody's doing the best practice they can.
"We're proud of these exhibits," says Lowry in conclusion. "I have small children. I like to take and show them what we've done. It is a job, but it's a job we love, and we enjoy. We have taken the best of both worlds, the construction world, and the biology world. We put those two together to be a unique company that serves a special need in the industry."