The Green Planet has achieved the miraculous – bringing a rainforest to the desert. The tropical ecosystem in a bio-dome has been created and operated by zoOceanarium for Meraas in
Dubai.
Chris Davis (right), managing partner of zoOceanarium, talked to Blooloop about the unique immersive project.
"Our client [Meraas] is visionary," he says. "It's a project with unique characteristics. There is nothing else like this in the Middle East."
A new generation of zoological facility
The zoOceanarium Group specialises in developing and operating a new generation of aquarium and zoological facilities. These focus on excellent animal care, creating opportunities for people to appreciate and learn about animals through once-in-a-lifetime-experiences.
The company has over 20 years of experience in the field. They have managed all types of animal programmes. These range from wildlife-focused science centres through public aquariums and zoos. The company also works closely with a wide variety of businesses – from malls through hotels and resorts to theme parks and other leisure-related attractions. They offer everything from concept design, through animal collection, planning, and facility operations and management.
Their animal care specialists, designers, project and business managers are committed to the care and conservation of wildlife globally. The company's offices are located in Dubai, Singapore and the United States.
The Green Planet at City Walk
The Green Planet opened to the public in September 2016. It's located at City Walk in the heart of Jumeirah, Dubai. zoOceanarium will also act as a third party operator for the immersive animal-based attraction for the foreseeable future.
The attraction has been received well, in fact more than well. TripAdvisor ratings are high, with many applauding the staff in particular.
A standalone, educational and recreational bio-dome
The Green Planet is based in an origami-style glass building. The bio-dome encloses a complete tropical ecosystem, featuring over 3,000 species of plants and animals.
"It's a slice of nature," says Davis. "Imagine a tropical rainforest in the Amazon. Figuratively speaking, we've taken a cut out of that and brought it here to the middle of the desert."
As visitors enter the dome, they have to pass through an airlock. This helps to maintain the internal eco-integrity of the facility. They then arrive at the 'Flooded Forest' for their first glance at the forest floor. This features a giant aquarium featuring arapaima, arowana and serene stingrays. They are then taken to the top of the dome to look out over an incredible panoramic view of the rainforest. This includes the stunning man-made tree which, standing at 25 metres, is the largest indoor, man-made and life-sustaining tree in the world. It's a habitat in its own right.
Visitors then slowly wind their way down through the biome, enjoying unique encounters with animals such as toucans, crocodile lizards and prehensile tailed porcupines along the way.
In addition, exhibits, displays and activities are incorporated seamlessly into the environment, encouraging guests to explore further.
The finely-tuned zoological installation has to have its internal temperature kept within the range of 24-27°C. Humidity must stay at 80 percent. However it is far from wasteful. The facility is a LEED (Leadership in Energy and Environmental Design) certified building. As a result, everything about its design, construction and operation is aimed at conserving energy. "The waterfall, for instance, is a recycled waterfall with very little water use," says Davis.
A living museum – biocentric landscape immersion
The Green Planet is also representative of a developing trend for the blurring of boundaries between experiences that are entertaining, educational, zoological, geographical, thought-provoking and enjoyable. It immerses visitors in a blending of nature and art, where they absorb the underlying messaging about conservation and sustainability.
"The goal is certainly education, that's a primary one," says Davis. "We have plans for programs promoting school visits to educate school children about nature."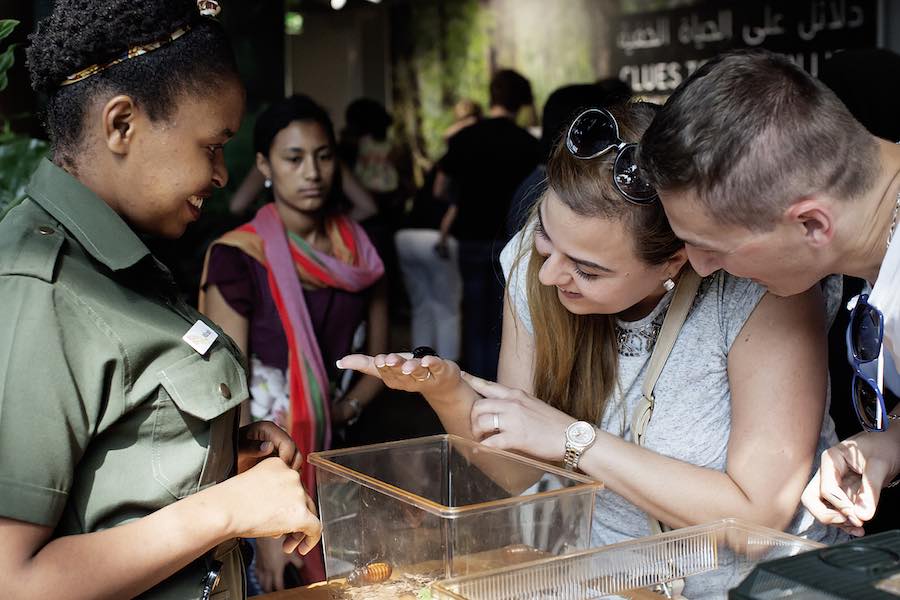 It's a living museum. The attraction surrounds visitors in the tropical rainforest environment with its rich biodiversity. In addition, visitors witness science in action, learning through their encounters with the range of animals.
The Green Planet is pure biocentric landscape immersion. Within the biome lies a microcosm of the true rainforest. This extends from its canopy 45 metres above the ground, through mid-story, forest floor, substrata and the flooded forest.
The animals are an integral part of the ecosystem. The Green Planet is home to tamarin monkeys, sloths, porcupines, snakes, giant hornbills and toucans and spiders alongside a whole host of other mammals, reptiles, insects, fish and free-flying birds.
It is through these kinds of animal encounters in a natural-seeming habitat that connection with conservation takes place.
An IAAPA award-winning training programme
Visitors often comment on the excellence of The Green Planet's staff. This doesn't come down to luck. The Green Planet recently won one of IAAPA's prestigious Brass Ring awards for its innovative training programme. The facility won the award in the category of Best Innovation in a Training Program (Class 2 Annual Attendance less than 1 million). "We are excited and honoured to be winners of an IAAPA Brass Ring Award," Chris Davis commented. "We are also thankful to Meraas for giving us the opportunity to be a part of this amazing project."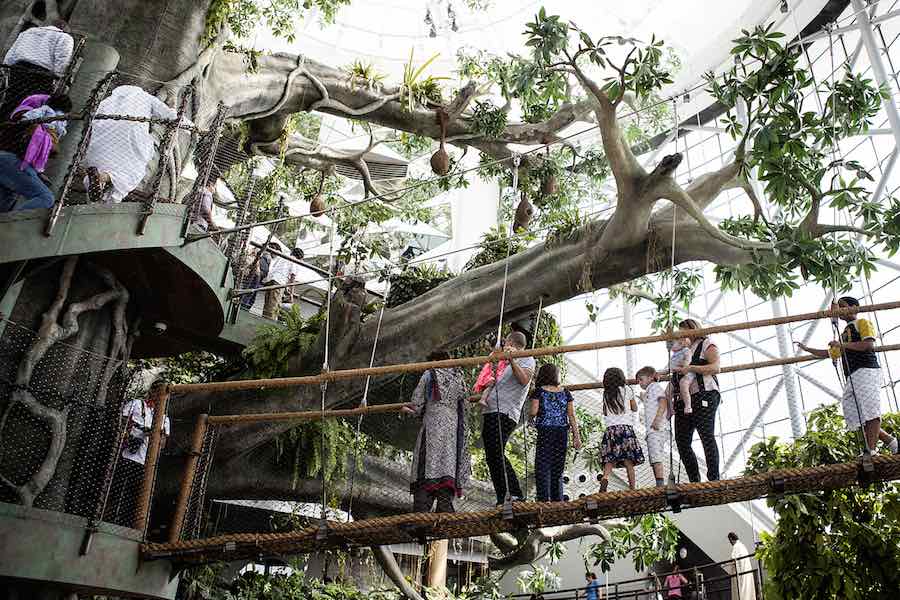 Staff are trained through a six week 'Rainforest Explorers Course'. This is an interactive and intensive educational bootcamp designed and delivered by the zoOceanarium team.
The Rainforest Explorers Course stretches over an intense six week period. Topics include the rainforest, conservation, animal biology basics, plant and animal ecosystems, plant identification and animal identification. Further topics include presentation skills, 'delivering service excellence', guest engagement and service recovery.
'Explorers' participate in classroom sessions, daily quizzes, online research sessions, educational videos, and situational role play. They also have biologist-led animal handling procedures. In addition, theory based sessions encompass a range of training methods geared towards different learning styles. These are interspersed with practical sessions where staff apply what they have learned.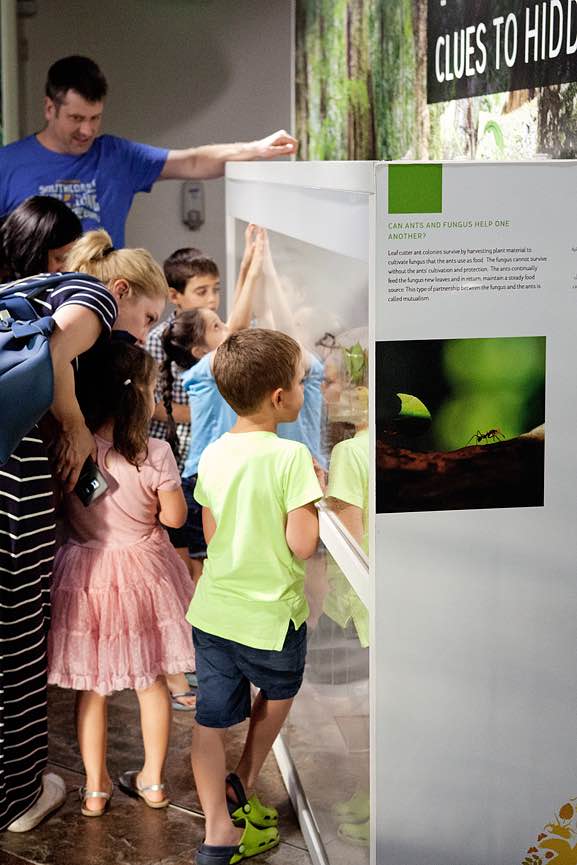 On completing the immersive training, participants then sit an exam that requires a score of over 80 percent to pass.
An interesting challenge
Once they have 'graduated' participants continue their learning with ongoing training and assessments, to maintain 'Ranger' status.
Effectively the training programme is a fast-track course. In addition, it brings staff to a level of expertise that allows them to converse, interact with and inform visitors competently and with confidence about the animals they see.
"Some of the staff had no experience of zoos or aquariums before working at The Green Planet," says Davis. "Some had pets as kids, but others had no previous animal experience whatsoever. That was an interesting challenge, but one we were happy to accept."
The multicultural team comprises around 70 full-time staff who embrace 25 different nationalities. They are all highly dedicated, keen to communicate their own enthusiasm to visitors.
Additional revenue streams
The Green Planet is a member of the AZAA (Arabian Zoo and Aquarium Association) and also the World Association of Zoos and Aquariums (WAZA). This means it is committed to providing the very best level of animal care and enrichment, optimising the habitat to benefit animals and visitors alike.
"There is no such thing as an average guest in the UAE. Not only are you dealing with many different nationalities but also many different socio-economic groups," says Davis. "All have different expectations."
Revenue streams are all geared around enhancing and furthering the visitor experience. As well as the initial entrance ticket price, there are additional options. These include fish feeding, VIP guided tours, animal interactions, face painting, and hands-on craft sessions for children. Then there's the Rainforest Explorers' Pack, an interactive workbook which children can purchase for their journey.
Connecting with nature
Furthermore,The Green Planet's education programmes are aligned with the learning objectives of the school curriculum. This was established by the Ministry of Education in the UAE. Up to 15 educational programmes in five areas of eco-exploration target children aged three to 14. They also introduce them to a variety of scientific and environmental topics related to the ecosystem of a tropical forest.
A more unusual recent initiative is a partnership with a local yoga studio. Yoga teachers now conduct yoga and meditation sessions every Friday and Saturday mornings within the biodome. It's also a wonderful opportunity for people who want to connect with nature in the middle of Dubai. Because of this, the sessions have become increasingly popular, and are frequently overbooked.
In conjunction with the owners, Meraas, the plan is to expand and extend the leisure offering, educational opportunities and community outreach. The Green Planet is set to become a must-see destination for locals and tourists alike.
The Green Planet is open 365 days a year.
Images c. The Green Planet and zoOceanarium.