Professor Theo Pagel is President of the World Association of Zoos and Aquariums (WAZA), the global alliance of regional associations, national federations, zoos and aquariums. Pagel took on the role in November 2019, just before the global COVID-19 pandemic.
Now, he speaks to blooloop about his atypical tenure as President, the lessons to be learned from the events of the last year, and the projects he is leading at Cologne Zoo, where he has been Director since 2007.
The impact of the pandemic
Reflecting on the impact of COVID on WAZA and its zoo and aquarium members, he says:
"As an Association, we were not affected too badly, because we were able to publish a strategy on conservation education. This means we have now a tool, already translated into different languages, which we can offer to our members to improve education, particularly concerned with our main focus, which is saving species biodiversity.
"The problem was not for the Association, but for its members, many of which were closed for a long time, including my zoo. We were not able to educate people except via the internet and our YouTube videos and so on."
"Our main priority, of course, is that visitors on the ground are educated about and interested in nature. So the Association took a big step forward. We hope that after a new normality asserts itself, the members can use this new tool and be even better than they were in educating the visitors."
Financial support
Addressing the financial support for zoos when their revenue streams dried up during the COVID lockdowns, Pagel says:
"I have to say our experience in Germany is that the smallest zoos were able to get financial support from the government, and were able to open with restricted access.
"Depending on the pathway you have for visitors, they were in a much better situation than the big zoos like us. Imagine you have a loss of, let's say 200,000 euros. That is something you can fix with a campaign and support by the visitors and friends of the zoo. But if you're running an institution like mine, we ended up with a deficit of 3.5 million last year.
"Even if you can access support, it has a maximum amount. So it doesn't make up for what has been lost. I would say the bigger you are, the greater your problem. And then there were the zoos that, having closed, will never open again, or have had to reduce animals, or have had to lose staff."
That loss of staff is one of the biggest impacts of COVID on zoos, says Pagel:
"It is important because these are the guys who were running the stud books, and so on.
"Others got a lot of support from the people of the cities or areas where they are situated. We don't want money from sponsors or private people or the government. We just wanted to reopen so we could make our own income. Not only to run our business in general but also our education, conservation and research work.
"This is very important all over Europe, and all over the world."
Zoos can help people learn from COVID
He touches on the extent to which the pandemic has highlighted the issues facing the natural world:
"It is absolutely my hope that the crisis has led to wisdom for many people. I hope that the positive outcome of this pandemic is that we will all have learned two things.
"First, that we need intact habitats and biodiversity. Second, that nothing is impossible. We were able to close down businesses for months. There was money to support them, to a large extent. There was the will of the politicians and the will of society to change."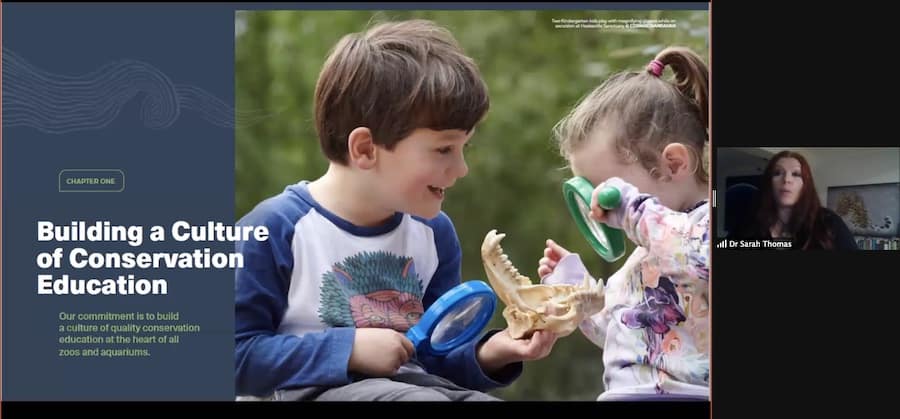 "Personally, I would say the one thing we all need to take out of this pandemic is an awareness of the importance of biodiversity and intact habitats. And the importance of saving them. That is, of course, connected to climate change and all the other problems we are facing; overpopulation, and so on, and so on.
"My hope is really that we have learned our lesson. We often hear it said that humans are unique in their ability to reflect and know better. So now we know better. Leaders and societies together have to make the right decisions, and it is not too late.
"We have saved several species. We have re-wilded large areas. There are salmon, again, swimming up the river right next to my office here. 30 years ago, it was a dead river. So we can do it, and we have shown as humans that we can change. I hope that we will now do it with biodiversity and habitats."
Keeping projects running
Many zoos have been able to keep major projects running throughout the COVID-19 crisis:
"Some colleagues were ordered to leave countries like Africa, for instance, because of the health situation. But still, the projects were led by people of the region. At Cologne Zoo, for example, we were able to run all of our programs, albeit at a lower level, without stopping any of them. That was the case for many of us."
"The big problem we had was with projects not only run by zoos, but research in the forest, and so on. These had to be stopped because of the danger of the pandemic for the staff. You have a responsibility, of course, to keep them healthy.
"I think as soon as the vaccination has reached a certain level around the globe including in these countries, we will be able to start where we left off. I hope that, because we have learned the lesson, we will all see just how important these projects are, and how important it is for the zoos to tell the stories and to publicise these projects in the field.
"I'm quite optimistic that we will be even better and stronger than before the pandemic."
COVID vaccination for zoo entry?
The pandemic has also put a spotlight on the anti-vaccination movement. Addressing this issue, Pagel says:
"It is an interesting question because it really depends on from which side of the table you view it. Here, for example, they were telling us over a year ago that up to 50% of people working in hospitals were hesitant about the prospect of being vaccinated."
"We know now that the number has changed, with more than 80% of those working in the medical sector or with older people in Germany happy to be vaccinated. This is a normal ratio. Some people simply don't believe in vaccination.
"On the other side, another point pro-vaccination will be that society will begin to differentiate, as businesses, restaurants, holiday resorts and so on begin to ask for proof of vaccination. Those who love travelling, like me, will want to be vaccinated. Not only for the sake of their health, but so they can travel easily.
"I'm quite sure that Australia, for example, will not allow visitors to come in without vaccination for quite a while. There are going to be practical pressures in favour of embracing vaccination."
Biodiversity is key
There are several measures the COVID-19 pandemic has taught zoos and aquariums to prioritise going into the future, that go beyond simply maintaining a financial safety net. Pagel explains:
"I think most of us have survived because they were clever enough to keep some money for bad times. That is something we have all been aware of since we were established. Because if you have a bad weather season you lose up to 30% of your visitors in a year, and you must be able to survive."
"In terms of what we will have learned, I think we will highlight to a greater degree how important it is to save biodiversity, to have intact habitats. I think we will even teach more, not only about animals but about biodiversity; about the interdependence of the whole system. I think we will embed this. It is already in our conservation and education strategy.
"People need to learn that humans cannot survive without flora and fauna; without intact nature. I think that is exactly what we must focus on, even more than we have done in the past."
Zoos and aquariums go online
Concerning the unexpected benefits of the COVID crisis, he highlights the technological solutions coming through, as zoos pivot to an online model.
"We have invested a lot in online ticketing and pre-booking systems to minimize lines outside the zoos. And we have invested a lot of knowledge in and learned about digital models and augmented and virtual reality. These are interesting add-ons to our education systems here in the zoo. Those are things that I think we can see as benefits of the crisis for us."
Leading the World Association of Zoos and Aquariums during the COVID crisis
Pagel took up his position as President of WAZA in 2019. Due to the pandemic, he has had something of a unique presidency:
"I am the first and, hopefully, last ever president of the World Association of Zoos and Aquariums who has had to work locally. My last conference was the one at which I was elected. I'm also the only president who was elected twice because, at that conference, I changed the complete bylaws.
"So I was elected following the old bylaws, and then, because we went from Switzerland to Spain, I was able to establish the new bylaws. I was elected with the new ones in Buenos Aires directly by all the members in the room. I was able to hire a new Chief Executive Officer, Martin Zordan, a veterinarian. We were even able to enlarge a little bit and to stabilize and overcome the financial problems.
"We were able to take on Paula Cerdán as Animal Welfare and Conservation Coordinator. This is an important part of our work.
"So, in short, during my term, I have been able to achieve new bylaws and a new office. We transferred from Switzerland to Spain under my leadership. In addition, we installed a new CEO and a new team. Plus, we have published, so far, two strategies, one concerning conservation education, and another one about sustainability, which is also a very important point.
"We not only want to preach sustainability, but we also want to live it in our institutions."
Single-use plastic
Additionally:
"We were able to publish a booklet about single-use plastic.
"Even though I was not able to travel around the world, and although the pandemic delayed my plans to travel to the Eastern part of our membership to be present there and discuss their needs, I would say I have been relatively successful.
"I had hoped to have another in-person conference this year in Moscow, when I will have to give up my position as president, but we have now decided to hold our conference entirely online.
"I have to say yes, I think we were very proactive and very successful. We are now more financially stable. And we have more professionalism in the office, and have prepared more important tools for our members."
Cologne Zoo and COVID-19
He moves on to talk specifically about Cologne Zoo:
"We had a bad year last year. Normally, we have 1.3 million visitors in a year; we only had 650,000 in 2020. Even when we were able to open, we had very restrictive visitor numbers to help curb the spread of COVID, so we were not able to get more people into the zoo. Once we are back to something like normality, I am confident we will soon be back to 1.3 million visitors."
On a positive note:
"We were able to establish a new master plan: Cologne Zoo 2030. Furthermore, we were also able to go on with a big project.
"We had 19 million euros in the bank just for constructions around the South America sector of the zoo, so we are renovating and modernizing a house from 1899. It was originally designed as a bird house; it will be the new South America house here, with primates and birds from Middle and South America. A project is connected with this in Belize, in the Middle American sector, which we have been running with other zoos for six years already."
Conservation projects
The conservation project in question concerns protecting biodiversity, environmental education and nature conservation funded by ecotourism. It focuses on species including jaguar, tapir, peccary, and more.
Professor Pagel and Christopher Landsberg supervise the project for Cologne Zoo. The project takes place under the umbrella of the International Tropical Conservation Fund (ITCF). Local conservation work is carried out by the Corozal Sustainable Future Initiative (CSFI), led by Heron Moreno.
"We will use the old Director's House, where I lived for 10 years, as an event and catering space. I am the first director of Cologne Zoo in 161 years who is no longer living on the grounds. The house is a beautiful great house, dating from 1865.
"The third part of the South America section project is the construction of a big Jaguar exhibit. This will also have a walkthrough aviary for king vultures."
Looking to the future
The revitalisation of the South America House is being done in partnership with dan pearlman, a leading brand and experience architecture group. The project involves its conversion into a tropical house with an open-air aviary. Together with the jaguar habitat, the visitor's journey becomes the recreation of an expedition through the South American rainforest.
"In addition, we were able to renovate and enlarge the tiger exhibit and the Asian lion exhibit last year. And the red pandas got a new enclosure. We had bad times, but we were able to develop the zoo. We have started on the planning and construction of a new giraffe house, and the enlargement of the outdoor enclosure.
"The next step is to see that new money comes in, and then we go on with our master plan."