Abu Dhabi-based Musanada has started construction on four expansion projects at Al Ain Zoo. The AED 152 million ($41 million) additions include new areas for reptiles, elephants, gorillas and sand cats.
The company will build the new Reptile Park, Elephant Safari, Gorilla Sanctuary and Sand Cat Conservation Exhibit.
The 11,500 square metre Reptile Park will cost AED 30 million and involves demolishing the current Reptile House.
The new building will feature indoor and outdoor exhibitions, including 'Turtle Play' and 'Dinosaurs Among Us', while reptiles will include crocodiles and Komodo dragons.
The AED 93.5 million Elephant Safari will be a natural habitat for 15 African elephants, and will boast a natural safari exhibition on a 17.5-hectare area, connected to the current Al Ain Safari and the Lions Exhibition.
Musanada is also constructing the 8,725-square-metre Gorilla Sanctuary for AED 17.8 million. The existing building will be demolished to make way for new exhibition courts and wooded areas, as well as facilities for five female gorillas and one male.
New gorilla facilities and elephant habitats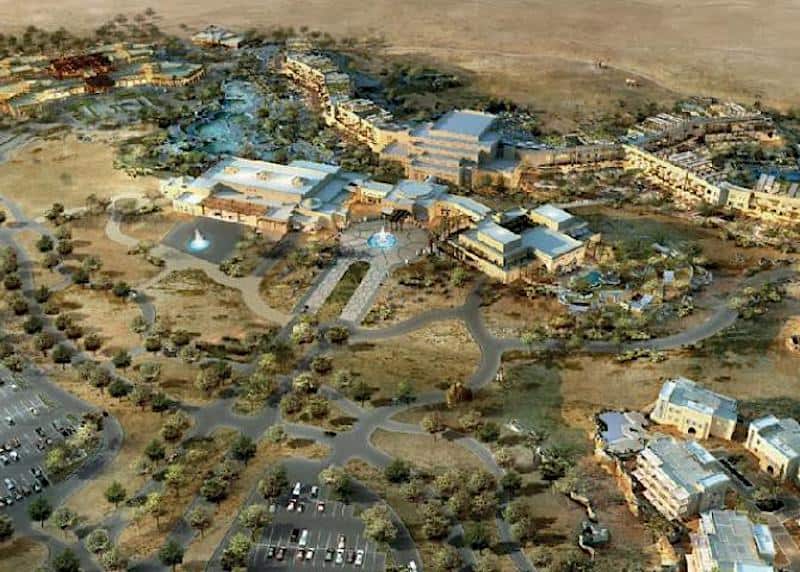 Finally, the AED 10.7 million Sand Cat Conservation Exhibit will also begin with the demolition of the current building. Musanada will construct new exhibitions for sand cats and other night animals, and add new visitor areas.
Al Ain Zoo has unveiled more expansion projects, including the Al Ain Zoo Boulevard, which will boast luxury shopping, F&B, and more.
Retail and dining at the Al Ain Zoo Boulevard
The zoo is also planning a Hotel and Safari Resort, located in the African Safari area, as well as the Al Ain Nature Reserve and 'Australia Koala Land' – the first Koala exhibit in the region.
Elsewhere, Auckland Zoo is undergoing a $58 million redevelopment project, while Chattanooga Zoo recently revealed a $10 million expansion.
Chester Zoo recently won a gold award for its Sustainable Palm Oil campaign at the annual awards of BIAZA. Blooloop previously spoke to Chester Zoo's Jamie Christon.
Images: Al Ain Zoo/Musanada